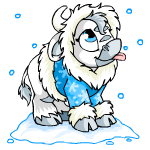 Dressing Your Neopet for Winter

by humauni

--------

If you are like most Neopians out there, you know what the frigid winter months feel like. Unless you reside full-time on Sahkmet Main Street, you likely know the feeling of a bitter January wind gust and its ability to whip right through your bones in a shiver-inducing blow.

No problem, you think to yourself as you remove your warmest winter jacket from your closet. With its premium insulation and its (fake!) Eyrie fur lining, even the chilliest winter winds won't be able to give you the goose bumps.

But what about your neopet? Will they be warm when they walk (or fly) to Neoschool? If they are not properly dressed for the harsh elements, they most certainly will not be. And as you probably could have guessed, a cold neopet is an unhappy neopet. Nobody likes unhappy neopets. But on the same token, your neopet is not going to want to be unfashionable either. After all, unstylish neopets make for unhappy neopets too.

That's where I come in. In an effort to prevent any neopets from mysteriously morphing into ice companions after being outside for ten minutes, or from feeling ashamed of their lack of style, I have tirelessly scoured both the NC mall and the neopoint shops to find the ten most-fashionable-yet-affordable items to bundle your beloved pet up – and still keep them stylish – during the coldest season of the year. I have divided these items up into two categories: neopoint items and neocash items.

Neopoint Items

1. Seasonal Turtleneck Jumper
While some items that were released as Advent Calendar gifts can only be described as quirky or peculiar (as wonderful as asparagus may be, is a scarf resembling its namesake truly necessary?), this fashionable-yet-functional turtleneck certainly does not fall under that irregular category. In a beautiful aquamarine hue, the Seasonal Turtleneck Jumper is made of a thick, toasty-warm material that is guaranteed to keep your neopet warm on those chilly winter days. And since it sells for only about 900 neopoints, it's super affordable, even for those of us who are frugal with our hard-earned currency.

2. Brown Winter Hat
This splendid headgear is, for starters, highly attractive; with a cinnamon hue and a highly-detailed, centered snowflake on the front, your neopet will be a true showstopper in this hat. But it isn't all form and no function, either. Studies conducted by Kreludorian scientists have proven that neopets lose the most body heat from their heads, which could explain the (again, fake!) generous fur lining around the entire edge of the hat. This head-warming accessory also features large earflaps! Yay for no more so-cold-it's-painful ears! And perhaps the best part of all, this hat sells for a staggeringly-low TEN neopoints, which makes this choice affordable for absolutely anybody. And if you wish to give your neopet a matching outfit, you could always buy a...

3. Brown Winter Scarf
A complement to the Brown Winter Hat, the Brown Winter Scarf is excellent at keeping your neopet's entire neck warm, while still remaining fashionable. It is the same light brown shade as the accompanying hat, but this scarf also features thin white stripes across the width of the fabric. And as a stylish bonus, it also showcases a neat, cocoa-hued fringe on either end. Like the Brown Winter Hat, this scarf is unbelievably inexpensive at fifteen neopoints, making a hat-scarf combo feasible for any neopet to enjoy.

4. Fiery Mittens
I know what you're thinking: why on earth would I make my neopet wear burning mittens?! If we were dealing with any other season, I would agree with you. Fiery Mittens would be much too hot to wear in the spring or the fall. But when temperatures drop into the negatives and your neopets' hands (or hooves or paws or flippers) are going numb, a pair of super-hot mittens may be just what your pet needs to warm up their extremities and give them a nice, toasty feeling. These mittens come in a charcoal-black, a color that goes with just about anything. And with an average cost of only 475 neopoints, they may just be the perfect addition to your neopet's closet.

5. Snow Wurm Socks
Let me preface this by saying that yes, the Snow Wurm Socks are a bit pricier than the previous four items listed. These socks go for about 10,000 neopoints and, while they may be a bit of a splurge, they still aren't truly expensive and will most definitely keep your pet's feet warm throughout the season's coldest days and nights. The Snow Wurm Socks are made of a thick, heat-trapping material, and are also irresistibly cute! And best of all, the teeth aren't even sharp!
NC Mall Items
For those Neopians who have a little extra non-neopoint-currency lying around, here are some more fashionable articles of clothing that, for just a little extra pocket change, will keep your neopet warm all winter long.

6. Brown Corduroy Jacket
This chocolate-colored jacket is a favorite of mine, because it is not only perfect for staying warm in the chilly months, it's also extremely attractive and stylish. I'll be the first to admit that every time I see it in my Uni's closet, I am oh-so-tempted to "borrow" it and wear it that day. Every time. But anyway, the pinstripes on this jacket make it nothing short of timeless. And we all know how warm corduroy keeps a neopet! For only 150 neocash, a Brown Corduroy Jacket is an utter steal. If your neopet wants to complement this jacket (and you know they do!), you could also buy...

7. Brown Corduroy Pants
The associated pants to said jacket are another favorite of mine – I simply love how a brown corduroy outfit looks on a neopet, and I know my Uni does too. These pants are the same color – and have the same pinstripes – as the accompanying jacket, the same low price, and the same ability to keep your pet's legs toasty-warm. If you are going to invest in a Brown Corduroy Jacket for your beloved pet, I highly recommend you invest in these pants as well to complete the look and keep your neopet as warm as possible.

8. Snuffly Hat
Tell me this is not the cutest winter hat you've ever seen. This hat is modeled after its adorable namesake, the Snuffly itself. It's constructed of premium fabrics, and is hand-stitched for superiority over most other hats. And the biggest bonus of all: more earflaps!! Your pet's ears (and head) will never be cold again with this hat, which costs a low 100 neocash.

9. Big Fuzzy Boots with Leggings
Fashion-wise, leggings are definitely in this year, and when tucked into a pair of warm, fuzzy boots, they become a part of the perfect winter outfit. These leggings are quite thick, so there's no need to worry about the wind whipping right through them. The boots are lined with (once again, fake!) fur, hence the name "Big FUZZY Boots." For a very affordable 175 neocash, Big Fuzzy Boots with Leggings are a great choice for keeping your neopet warm over the winter.

10. Fire Boa
Like the Fiery Mittens, this is an article of clothing that I would not recommend for the warmer months; however, the Fire Boa is a great option for winter. Made of 100 percent genuine flame, this boa will look great on female neopets, but is also macho enough to be worn by the males as well. No matter what gender, your neopet will be the center of attention in this bright, fiery boa, and their new accessory will be the one everyone's talking about – in a good way, of course. The Fire Boa will work just as well – and quite possibly better – than a scarf by keeping your neopet's neck comfortably warm. This boa costs an inexpensive 150 neocash, a great price for a stylish and functional accessory.
The winter is harsh (especially on Terror Mountain) and times are tough (have you SEEN how the lab map pieces have inflated?!), but that's no excuse for your neopet to be cold – or out of style. I truly hope this list of fashionable and inexpensive winter clothing will help you keep your neopet warm, comfortable, and stylin' throughout the longest months and the shortest days of the year. Just a few neopoints or neocash spent on these items will be money well-spent when you see your neopet frolicking out in the snow in their Seasonal Turtleneck Jumper and Big Fuzzy Boots with Leggings, or proudly walking to school wearing a Fire Boa and a corduroy outfit. Because remember, a warm neopet is a happy neopet.