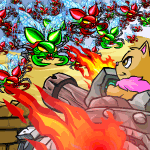 Old vs New: Which Game is For You? Part IV

by lakefox

--------



Welcome back to another edition of Old vs New: Which Game is For You. This is the fourth part of an eight part series. Last week we took a look at the following games: Freaky Factory vs Freaky Factory, Jelly Processing Plant vs Hungry Skeith, and Volcano Run vs Volcano Run II. This week my pets and I decided to head to Tyrannia and noticed many of the games located there are new versions of some classic games. So this week we are dedicated to the games found here: Destruct-O-Match vs Destruct-O-Match II vs Destruct-O-Match III, Chia Bomber vs Chia Bomber 2, and Swarm vs Swarm – The Bugs Strike Back.

Title: Destruct-O-Match

Type: Puzzle

Location: Game Graveyard

ID: 53

Status: RIP Y6

The game that pioneered them all! Well, at least for this series it did. You start each level with a screen full of boulders of different colors. Each block of boulders; boulders of same color touching (not diagonally), will earn you points. The larger the block the more points you earn. The key to this game is to create large blocks of boulders to clear each level, hopefully leaving one color at the end of the level for mammoth points. If you clear every boulder in the level you will earn bonus points. You will not be able to advance to the next level if you don't clear enough boulders and then it will be game over. Beware, though, the further you advance in the game the more colors will be introduced in each level!

Title: Destruct-O-Match II

Type: Puzzle

Location: Game Graveyard

ID: 453

Status: RIP Y10

It's back! The game we all loved to play is back and better than ever. This time while clearing boulders away you may notice some unusual boulders. That's right, you heard me; special boulders. What better way to make a sequel than to have additional boulders to help or hinder along the way. First up is the fire boulder; it will annihilate any boulders touching it. Next up is the overkill boulder, and it will obliterate any boulder the same color as it; be wary, though, as you won't earn nearly as many points. The fill boulder, and you guessed it, will add an additional row of boulders from the top. Multiplier boulder, again you figured it out, will multiply your points by three; make sure you don't isolate this boulder. The indestructible boulder is one of the most hated boulders in the game; and it can only be destroyed by the fire boulder. Last but not least is the morph boulder, also a hated boulder. You will have a finite amount of time to destroy the boulder, or it will turn into an indestructible boulder! Once again you can earn bonus points for clearing each level. It was possible to earn the avatar from this game, because I did it after many extremely long hours of practice and patience.

Title: Destruct-O-Match III

Type: Puzzle

Location: Tyrannia

ID: 999

Status: Active

Destruct-O-Match III is a great sequel based on the foundation of past games. Multiple game modes are available: Normal, Extreme, Double Trouble, Double Trouble Extreme, and Zen. Zen is the only mode where you do not earn neopoints. Normal mode is just like past versions, one full screen filled with boulders. You must demolish a set number of boulders to advance to the next level. Two new boulders are introduced in this game; the undo and shuffle boulders. The undo will negate your previous move, whereas the shuffle will rearrange the boulders on screen. In Extreme mode, boulders will start from the bottom of the screen and rise up. You must obliterate boulders of the same color and keep the columns from rising. If any column reaches the top of the screen it is game over! Double Trouble is two screens side by side with game play like Normal Mode. Double Trouble Extreme has game play like Extreme mode, but with two screens alongside each other. Have fun and enjoy!

My pick: Any version will give a challenge, so just have fun with them! I may be partial to Destruct-O-Match II, because I earned the avatar with that version.

Title: Chia Bomber

Type: Action

Location: Game Graveyard

ID: 62

Status: RIP Y7

Geoffrey, a Chia, is defending his neighborhood against malicious Chia Bombers. Chia Bombers are armed with bazookas with mud ammunition, whereas Geoffrey uses a water balloon gun. Never fear, though, those Chia Bombers can be destroyed with water. Beware of those Bombers, though; most will take multiple hits to destroy. You are also armed with five mines per level, while Chia Bombers will get three times the level number of mines. You have to be quick and accurate in this game, because your score depends on it. You will get your level score, but the bonus for the level is determined by your percentage hit divided by time, all multiplied by ten.

Title: Chia Bomber 2

Type: Action

Location: Tyrannia

ID: 539

Status: Active

Okay, so you sit down and open up the game. You then stare at the screen and click play, and the head scratching begins. You're thinking the game is identical to the first one; there isn't any difference. In reference to game play you are absolutely one hundred percent, totally and definitely correct. Take a closer look, though... have you spotted the difference yet? You haven't, why it's the scoring. Each level the Chia Bombers are worth ten points (doesn't matter how many hits), and the only bonus you get is if you don't use your mines. It doesn't matter if you miss the Chia Bombers in this version as it won't count against you. So take your time and methodically wipe out all the Chia Bombers in each level. In no time at all you will be on the high score list (points to gold trophy) and earn you a shiny new avatar for the neoboards as well!

My pick: Chia Bomber 2!

Title: Swarm

Type: Action

Location: Game Graveyard

ID: 66

Status: RIP Y7

Ah... this game reminds me of the good ole days when everyone was standing around in arcade parlors. Oh wait... that's just a dream, but this game does remind me of arcade classic. You play a Wocky who must defend a specific part of Neopia: Neopian Protection Zone 6b. You are located in a tank and must shoot the invading bugs in each level. The bugs are formed in a grid pattern which will increase in each level. All bonus items dropped are in an oval shape, but different colors. I will let you have fun figuring them out, but I will tell you to watch out for the green ones. One makes you have a smaller tank, while the other increases the tank size. ;)

Title: Swarm – The Bugs Strike Back

Type: Action

Location: Tyrannia

ID: 562

Status: Active

This is another terrific update to a classic game. Once again you play a Wocky with a massive tank and need to destroy "swarms" of bugs in your area. You are still guarding the same area of Neopia: Neopian Protection Zone 6b. Once again the bugs are in a grid format which will increase every level. Bonus items have been given an update, and it is much easier to tell the difference between them. Don't forget about the bug which flies overhead and will drop fire along your border. Shooting this creature will earn you mega points.

My pick: Another tie; with similar game play you can enjoy hours of fun with either version.

Title: Pterattack

Type: Action

Location: Game Graveyard

ID: 63

Status: RIP Y7

This was a very simple game which I can honestly say I didn't play much. We all have the games we prefer and Jurassic looking games just aren't for me. You play a Pteri who flies around Tyrannia's canyons while shooting Pterodactyls and a giant red Grarrl. Three different type of weapons are available, but until you were familiar with the game you didn't know which was which. The three weapons can be upgraded multiple times, and you upgrade them by picking them up from destroyed Pterodactyls. The upgrades are just different colored circles, so they are difficult to tell apart, at least for me they are. You guide the Pteri with the arrow keys, while space bar fires your weapon!

Title: Pterattack

Type: Action

Location: Tyrannia

ID: 587

Status: Active

Once again, this is another game with an identical name as the original version. The Pteri is back flying through Tyrannia's canyons defeating Pterodactyls and the giant red Grarrl. Still the same controls: the arrows guide the Pteri and spacebar fires his weapon. The biggest improvement to me is the weapon upgrades. You can actually tell the difference between the weapons now. For example; the purple spinning boomerang shoots purple boomerangs, while the glowing orange ball shoots fireballs. As you increase in levels the Pterodactyls will take more hits to destroy, so these upgrades are a must for later levels. My weapon of choice: the glowing orange balls (fireballs).

My pick: Pterattack (ID: 587)

I hope you enjoyed our trip down memory lane in Tyrannia. Next week we are going to jump over and visit the Haunted Woods, another area which has several new versions of initial games located on the site, including: Mutant Graveyard of DOOM vs Mutant Graveyard of Doom II, MAGAX: Destroyer vs. MAGAX: Destroyer II, Korbats Lab vs Korbats Lab, and Carnival of Terror vs Carnival of Terror.