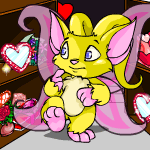 Gifts for Valentine's Day

by xoxkar

--------

With Valentine's Day just around the corner on February 14th, the shops of Neopia are filling with eager customers looking to buy that perfect gift for the special people in their life. The town has been filled with beautiful heart balloons, streamers, and every other imaginable type of decoration! The chocolate shops are making their specialty boxes of chocolates filled with the tastiest delights! The windows of the jewelry stores are showing off their stunning necklaces, earrings, and rings available to purchase. The local bakeshops are also getting into the holiday cheer with their heart shaped cookies, and other treats with delectable aromas that spreads throughout the town.

Valentine's Day is the day of the year when we all take the time to think about the people who have touched our lives and made it so much more special. Whether it be a loved one, or a special Neofriend, picking out a special gift to show your love will bring you great joy. It may be cold and snowy outside still, but there's nothing like spending a wonderful Valentines Day with the special people in your life to warm you up!

Whether you have plenty of Neopoints to spare, or just a few, there will always be a special gift you can find that is sure to please. So here I have created a list with some great gift ideas that are sure to please your special someone, and are also affordable! Remember, it's the thought that counts. :)

Valentines Cookies
"A handful of fresh heart shaped chocolate chip cookies."
These mouth-watering Valentines cookies make are a great treat to pass out to all your special Neofriends! These vanilla cookies are filled with dark chocolate chips and are baked specially for Valentines Day. They are not only affordable, they are beautifully shaped into darling hearts.
Approximate cost: 1,800 NP

Valentines Heart Shaped Chocolate Box
"A beautiful box of chocolates that will win over your valentine."
This breathtaking beautiful heart shaped box of chocolates has been filled to the brim with an assortment of dark and milk covered chocolates that are sure to please anyone. This chocolate box also has two lovely roses on its lid.
Approximate cost: 1,000 NP

Valentine Centerpiece
"Tell your sweetheart how you feel with this lovely centerpiece."
This gorgeous valentine centerpiece will look lovely anywhere it's placed. This beautiful heart shaped vase has been filled with carefully chosen lilacs, roses, and other beautifully grown flowers that smell as beautiful as they look!
Approximate cost: 2,500 NP

Polka Dot Heart Frame
"Show everyone who your valentine is with this beautiful frame."
This polka dot heart frame is a perfect gift for any girl! This darling pink heart shaped frame is not only great to do your make-up in, it also makes a stunning ornament! When the sun shines in the frame will sparkle.
Approximate cost: 4,000 NP

Silver Valentines Ring
"A pretty ring that will be cherished forever."
This outstanding silver Valentines ring will be cherished forever by your special someone! This elegant silver band has a breath-taking sparkling rose colored diamond set in the middle. If your special someone enjoys jewelry, they are also sure to love the similar Gold Valentines Ring.
Approximate cost: 68,000 NP

Valentines Kiko Plushie
"Aww this Kiko plushie is simply adorable... "
Aww, this adorable Valentines Kiko Plushie is a great gift for anyone whether they collect plushies or not! This Kiko plushie is made with red silk, and has delicate pink and white hearts sewn onto the fabric, as well as a beautiful pink rose! There are many other adorable valentine plushies you can purchase such as Bruce, Grundo, Yurble, Chia, Cybunny, Quiggle, Nimmo, and Wocky!
Approximate cost: 65,000 NP

Valentines Negg
"What better way to tell someone you love them than with a Valentines Negg?"
These special Valentine neggs are brought out every Valentines Day! This soft rose colored pink negg has a cheerful red heart on it that is sure to please! No one will be sad if they receive this wonderful gift. Other great Valentine themed neggs you can also buy are the cupid and sweetheart neggs!
Approximate cost: 20,000 NP

Valentines Pillow
"This pillow looks great on any chair or sofa."
This gorgeous pillow is sure to spread some Valentine cheer! This plush pillow has been covered with the finest red silk, carefully sewn gold edging, and two beautiful rose patterns in the middle. This pillow is not only comfortable, it also makes a beautiful decoration. If you like this, you are sure to like the Valentines Bean Bag that is also buyable!
Approximate cost: 20,000 NP

Valentines Bouquet
"The perfect gift on Valentines Day, but a nice gesture all year round."
These beautiful flowers have been carefully arranged in a green wrapping, and tied with a sweet pink bow! These flowers make a great gift to pass out to all your Neofriends that will put a smile on all their faces!
Approximate cost: 3,000 NP

Valentines Earrings
"The ideal gift for that special girl in your life."
Like the description says, these charming earrings are the perfect gift for that special girl in your life. These stunning earrings are made from real gold with sparkling pink diamonds that have been formed into hearts. Anyone who receives these beautiful earrings are sure to be overjoyed!
Approximate cost: 69,000 NP

Valentines Day Tree
"This beautiful tree has leaves that look like hearts!"
This beautiful Valentines Day Tree is a great gift for your special someone that loves to garden. This tree symbolizes love that continues to grow. This tree will bloom every year around Valentines Day with cheerful heart shaped leaves!
Approximate cost: 28,000 NP

Valentines Muffin
"Chocolate, strawberries and fresh vanilla icing make this a treat your loved one will adore."
This mouthwatering Valentines muffin is only made during this time of year! This heavenly chocolate muffin has a moist and fluffy inside with a thick layer of dark and fresh vanilla icing! A plump juicy strawberry has also been added, as well as heart shaped edible decorations!
Approximate cost: 8,000 NP

Heart Shaped Bon Bons
"Fudgy bon bons in the shape of little hearts - awww!"
These delicious heart shaped fudgy bon bons have been wrapped in a sparkling gold wrapper! These bon bons are a great gift to send out to all your Neofriends, and they also make a delicious treat to enjoy with a cup of coffee if you are having some guests over on this special day.
Approximate cost: 10,000 NP
Happy Valentines, everyone!