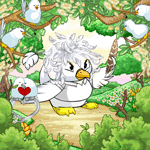 Dressing like a Weewoo

by martia_elior

--------

Also by amarillida

During the years TNT released a lot of Petpet–themed costume packs like the Polarchuck, Gobbler, Meepit, Noil, Zomutt (for baby Neopets only) and Plumpy ones. Since the 650th issue of the useful, interesting, and fun Neopian Times is just around the corner, we decided to create our very personal White Weewoo outfit to celebrate this milestone, waiting for an official White Weewoo superpack!

We all know that the White Weewoo is the fluffy ,adorable mascot of the Neopian Times and we think that every pet would be adorable dressed up like it.

If you'd like to celebrate the NT together with us, and you like weewoos, then this article is meant for you!

Here below, you'll find a brief description for every item we chose to build this particular customisation. As we know that we can't all have the same tastes, we thought of adding some options - especially NP wearables, which can be used by everybody – for almost all the items we are suggesting.

Please note that almost all the wearables featuring weewoos are Neocash items unfortunately, so we couldn't find neopoints alternatives for those.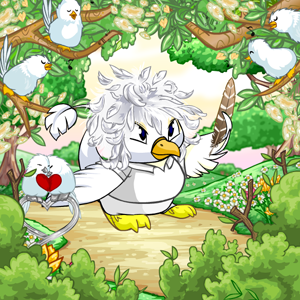 Feather Wig
The Feather Wig was given out during the Advent Calendar in Y13. It is not only a really nice wig, but it also is actually cheap; you can buy it in shops for only 500 neopoints a piece. Its soft, white colour easily resembles the White Weewoo plumage. This wig is perfect for our outfit, but you can use it in a lot of different ways. Don't you think that the Feather Wig would look perfect for a pajama party–related outfit, for example?
If you don't like this quite messy wig, a nice alternative can be the NC Curly White Wig. Released with the second Wonderclaw machine during 2011 and now retired, this soft-looking wig can be easily found on the boards. If your Neopet is quite shy or introverted, another option can be the Philosophers Wig, which tends to hide eyes. This NC item was awarded for unlocking a Purple Luminous Cask by using a Silver Cask Key during the Obelisk War.
Basic White Shirt
This simple garment is a must have in every closet, thanks to its versatility and neutral colour. It also is very cheap, in fact you can buy this piece of cloth in shops for 250 neopoints only. What a bargain! The Basic White Shirt is an evergreen wearable item, it is suitable for every season and fits a lot of different customisations. It looks pretty on every species and it is nice both for female and male pets. If you prefer a different neck-opening cut, then the White Top Chop Robe can be what you're looking for. This shirt is as simple as the first one we chose and it doesn't even differ in its shade of white.
If any of the neopoints shirts we proposed don't meet your tastes though, the newish Basic White Collared Shirt can be an interesting option. It has a different shade of white than the garment we chose, and also some buttons and refined short sleeves. It was available during a January week-end only as a Limited Edition item from the Basics Bundle: Colourful Clothing, but it's very easy to find it on the boards.
White Top Chop Trousers
This simple but not trivial pair of trousers costs around 1500 NP a piece. If you feel lucky though, you can play Top Chop, because the White Top Chop Trousers are randomly awarded when you send a score in this game – just like the White Top Chop Robe we mentioned above! Like the Basic White Shirt, this garment can probably be in the closet of every customisation addict, though, it is quite an underestimated piece of cloth. They are very versatile and suitable for tons of different outfits; thanks to their neutral colour, the White Top Chop Trousers match every shirt out there!
A nice alternative can be the NC Winter Prince Trousers, which are now retired. They have been rereleased many times during the last years though, so it really shouldn't be difficult to find them on the boards! Their hem is very well-refined and has a lovely shade of gold, so they can actually look nice together with the shoes we chose, because these hems easily remind us to Weewoos legs.
Noil Costume Slippers
The Noil Costume Slippers are a retired NC item, but they are quite easy to find on the NC boards. They are part of the Noil Costume Superpack, but thanks to their pale, yellow colour they can easily remind the Weewoo feet! These graceful slippers can be also used in different customisations like the autumn- and Halloween–related ones. If you don't like them though, the Basic Orange Lace-Up Shoes are another great choice. This pair of shoes was obtained through the Basics Bundle: Everyday Adornments, which are now retired from the NC Mall. They are nice and really versatile. Unfortunately, there isn't any neopoint multispecies alternative but you can find a lot of yellow shoes among species-specific garments.
Gobbler Mask
If your Neopet doesn't have the beak, you can easily fix to this inconvenient using the cheapish Gobbler Mask. It costs only 1500 NP a piece and dressing this funny mask, your Neopet will be really similar to the cute White Weewoo... if you are lenient about the red wattles, of course!
Deluxe Polarchuck Costume Gloves
If your Neopet is not painted White – or Christmas, for some species – you surely need them to wear a pair of white gloves. We decided to borrow them from another petpet costume, the Polarchuck one! Their particular shade of white is quite different from the other garments unfortunately, but it is the only neopoint non species-specific item available. You can find them at the Trading Post for around 300,000 NP a pair. Many neopets species - such as Blumaroo, Kyrii, Quiggle and so on – have their set of cheaper, white gloves, which matches our handmade costume much better than the Deluxe Polarchuck ones!
Neopian Times Writing Quill
This awesome Weewoo Quill was rewarded to those lucky Neopians who were published in the Neopian Times issues 450 and 550. It's a rare and expensive item, which can be bought for around 2 million neopoints... how sad! If you are looking for a nice alternative, you can buy the cheaper Well Read Book that will cost you around 100k a piece. This hand-held book is really suitable for our customisation because everyone knows that the White Weewoo is not only the mascot of the Neopian Times but also a really academic petpet! The Well Read Book is a very versatile items that you can use to create scholar–, bookseller–, and librarian–themed outfits, so it would be a nice addition to your closet.
Silver Weewoo Perch
This adorable lower-foreground item came out in the NC Mall during February 2012 and it's now retired. It has been rereleased every year in Valentines Mystery Capsules, though, so you can easily find it on the NC boards. The Silver Weewoo Perch features two white weewoos linked by a red heart drawing. If you don't feel comfortable using such a sweet, cheesy item, you can try out the Weewoo Bath, which instead is a quite rare NC wearable, retired during the 2008 Super Sales. It fits the scene perfectly as well, being a lovely, small fountain with a weewoo made of stone on it. There also are another couple of wearables featuring weewoos, like the Weewoo Clock and the Magical White Weewoo Table. Both items are a great tribute to the lovely, famous Neopian Times mascot!
Branch of Singing Weewoos Garland
This awesome garland was a NC prize for visiting the Make Some Noise Hall during Altador Cup VIII. It is a retired item but it still is quite easy to find. The Branch of Singing Weewoos Garland is one of the most beautiful background-items you can find around the whole Neopia! It looks graceful, colourful, and it frames the scene without overloading it. It adds a touch of serenity and wellness thanks to its soft and delicate shades of light green, yellow and white. This garland is also really versatile and can be be used in almost all spring en-plain-air–related customisations.
Cheerful Day Background
This really nice, nature-themed background was obtained through the Sparkling Yellow Mystery Capsule and it is a retired NC item. It is also quite hard to find on the NC boards, but it's actually perfect for the scene we created, thanks to its soft but bright colours and its peaceful atmosphere. If you are looking for a nice neopoints alternative we can suggest you to use the impressive Mysterious Forest Clearing Background. This not-so-cheap background costs around 200,000 NP but it is a great closet investment because it can be used also in many different adventurous–, nature-themed outfits.
Shrubbery
We have to admit that the original Shrubbery is one of our favourite neopoints items ever released by TNT! It costs around 10k NP a piece and it's a very versatile item, as it fits almost every nature-, adventurous-related customisations. In our scene, this foreground item helps giving the idea of a wild, uncontaminated place such as the one we are trying to reproduce with this outfit. We hope you can forgive us, but we can't give an option to this great accessory, because it simply is the very best choice we have!
Well, this brings our article to an end. We hope you enjoyed having a look at this handmade costume we managed to put together as much as we had fun while creating it!
Last but not least, we'd love to end with heartfelt, sincere congratulations to the Neopian Times on 650 amazing issues! Here's to 650 more!