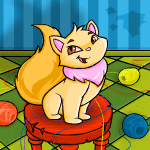 Wonderful Wocky Items

by aleu1986

--------

It's the most wonderful time of the year!

The Month of Celebrating is all about the good things in life: Friendship, kindness, family, generosity, gingerbread cookies... and Wockies. On the 12th day of this month the Wocky takes the spotlight. For this article I have chosen a handful of the Wocky items I consider to be the most wonderful, sweet, cool and just awesome for various reasons other than being Wocky related.

So grab a Gingerbread Wocky (cookie, TNT hasn't made a Gingerbread Paint Brush... yet) and a big Cup of Wocky Day Soup and enjoy the list!

Yellow Cap [r70]

Description: Official Wocky Fan Club head gear.
Category: Clothes
One of the most essential accessories for any Wocky fan, this cap lets everyone know which Neopian species is your favourite! (Not actually wearable).
Wocky T-shirt [r75 – Uncommon]

Description: For the Wocky with attitude.
Category: Clothes
If hats and caps don't really suit you (or you don't want to mess up your hair or fur, whichever the case may be) this T-shirt may be just the thing for showing off your love for Wockies. (Not wearable by Wockies or other species, unfortunately).
Wocky Loaf [r80 – Uncommon]

Description: This may look like a normal loaf of bread, but if you look closely and squint a little it is shaped like a Wocky head!
Category: Baked
A true Wocky fan need hardly squint to recognize the proud shape of a Wocky head. This loaf is just the thing to put on the breakfast table for Wocky Day. It's a soft wheat bread that tastes great with strawberry jam, or simply toasted with butter or honey. Yummy!
Pull Along Blue Wocky [r87 – Rare]

Description: A cuddly companion for your Neopet to pull along.
Category: Toy
This is a great toy for those unfortunate Neopets who are allergic to Wocky fur, as well as for those Wockies who think it's neat to have a toy that looks just like them! Whether for your own enjoyment or that of your Neopet, this Pull Along Wocky is a quiet companion you can drag along with you anywhere... though you should avoid areas that are very sandy or muddy.
The Complete History of Wockies [r89 – Rare]

Description: Every famous Wocky is listed in this jumbo sized volume.
Category: Book
This hefty volume features an alphabetical listing of every famous Wocky in Neopia. Read about every Wocky from the Auction Genie and Blackwing from Defenders of Neopia to the heavy metal band from Tyrannia, Wock Til You Drop. The volume naturally has an index as well as an extensive glossary in the back, both designed to help you find the Wocky you wish to read about as efficiently as possible. Oh, and you should probably find yourself a sturdy desk to place this book on before reading, as well as a strong friend to help you lift it. Have fun learning about Neopia's famous Wockies!
Scratchcard Wocky Poster [r88 – Rare]

Description: Maybe hanging this poster on your wall will make you luckier?!?
Disclaimer: Increase in winning chances not guaranteed. Scratchcards sold separately.
Category: Furniture
What better place in Neopia to visit during the Month of Celebrating than the Happy Valley? There you'll find not only the Advent Calendar, but also the Scratch Card Kiosk and the chirpy Wocky who sells his scratchcards for a reasonable 600 NP each.
If Terror Mountain is too chilly for you, or simply not included on your traveling schedule this winter, you can hang this poster up in your Neohome and admire the Scratchcard Kiosk Wocky, and dream of winning the jackpot from his scratchcards one day.
Blue Wocky Gnome [r101 – Special]

Description: This cute little gnome makes the perfect addition to any garden.
Category: Gardening
If you want the visitors to your Neohome to know just how much you love Wockies, this Blue Wocky Gnome will certainly get the job done. He'll happily stand guard by your front gate, offering each and every guest a friendly smile and cheerful wave, silently wishing them welcome to your humble home. (If he comes alive at night and wrecks havoc all over your garden, the shopkeeper at the Neopian Garden Centre can not be held responsible).
Green Rocking Wocky [r89 – Rare]

Description: Your Neopet can pretend to be galloping across the land on this hand painted rocking Wocky.
Category: Toy
This toy will certainly bring tons of fun and enjoyment to your Neopet. They'll have such fun playing with their Rocking Wocky, pretending to travel across every region of Neopia. A blue saddle is included (actual Wockies are not meant to be ridden, however!) and the toy has a solid, sturdy construction, making it suitable for even the bulkiest Neopet.
Desert Wocky Plushie [r96 – Ultra Rare]

Description: This adorable Wocky plushie is just dying to be cuddled.
Category: Plushies
Whether you're a plushie collector, support the Lost Desert or if you're just a big fan of Wockies and cuddly things in general, the Desert Wocky Plushie is a wonderful addition to your collection or Neohome. It's an exact replica of the actual Desert Wocky, right down to the details of the eye make up and carefully crafted clothing.
Wocky Perfume Bottle [r90 – Very Rare]

Description: This smells suspiciously like strawberry.
Category: Grooming
This delicate perfume will give your Wocky a fresh strawberry scent. With the cork being shaped exactly like a Wocky's head, the bottle itself lends a stylish touch to your powder room.
Note also its marvellous shininess.
Wocky Hide and Seek Book [r98 – Rare]

Description: A cute book that has a little plushie Wocky on the front with movable paws.
Category: Book
This cute little book features a dark purple and orange cover with a plush Wocky whose paws are movable. This book is ideal for young Neopets who love to play Kacheek Seek. Inside the book are painted illustrations inspired by various places in Neopia, from the plains of Tyrannia, to the jungles of Geraptiku and even Maraqua's hidden depths. Each scene spans two pages and has several flaps your Neopet can pull or lift in order to find a Wocky hiding in each scene. Sit down with your Neopet and enjoy countless hours of discovery with this fun book!
Wocky Violin [r88 – Rare]

Description: Play a bold melody with this Wocky violin!
Category: Instrument
This is a beautiful hand crafted instrument carved out of the finest wood. It features the head of a Wocky for you to admire as you lure enchanting music from the violin. It is also tastefully decorated with markings resembling Wocky tails. Sheet music, violin bow and musical talent are not included.
Plushie Wocky Key Quest Token [r500 - NC Mall Item]

Description: This is one extra huggable Key Quest token!
Price: 300 NC
Who doesn't love to play Key Quest? And if your favourite Neopian species happens to be the Wocky, what could be better than enjoying your favourite game on Neopets while playing with this adorable, huggable token? The Plushie Wocky is made from blue fabric and has a super soft, light red mane with polka dots. You'll have hours of fun playing KQ and watching the Plushie Wocky skip about the board!
Rainbow Wocky Morphing Potion [r99 - Super Rare]

Description: If you have always wanted a Rainbow Wocky, this minty concoction may be just the thing for you!
Category: Magic Item
If you don't already own a Wocky, I'm sure this list of all the marvellous items related to this species has made you count the NP in your pocket. There are so many great Wocky colours to choose from, and if you can't make up your mind, why not go for the Rainbow Wocky? This Morphing Potion will grant your new Wocky a range of colour, from rich red to vivacious violet.
I hope you enjoyed reading about my personal picks for the coolest Wocky items. Don't forget to spoil your Wocky rotten on their special day... well, every day of the year really, they deserve it!
Happy Wocky Day!