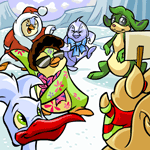 Holiday Looks Step By Step

by yuri445

--------

We are debatably the one number Christmas fans in all of Neopia and the real world as well. We love Christmas so much that we start listening to Christmas songs in the middle of the month of Storing. We also start thinking of our Christmas decorations and put it up before the month is over. With that in mind, we decided to do something different this year regarding our pets when it comes to customization that other writers aren't doing. By showing you how we customize our lovely pets from conception to the final look for the holidays during the month of giving, we hope to give you some ideas on how to customize if you aren't sure of where to start. We have all neopoints and all neocash customizations for you to choose from.

Let us first introduce our models today. We have Yoshi and Kordwar. Yoshi is a beautiful Christmas Aisha who will be modeling the neopoint sections of our customization today. She is 5,357 days old and extremely proud of her age. She wants to read all the books in Neopia and loves Christmas and dressing up. So now that you've met one model, let's start the customization. We're sure we're not alone in saying that starting a new customization look with nothing on your pet is the easiest start to a new look. We want to show the citizens of Neopian that your pet can still look fantastic with or without neocash items. Let's begin!



(Neopoints) Dapper Yellow Shirt and Green Jacket: I debated a lot with myself on whether to go with the Ugly Christmas Sweater or Dapper Yellow Shirt and Green Jacket. The sweater doesn't really need an explanation. Every Christmas it is almost obligatory to at least wear one Ugly sweater. The Ugly Christmas Sweater in my opinion isn't really ugly at all. The colors are very Christmassy and with four legged neopets you can't even see the design on the front of the sweater. However, I decided on the Dapper Yellow Shirt and Green Jacket because I thought it looked warmer and fuller for the theme I was going for. The jacket looks cozy and the colors aren't bad for Christmas. It looks like it would keep your pet warm for a long time. And believe me, it is needed if your neopet is going to be outside all evening. The jacket was around 5,000 nps the last time I checked. I would also recommend Sleepy Neopet Blanket, Simple Fur Lined Cape, or of course the Ugly Christmas Sweater if you don't have the jacket. Unfortunately we don't have a lot of options on clothes when it comes to the ones all pets can wear. But with species specific clothing, you have a lot more options to choose from. When it comes to clothes for the cold season, focus on ones that look warm.
(Neopoints) Hardy Blue Trousers: I tried on many different trousers on my neopet before deciding on the one I thought looked best for my theme. I automatically eliminated skirts because it didn't make sense for my theme. My theme is not based on realism, I know, but I wanted a small sense of reality. Unless you have tights or something of that nature to put under your skirt, I would highly suggest going with trousers. The choice was taken out of my hands because unfortunately all specie clothing don't have thighs and shoes. That can only be found with species specific and neocash items. So in the end I decided on the Hardy Blue Trousers . A cheap item at only about 1,600 nps. The color was perfect because navy goes with almost everything. Another trouser option I would recommend is the White Top Chop Trousers. The color itself makes it neutral for any customization theme.
(Neopoints) Easter Negg Scarf: The Easter Negg Scarf is the perfect scarf for me because I liked the colors with my neopet's jacket. It is really not a Christmas scarf, but the other scarves didn't work with the look I was going for. You don't need this particular scarf on your neopet. Any scarf will do, but make sure you have something that contract a little with your pet's clothes. You should avoid having the same color outfit and scarf. You don't want your scarf to blend into your clothes. You want your neopet's scarf to pop and the Easter Negg Scarf would only set you back by about 5,700 nps. My personal neopoints favorite scarves are the Brown Winter Scarf and the Asparagus Scarf.
(Neopoints) Suave Dark Wig: I am a huge wig fan. When the NC Mall started, a wig was one of my very first purchase. I collected different wigs throughout the years until it became too much for me. So when I was putting on my look I thought a wig was a no brainer. We have some decent options here on Neopia. There is the Bagel Hat Wig, the Curled Blonde Wig, Long Silver Wig, and others. My final decided was the Suave Dark Wig. At about 3,000 nps, this item won't break the bank. As you can now tell I am going for a male customization. There are many items for female neopets, but when it comes to the males, the choices are severely lacking. I tried my best and I hope you agree as well. Of course that wig can also work as a female wig depending on your theme and what outfit you use.
(Neopoints) Loot Bag: I wanted the Holiday Shopping List, but wasn't possible with the look I wanted so I went the Loot Bag at around 7,900 nps. If you want to create this look, then you need something that would be a visible left hand item. Sometimes a lower foreground item would be too high, making your right hand item zone disappear. If you don't use an item that would hide the right hand item, then I would suggest going for the Holiday Shopping List, Fancy Mug of Neggnog, Brucey B Holiday Mug, or even the Brucey B Holiday Mug. All these items would work to convey the Christmas season.
(Neopoints) Delightful Holiday Sled: Now you definitely know what theme I'm going for. This neopoints item is my number one favorite Christmas item of all time and it only costs about 2,500 nps. I love what it represents and that is why I chose it. The colors and the presents in the back automatically says Christmas without trying too hard. I wanted my neopet to be one of Santa's little helpers without dressing him up as an elf. To make the sled more full, I added the Loot Bag to show the amount of toys in the sled. If you don't want to make this theme, you can still use the sled and put a romantic spin on it. It is quite versatile for the Christmas season.
(Neopoints) Snowflake Frame: At this point you were probably wondering when the cold holiday weather would become visible. Well, the Snowflake Frame helps a lot in that. This would set you back at only 1,100 nps. Using a frame like a picture lets your eyes focus on whatever's in the middle of that picture. In this case I want all eyes on the neopet in the middle and not around it. Also adding this particular frame helps, even in a small way, of portraying the weather and how cold it is outside. Of course you don't have to use a frame if it's not your thing. There are many choices in garlands, high foreground items, and so on.
(Neopoints) On the Roof Background: With the theme of making my neopet a helper for the big guy in a suit and white beard, this background is perfect. Right now the backgrounds is a little pricy at 99,000 nps. But the good thing is that it is still buyable. I always use backgrounds last in my customizations to bring a look together. Without a background, I feel as if something is missing. The customization would look empty otherwise. With this background's hues of black, blue, purple and white, the image of a cold winter's night is achieved. You can see the roof top of houses and with the sled, it is perfect for my theme. This particular background is also special because the moon is animated and shines in the dark sky. If you don't have this background and want to still achieve this look, then I would recommend Terror Mountain Snowy Path Background or Snowy Mountain Background. They are both really great options if you use the sled.
(Neocash) Kordwar is a lovely Desert Blumaroo who will be modeling the neocach items. She was born 14th October in Y11. She is th sweetheart of the family, is a joyful pet that loves singing and cooking. Around Christmas time you can find her in the kitchen baking her favorite Christmas treats or sitting by the fireplace with her friends singing Christmas songs.
(Neocash) Red and Green Polka Dot Tights and Shoes: The first item for the outfit is the shoes and tights. Choosing the first item can be challenging and a tips is to decide what colors you want to work with. The colors I will focus on for this outfit will be green and red which is why I went with the Red and Green Polka Dot Tights and Shoes. The shine on the shoes look great with the outfit I have in mind. The shoes are from the retired game JubJub Power Bounce and need to be traded for if you would like to get your hands on them. Other suggestions would be the Candy Cane Stockings with Red Shoes or Holiday Tights and Boots.
(Neocash) Dyeworks Red: Polka Dot Holiday Dress: Dresses are one of my favorites to work with and are usually the item I start my outfit with. I decided to go with the red/green dress with polka dots. The colors are perfect for the Christmas season and the bow on its back just makes it even more Christmassy. This dress is one of my favorite Christmas NC dresses. It is a retired dyeworks item so to be able to get it you have to trade for it. Other NC items that would work just as well are the Holiday Striped Dress or Candy Cane Striped Dress.
(Neocash) Holiday Bob Wig: The third item I used on my for my pet's look is a wig. For this outfit I decided to go with Holiday Bob Wig. The colors on the bow on the wig match the dress very well and that's why I chose this wig. It's perfect for Christmas with its sleek and blonde style color. All the other pets will sure be jealous of this stylish wig. This particular wig was one of the items you could get from shaking a On the List Holiday Snowglobe which is now retired. Other suggestions that will work are the Side Swept Blond Wig or Limited Edition- Holiday String Lights Wig.
(Neocash) Stained Glass Contacts: In my opinion a contact is needed for the look I'm going for and the perfect one is the Stained Glass Contacts. The contacts are a great touch and with the reflections from the stained glass my pet looks beautiful and festive. These contacts were a prize from Stocking Stuff Stufftacular year 2014 and to get it you need to trade for them. Don't have this contacts, then try the Glittery Silver Contacts or Peppermint Contacts.
(Neocash) Gift of Fresh Baked Cookies: Now to complete what my pet will be wearing I chose a handheld, the Gift of Fresh Baked Cookies. The basket looks so cute with the bow and the steaming cookies look so yummy and freshly baked that your neofriends would appreciate you sharing with them. This item is a retired holiday shop item from 2009 and is available in holiday retired capsules. If you don't have the Gift of fresh Bake Cookies, I would recommend the Basket of Holiday Biscuits or Handheld Iced Gingerbread Cookie.
(Neocash) Hanging Winter Candle Garland: Now it's time for a higher foreground item and to start it of I added the Hanging Winter Candle Garland. This garland is one of my favorite NC item ever since it was released, so of course I had to add it to my customization. The beautiful candles give off a warm and cozy feeling when looking at it. The Hanging Winter Candle Garland is a limited edition item from shaking Winter Holiday Snowglobe and is now retired from the mall. If you want this elusive item you need to trade for it. I would also suggestions the Hanging Holiday Candles or Cheery Holiday Garland if you don't have the Hanging Winter Candle Garland.
(Neocash) Striped Christmas Side Tree: I decided to surround my pet with the Christmas Side Tree. The Christmas tree in my opinion is the most important decoration item for Christmas and the Striped Christmas Side Tree is the best Christmas tree that TNT has released so far. You can imagine your neopets opening the presents under the tree. This Striped Christmas Side Tree was available to get from opening a Holiday Striped Mystery Capsule. Don't have this lovely tree, then consider the Festive Mini Holiday Tree or Cosmic Holiday Tree.
(Neocash) Cosy Cottage Holiday Background: The very last item for this look is the background. The most important item and something I always use when I'm customizing my pets. The Cosy Cottage Holiday Background is my favorite item to work with during Christmas and I have to tell you, there are a lot of beautiful backgrounds to choose from. The decorations and colors in this background goes great with all the other items I've chosen for this outfit so far. This background achieves warmth and coziness, which is perfect for Christmas. The background was available in the holiday shop back in 2007 and can now only be obtained from trading or by open a holiday retired capsule, which is released every year. You can also use the Holiday Fireplace Background or Holiday Party Background to achieve the same look.
That is all we have for you right now. Thank you very much for taking the time to read about how we customize our pets for the holidays. We hope we helped you a little during our holiday customization.