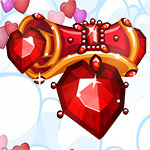 Sweetheart Grams Guide

by nah_nah

--------

While you are shopping around the NC Mall, you may notice a couple new holiday related sections. With Valentine's Day fast approaching you can purchase some brand new pink and red items to deck out your pet. These gifts are limited edition and are sure to skyrocket in value once the event is over, they may not be for sale again for a very, very long time. One of the most exciting parts of the Valentine's Day specials are the Sweetheart Grams. This guide will dive head first into the grams, covering everything you need to know about the pink and lovely scrolls. Don't be afraid to spend a little extra on your friends for the holiday! Valentine's is about spreading love to those you care about and for expressing love to yourself. Loving yourself is a great excuse to buy two of everything, one for your friend and one for you!

What is a "Gram"?

A gram is a beautifully adorned scroll that contains a selection of items. The concept is similar to a capsule, except instead of keeping the items for yourself it is sent as a gift. You can gift this to any user on Neopets, but you can also choose to send it to yourself. When you select the gram, you will be presented with a drop-down menu that displays the items found inside (usually 4-6 items). You can select the item to gift and then you will move to the next window, displaying a text box to type the username of the person you want to gift this item to. They are possibly the best gift you can give to your Neofriend as they are a combination of stunning beauty with a touch of adrenaline from the gambling aspect!

Are there any special items inside?

Yes! Each Gram has it's own special, rare item inside. When you select the drop-down menu, you'll potentially see this bonus item on the list. For this year, you can get the luxurious Ruby Falls Background from the Ruby Red Sweetheart Gram or the White Hearts Dress from the Little Hearts Sweetheart Gram. These two items have been hot commodities on the NC Mall trading circuit and will surely be very valuable after the event is over. You should stock up on Grams if you really want one of these items, or buddy up with a few collectors over on the NC Mall Neoboard. The value of these limited edition items will surely rise as the months go by.

How many Grams are there?

There are dozens of different types! The Sweetheart Gram is one of the most popular, only available this time of year, but there are some Grams themed after other holidays and Neopia's birthday. If you are interested in collecting Grams, it can be very difficult to acquire the older ones. Be prepared to trade some very rare NC items for the oldest ones. One of my favorites is the Flower Sweetheart Gram, a purple and white scroll adorned with tiny red hearts and stuffed with red roses. The rare bonus item from this Gram is the Mosaic Flower Wings wearable, but good luck finding one! It's been many years since it has been on sale.

Wow! What are your other favorite Sweetheart Grams?

The Tinkered Sweetheart Gram is an animated scroll styled after the steam punk aesthetic. It has moving gears and is made of different types of metal. Inside you'll find mechanical items, gear items, and a background featuring the Moltaran Heart Factory. It's perfect for your friends with a more "rust"-ic style.

Disheartening Sweetheart Gram was another great item, full of darker items like the Gothic Lace Valentine Caplet or the Web of Hearts Facepaint. It was a beautiful fusion of Halloween and Valentine fashion catering to the moodiest of Neopets.

Last year's Brilliant Ombre Sweetheart Gram may be a little easier for you to find and really capitalized on the past year's ombre trend. The Glittering Ombre Dress transitioned from sparkling pink to a deep blood red, creating an alluring and mysterious look with a touch of fun. The Dazzling Heart Sceptre is what I consider to be an essential for any Royal painted Neopet looking to get festive during February.

And who could forget one of the first Grams? The Sparkling Purple Sweetheart Gram holds one of the best Valentine's Day items ever released: Valentine Celebration Background. Truly an essential for any lovey-dovey Neopet getting dressed to impress this holiday season. The rare bonus item from that gram, the Delicate Pink Valentine Parasol, is still a hot item today and has aged very well in the fashion world. Don't overlook a gorgeous item just because of it's age!

What else can I win from Grams?

One of the coolest parts of the Valentine's Sweetheart Gram is the Share the Love Community Challenge. When you visit shop in the NC mall you will see a big heart progress ticker, this shows how much love has been shared around Neopia. You can increase this ticker by sending Grams to all your friends. If Neopia is able to max out the ticker, everyone who has sent at least one gram during the event will receive a special bonus item for free! Not only do you get to spread joy and love around the world, you'll also be rewarded for your efforts. Hop on over to the Neoboards and encourage people to send Grams to really help the ticker grow. We're already getting close to meeting our goal!

That's so cool! I'm going to send some Grams today! Is there anything else I should know before I get started?

When special events happen at the NC Mall, remember that they are very limited and the items may never be on sale again. I always stock up on seasonal items because the value of them will grow as time goes on. In a couple years these Valentine's Sweetheart Grams may be the item that helps you trade for your dream wearable. Holding onto a couple of the Limited Edition Bonus Items from the Grams could really boost your trading abilities in the future. Consider these great gifts for today and an even better investment for tomorrow.