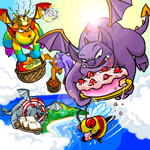 The White Weewoo's Ten Favorite Foods of Neopia

by smeehoo27126043

--------



Hello everyone! Last time we seen the White Weewoo, he traveled all over Neopia to visit the top spots that interested him. He enjoyed his travels and the souvenirs he kept during the summer months. Now, he is back and ready to take on a new challenge – food! Everyone is a fan of some sort of food. Whether it's nachos, broccoli, drinks, or even canned yams, you can't go wrong with delicious treats! The White Weewoo wants to get in on the subject, and share his love for food for all to see! We will go back to some of Neopia's top food places and choose a food fit for a Grarrl – I mean Weewoo! So, sit back, relax, and enjoy another wonderful story I have written for all to read! Thank you.

---

First up: Faerieland

Shop: Faerie Foods

Food of choice: Fluffy Faerie Pancakes

This item is first on our list of delicious eats. It comes from Faerieland; land of all that is Faerie-like. You will enjoy yourself with foods you've never thought existed! It's a stack of pancakes in the shape of a faerie – how cool! It comes with a glob of butter and sweet syrup. The texture is fluffy and they melt in your mouth. The White Weewoo really likes the taste of the pancakes. It is almost like magic!
White Weewoo gives this food a 10/10!
---
Second up: Tyrannia
Shop: Tyrannian Foods
Food of choice: Tyrannian Everything Omelet

This is the second item on our list of delicious eats. Tyrannia is no walk in the park if you're not cautious, large Pteri and Grarrls run about. Picture this: an omelet with practically everything you want and more… but you can't find it at the Giant Omelette! It is placed on a stone plate, wrapped in fluffy eggs, and has mushrooms with all kinds of meats nestled inside. They say this food is for the omelet lovers… and the Weewoo agrees. Think you can finish it in one sitting?
White Weewoo gives this food a 9.3/10!
---
Third up: Terror Mountain
Shop: Super Happy Icy Fun Snow Shop
Food of choice: Sloth Brucicle

Coming up next on the Weewoo's food pick, we have the Sloth Brucicle. Sloth…? Brucicle…? Native to Snowy Mountain (beware the Snowager), this treat is for the *cough* brave *cough* Sloth fans that walk about! I'm sure you can guess what this could taste like. World domination and pistachio ice cream! If you like ice cold treats (no pun intended) then this is perfect for you. You must admit; this ice cream is kind of cute from a distance.
White Weewoo gives this food an 8.5/10!
---
Fourth up: Altador
Shop: Exquisite Ambrosia
Food of choice: Altador Cheeseburger

Altador is known to have some of the most "exquisite" eats in all Neopia. Ask King Altador himself if you need to. We have a burger you can sink your teeth into! The bun is shaped like a Yooyu and comes piled with a burger patty, lettuce, and of course cheese. Who doesn't love a good cheese burger now and then? The White Weewoo wonders if they will create a burger in honor of all Weewoos! Yum!
White Weewoo gives this food a 9.5/10!
---
Fifth up: Meridell
Shop: Merifoods
Food of choice: Illusen Day Jelly

We're half way through the White Weewoo's top food picks of Neopia. How exciting! Meridell is a medieval land so get ready to eat with your hands. The next choice is a jelly inspired food by the one and only – Illusen. She has an array of different foods based on herself; this one is particularly special because it's a jelly. You can never go wrong with jelly, am I right? It is placed on a leaf from the trees of Meridell and the jelly itself has a chocolatey and minty taste. Yum! The White Weewoo says this jelly is one of the best.
White Weewoo gives this food a 8.8/10!
---
Sixth up: Mystery Island
Shop: Tropical Food Shop
Food of choice: Flatfruit Shake

Welcome to Mystery Island. The natives here are very kind to tourists and know how to serve the best kind of exotic fruits and drinks around. The White Weewoo had a hard time picking a food from this island, so he picked a drink! The Flatfruit is a purple, rich, and tasteful berry. Put it in a shake and you got yourself a treat that compares to nothing! The Flatfruit shake is a drink you MUST try when visiting the island (it leaves your tongue purple). The White Weewoo went through five of them already!
White Weewoo gives this drink a 9.5/10!
---
Seventh up: Haunted Woods
Shop: Spooky Food
Food of choice: Korbat Wing Soup

Haunted Woods is a vast land with trees and castles that will scare you out of your wits! Are you scared? Well don't be! This is about food and nothing more. Next up, we have a soup not suited for the squeamish. The Korbat Wing Soup includes three different types of Korbat wings and has different fruits as well. It all comes in a large green caldron and can serve up to a family of five. Now you're probably thinking "WHY WHITE WEEWOO, WHY?!" The White Weewoo likes weird inspired foods! (Who knew?)
White Weewoo gives this food an 8/10!
---
Eighth up: Kreludor
Shop: Café Kreludor
Food of choice: Grundo Smore

Look up in the skies of Neopia! What do you see? A large moon of some sort? That's Kreludor of course! They have a well-known café up there with foods some can't pronounce. The White Weewoo chose the most delicious one around; the Grundo Smore! It's shaped like a Grundo, has chocolate and marshmallow inside, and when you heat it up it becomes gooey and irresistible. These would be great to make during a campfire. Now I want one!
White Weewoo gives this food a 9.5/10!
---
Ninth up: Lost Desert
Shop: Lost Desert Foods
Food of choice: Sakhmet Palace Cake

The well-known desert of Neopia, Lost Desert, has some odd eats. Some are made of sand while others are made with bugs! Try anything once I always say… The White Weewoo chose an item quite extravagant and will leave you wanting more. The Sakhmet Palace Cake! It is in the shape of the prestigious palace and looks expensive, REAL expensive. The icing is smooth but creamy and the cake itself is vanilla. You could feed a whole family with this cake!
The White Weewoo gives this food a 9.8/10!
---
Last up: Virtupets
Shop: Grundos Café
Food of choice: Nova Dip

Here we are, the last food picked on the White Weewoo's trip! There were so many different treats to try but only the best was selected. Nova inspired items have been a staple of Neopia since the beginning of time. So, it would only be fair to have Nova Dip as the last food! It's very simple, little nova-shaped chips encircle a bowl of dip that could be cheese, ranch, or even hummus! All your party guests would surely be intrigued! It's a recipe anyone can master and you will not be dissatisfied.
The White Weewoo gives this food a 10/10!
---
The White Weewoo thanks all of you for reading his trip around Neopia once more and to taste the terrific foods it has to offer. Please, go out and try some of the foods listed and see how you like them. You may agree or you may not; it is all up to you! Maybe even make your own "top ten food list" and share it with your friends and family? All that matters is that you have fun. I hope you enjoy the rest of your weekend and thank you from both the White Weewoo and I!