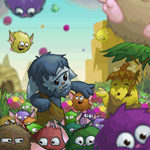 Rarity 80 Species Items for the 800th Edition Party!

by ilovemykitties12

--------



There's been talk around Neopia about a huge party coming to celebrate a special day. You see, this party is in honor of the 800th issue of the Neopian Times! That may not seem like a huge number to some. Sure, there are more than 800 words out there, more than 800 NeoCash items to pick from, an exorbitantly higher number than 800 food items to feed your pet. However, 800 issues of the Neopian Times is a huge deal! It means there an endless number of articles, comics, stories, series, and editorial answers that have been provided to Neopians throughout the years!

To celebrate, the 55 different species of neopets joined together to collaborate on how to celebrate this momentous event at the party! They came up with a great idea - each species would bring a rarity 80 item the party! They thought long and hard about which items to bring...which would be the most helpful to the party, whether it be for food and drink, entertainment during the party, or as a party favour for all their friends? Well, after months of brainstorming since the 750th edition party, the list was finalized!

What did the pets decide on? Well, why don't we let you see for yourselves??

1. Acara

Acara Magic - What would any party be without some entertainment in the form of a magic show? Many people don't know this, but acaras are quite the magicians. Hmm...we wonder which other species' party supplies will go "missing" first...
2. Aisha

Toffee Chocolate Aisha Sundae - It seems that Aishas are quite the popular species around these parts - something about them being cute, huggable, and overall friendly! Rightfully so, the Aisha clan settled on bringing this sundae, which shows just how friendly and approachable they are! Plus, who doesn't like ice cream?
3. Blumaroo

Blumaroo Fashion - We may be a little biased due to some of the authors having Blumaroos as pets, but those in the Blumaroo community do seem to be quite fashionable. With this book as a party favor, all the other species will have a guide on how to amp up their style in hopes of obtaining a Customisation Spotlight trophy!
4. Bori

Mean Green Bori Tambourine - Now why a tambourine, you ask? Well, it is a little known fact that Boris have outstanding musical talent! The party planning committee asked for some live music, and the Boris are bringing it! There's no party without some music, right?
5. Bruce

Skating Bruce Toy - The Bruce were the first to get creative with their party supply and decide on a party favour! Hailing from Snowy Valley, Bruces love to spend their days skating away amongst the ice rinks. Since many species don't live in such chilly climates, the Bruces are bringing their favorite pastime to everyone else! All the species can imagine themselves skating when they take this party favour home!
6. Buzz

Buzz Colouring Book - Sometimes parties aren't for everyone. There are some pets who prefer some quiet time to themselves because large groups of people overwhelm them or are just downright exhausting. The buzz posse took this into consideration and thought to bring colouring books party-goers can use as a relaxing activity either during or after the party!
7. Chia

Ice Chia Gnome - We love Chias around here, mainly due to their versatility! We've got apple Chias, pea Chias, Chokato Chias - you name it! On top of these we have ice chia gnomes to decorate the party venue! Not that there are awards set for this party, but if there were Chias could easily win Most Resourceful Species!
8. Chomby

Orange Chomby Scooter - While everyone else is dancing inside, the Chombies decided some outdoor activities might be a good idea as well - who would have thought? The Chombies donated 800 of these scooters to the party, so there will be plenty of opportunities for everyone to take a turn!
9. Cybunny

Strawberry Cybunny Cheesecake - This isn't just ANY cake, its cheesecake!! Look, there's nothing wrong with the other cakes and cupcakes some species are providing, but this cheesecake is really thinking outside the box. Plus, look at that grin the cheesecake carries - who couldn't be happy eating one of these?
10. Draik

Draik Legends - Any time there is a party like this one, it seems like the Draiks get ALL the attention. For years and years they were so rare, so there's this assumption that they have a family lineage with many famous Draiks before them. Well, with this party favour, everyone can have the full inside scoop on all the outstanding Draiks! Problem solved.
11. Elephante

Chocolate Elephante Doughnut - Many people think of doughnuts as breakfast, but for Elephantes they cover multiple meals - breakfast, lunch, dinner, dessert - whatever is needed! After some chatter they figured having doughnuts out for the entire party could bring a bit of their home to the party. Hope everyone is bringing their sweet tooth!
12. Eyrie

Iced Eyrie Cupcake - This cupcake isn't just any chocolate cupcake, no! It's actually strawberry flavoured, which seems to be one of the less popular ones at most parties. With the absence of anything strawberry at last year's party, the eyries made sure it was represented this year! They also managed to shape them as replicas of themselves. Sounds like a humble species to me...
13. Flotsam

Flotsam Arts - The flotsams were another group that got creative with their party planning! Surprisingly enough with their lack of fingers like other species, some flotsams have quite the artistic touch! At their craft stand at the party, flotsams will be giving out these art guide books as a favour to anyone who shows some effort into their crafts!
14. Gelert

Gelert Rock and Roll - Similar to members of the Bori family, Gelerts have some little known musical talents! However, their musical talents are of a more...amplified style! With this rock and roll guide as a party favour, we might just see new rock bands popping up all over Neopia! I wonder if any of the authors will do a quick gig at the party...
15. Gnorbu

Gnorbu Wool Candy Floss - Gnorbus are quite the fluff, so why not bring some candy floss as fluffy as their wool? Lavender flavoured and it melts in your mouth right away, yum! Not to fear though - this isn't actually made up of their wool, but is just a great replica of it! We wonder if it will come in other flavours and colours, too...
16. Grarrl

Chef Grarrl - Now you know, often times Grarrls get a bad name for being a big, mean, scary species! But were you aware that they actually love hanging out in the kitchen and creating new tasty treats for their friends to enjoy? Now that the secret is out, we hope every species will enjoy this cookbook as a party treat and use to keep the cooking going!
17. Grundo

Grundo Potions - On top of some of the other fun activities going on at the party, rumour has it that the Grundos are having a whole section just for mixing potions! We can only hope these potions will be used for better, but that's not our call, is it? All who try their luck at potion mixing will get this fun souvenir!
18. Hissi

Dancing Hissi Toy - Just like many other dragon species, Hissis love to dance and celebrate as though they were at a festival! To share their favorite activities with all the others, the Hissi reps are bringing these little toys for them to be remembered by! Hopefully they don't spit fire, because they're just a little bit scary if we do say so ourselves...
19. Ixi

Holiday Ixi Ornament - Have you met very many modest Ixis in your day? Over here we haven't, and this ornament party favour is enough to prove that they may need to learn to come back down to Neopia for a moment. The Ixi overseers hope that they will be remembered in all seasons, and are making sure of it as they ask others to hang their faces on their Christmas trees!
20. Jetsam

Boho Jetsam Glasses - You know there's always a trendy person or two at parties, but who would have thought that the jetsams would be the ones leading the party fashion? Whichever jetsam designed these as party favours knew they'd be a hit! Maybe some neopets can even bring them into the photo booth as a prop.
21. Jubjub

Banana Jubjub Muffin - We've got cake, cheesecake, lollies, and all sorts of tasty treats for the party, but up until the JubJubs put in their party supply, we didn't have these yummy muffins! The JubJubs are making sure those without sweet teeth are covered by offering this slightly healthier alternative...and look at those cute JubJub feet they decorated them with!
22. Kacheek

Wind Up Kacheek Toy - Yet another toy that will serve as a party favour for the 800th celebration! So many people always comment that Kacheeks are some of the cutest pets and with that being said they want EVERYONE to know it! All the pets will get to enjoy their cuteness with this toy!
23. Kau

Kauvara Stamp - You may have heard of her, but Kauvara is one of the most famous Kaus in all of Neopia! To commemorate her hard work in making sure there is a supply of potions for all the land, the Kaus figured this stamp would be the perfect favour! It's almost as magical as she is!
24. Kiko

Blue Kiko Balloon - What is a party without balloons? The Kikos realized the party would be missing them and took the responsibility of completing the decor! There will be just enough for everyone to take one home, too! Kikos are so cute we could just squeeze them - hopefully partygoers don't think the same and pop them all!
25. Koi

Fudge Koi Waffles - So many neopets think Kois just eat Koi Flakes, but from what we hear they also have a HUGE sweet tooth! These waffles are the perfect shape and size, plus have decadent fudge topping to keep the sugar rush going! The waffles may just be one of the biggest hits at the party...
26. Korbat

Wooden Korbat Bat and Ball Game - With all the festivities going on at the party, some pets may need a break to hang out by themselves and unwind. However, they could get bored just sitting around. This game is just enough to keep them occupied, as they don't need another person to play! They can also take it home for even more fun!
27. Kougra

Kougra Tail Skipping Rope - Looks like we'll need yet another game area set up for the party attendees! The Kougra team thought this item would be the perfect batch of fun for all pets, plus a reminder of their fun striped tails! Hopefully the Elephantes and Skeiths don't have too much getting off the ground to play this one...
28. Krawk

Limeberry Krawkade - This Krawkade is the featured drinks of Krawks, so their clan thought it would be the perfect party addition! Plus, this isn't any regular old lemonade, but instead it has a lime AND berry flavor - what more could our pets' taste buds ask for?
29. Kyrii

Sparkling Kyrii Bubbles - We all know that the royal girl Kyriis of Neopia love to be pampered and take pride of their beauty. As such, their team thought that this bubble bath would be the perfect treat for all pets to look at beautiful as them! Plus it comes with a fun strawberry scent - who wouldn't love that??
30. Lenny

Faerie Lenny Feather Fan - Everywhere we go, we can spot a Faerie Lenny's tail from a mile away. As one of the most beautiful pet features around Neopia (at least according the Lenny party), this fan shares that beauty with all the party goers!
31. Lupe

Strawberry Lupe Treat - Err it may be in the shape of a chia, but let's put that aside...These treats are a Lupe delicacy! There were a few greedy Lupes who didn't think they should be shared with the rest of the neopets at the party, but the leaders convinced them otherwise! Now all pets can munch on this yummy strawberry treat...maybe even the Chias will!
32. Lutari

Lutari Healing Potion - Now the Lutaris...they're a little odd in their party favour giving. This potion will heal a Lutari to its full hit points...and do nothing else for non-Lutaris. However, they stated that to share the joy that is being a Lutari they wanted to give everyone the potions! Maybe the other species can put them on a shelf in their Neohome for decoration?
33. Meerca

Starry Meerca Ball - Ball games have been around Neopia for ages! Gormball, Deckball, Zurroball...and the list goes on! The Meercas are always known for enjoying a nice game of Meerca Chase, but they also love ball games! Maybe they can start their own friendly version of one of the classic Neopian ball games at the party!
34. Moehog

Moehog Milkshake - The party will have its fair share of desserts, that is for sure! We've got ice cream, sundaes, cookies, and now milkshakes as well! This nice vanilla milkshake will be the perfect addition to the other sugar-infused snacks other species are brining! Plus, it comes with a nice souvenir cup!
35. Mynci

Mynci Mime Artist Face Paint - What is a true celebration without a face painting station?? You're right - it wouldn't be a party without one! From what I hear, Myncis are highly talented painters, so I bet they'd be willing to paint other things for pets besides just the mime paint! I wonder what sorts of creations we will see!
36. Nimmo

Chocolate Nimmo Dessert - "Pretty please with a cherry on top?" Asked Norm the Nimmo. "Can we PLEASE bring this dessert to the party, mom?" And just like that - party goers DO get their dessert with a cherry on top! Amongst layers of sweetness, this dessert has the perfect amount of chocolate for everyone to love!
37. Ogrin

Ogrin Confetti Cupcake - Doesn't this just look like the perfect cupcake to bring to a party? The confetti is festive as it comes - it's like it was meant to be! As a vanilla cupcake, this is the perfect alternative to the strawberry Iced Eyrie Cupcake and all the chocolate desserts! Better grab one before they're all gone!
38. Peophin

Grape Peophin Lollypop - Who doesn't love a yummy lollypop to enjoy while waiting in line for the face painting station or flotsam craft station? With a sweetness that goes on and on, this will be the perfect treat to keep the baby neopets happy as well! The Peophins will just have to get past people eating lollypops shaped JUST like them...
39. Poogle

Poogle Poetry - "Poogles are fun, Poogles are cute, but you better run, before they give you the Boot!" This book is full of fun poetry like this one! Not only does this book contain poems written only by Poogles, but all the poems are about Poogles too! Maybe this will inspire some creativity in other species as well!
40. Pteri

Pink Pteri Bank - As the holidays approach and everyone is getting ready to grab things from the advent calendar, the Pteri representatives figured it might be a good time to start reminding people to save their hard earned Neopoints for holiday gifts! This piggy bank will give them all a safe place to keep their Neopoints hidden until they're ready to buy gifts!
41. Quiggle

Quiggle Sock Puppet - Quiggles seem to have a reputation of being a silly species who likes to joke and have fun! Little did we know, one of their favorite ways to have fun is to put on a puppet show for all their friends! During the party, they will be performing a puppet show, and all attendees get to take a puppet as a souvenir! What a fun, goofy time to be had.
42. Ruki

Dark Damsel Ruki Crown - Something that most species seem to be forgetting is what a monumental milestone the 800th edition of the Neopian Times is! To keep everyone in check, the Rukis decided everyone should have a crown to help remember! This crown represents strength and determination that all species have put in while their owners prepare articles, comics, stories, and more for each edition!
43. Scorchio

Scorchio Cook Book - Just as Grarrls have a hidden talent for cooking, so do the Scorchios apparently! This cook book contains recipes from the Shoyru family dating back to Y1 - can you believe that? As long as a pet says they have a desire to learn about cooking in general, they will get one of these cook books! I wonder what the most popular recipe will be...
44. Shoyru

Lime Shoyru Cake - You heard that right - we have even MORE cake to celebrate with! But, just as all the other cakes have a unique flavour, so does this lime flavoured Shoyru cake! We know, that may not sound the most appetizing, but we tried a sample and it proved us wrong! This cake has the finest combination of sweet and sour - you'll love it!
45. Skeith

Blueberry Skeith Cookie - Based upon their, err, larger presence compared to some other species (we still love you, Skeiths!) it can't be the biggest surprise that the Skeith team decided to bring their favourite cookies to the party! On the bright side, they contain real blueberry, so at least we'll all be getting out fruit servings!
46. Techo

Drinking Techo Toy - We're going to be honest - we aren't quite sure why the Techos chose to bring a toy that serves no other purpose than to sit on a shelf as their souvenir. But, as silly as it does seem, this toy can actually become mesmerizing as we get to watch it drink all on its own. Just enough fun to pass the time!
47. Tonu

Assorted Tonu Chocolates - Yum yum yum, chocolates galore! The tonu team got together and decided that putting a box of these chocolates at each party table would be the perfect touch! A brief run-through of the box shows that the fillings are caramel, mint, raspberry, and more! Better save some room to enjoy at least one of these...
48. Tuskaninny

Tuskaninny Yoyo - This is a classic party favour if you ask us! As the Tuskaninny members grew up, they always sent their friends home from birthday parties with one of these yoyos! As a result, they figured they should do the same for this party! Yoyos are fun and the perfect game to keep people occupied during downtime! We wonder if they know any cool tricks...
49. Uni

Classic Uni Jokes - Look at that Uni on the cover - you can tell she is ready to tell some jokes and have a grand ol' time! The Uni on the cover is actually coming to the party as well! She will put on a performance and give each member a copy of the book as a thank you for joining her! We can't wait to see what her funniest joke is!
50. Usul

An Usul Autumn - Due to the party falling in the autumn season, the Usul representatives thought it would be the perfect time for them to share their autumn journeys with everyone else! The book tells of some of the fun and interesting autumn activities they like the engage in, as well as some of the trouble they've gotten themselves into while doing so!
51. Vandagyre
Well, well, well. The one species that has nothing to bring. Unfortunately, there is no rarity 80 item for the vandagyre group to contribute, but that is okay! Instead, they have volunteered to be the ones setting out all the favours in the first place! Without them, we couldn't complete the party...so thank you, vandas!
52. Wocky

Strawberry Wocky Meringue - What is this, another dessert for the party? Just kidding - we can't blame the Wockies for wanting to bring this because it's some of the tastiest meringue we've ever had! It also has the subtle strawberry flavour that is just enough sweetness to satisfy us! Plus, its cute decorations make it even more worthwhile to our decor!
53. Xweetok

Xweetok Happy Times - Speaking of happy times, this is one of them! The Xweetok family was so excited to be a party of the 800th Neopian Times celebration, they wanted to add it as an addendum to their book! Therefore, after the party, they will be updating the book with the party experiences and sending a copy to all attendees! What a fun idea!
54. Yurble

New Year Yurble Dragon - Yurbles are some of the cutest and friendliest little pets out there! Just look at faerie Yurbles and see the big smiles on their faces - priceless! However, they're tired of people underestimating their fierceness, so they figured this toy might help remind people they too can be fierce. If you ask us, though, we think the toy is just as cute as them!
55. Zafara

Slice of Zafara Pizza - How could we forget to include pizza - one of the finest, most tasty, and most loved foods around Neopia - on the party menu? No fear, the Zafaras have us covered! This ooey gooey cheesy pizza will likely be a hit around the party, so make sure to grab it while it's hot!
56. Weewoo

Neopian Times White Weewoo Plushie - Okay, we know that Weewoos are Petpets, and not pets, but they demanded that they be able to bring a souvenir for the party as well! Due to the intensity of their involvement in the preparation of each and every issue, we had to listen to them! Each party goer will be spoiled with the rarity 100 plushie to remember the celebration - what a treat from the Weewoos!
And with that, we've given you a short preview of some of the meals, desserts, activities, and toys our pets will get to enjoy while celebrating the 800th edition of the Neopian Times! We can't wait to attend the party and see all of the fun activities and yummy treats that make our pets so happy - this is all for them after all, isn't it? Enjoy!!