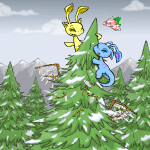 Wonderful Winter Getaways

by smilingpony

--------



With the year slowly drawing to a close and the days getting colder and darker, you may be wanting to grab a sneaky holiday before the Day of Giving. Here are our top picks for winter destinations, sure to suit everyone, and a guide of the best bits that you shouldn't miss seeing and doing in each location. From sun to snow, from relaxing, to shopping, to sports, we have a holiday for everyone this season.

The Lost Desert :

If you are after some winter sun you should head to the sands of the Lost Desert – being located close to the equator, the city of Sakhmet, or its neighbour Qasala are always hot hot hot, for those of you wanting to soak up some rays.

To do:

Visit Coltzan's shrine – marvel at the impressive monument to Coltzan III, erected by his daughter Princess Vyssa. Not only is the monument an architectural wonder, but you may be blessed by the spirit of Coltzan himself and come away with a nifty item or with some extra spending money. This is a not-to-be-missed attraction for any Lost Desert tourists.

Play games with the locals – at the vibrant market in Sakhmet many locals are to be found playing traditional games and they are always happy for new players to join them. While away the hours sat in the sun getting to grips with Geos or Scarab 21. There is a solitaire stand for those wanting some peace and quiet, or if you venture outside the city walls you can try your luck at Tug-O-War.

Visit the tombs of Qasala and wander around their endless corridors – it is best to get a seasoned guide for this as getting lost is a very real prospect. Many native inhabitants of the city know a few routes around the tombs so make some enquiries and hire a guide. They will also be able to regale you with plenty of stories as you descend.

Shopping:

There are plenty of fun market stalls and shops in both Sakhmet and Qasala – for the intellectuals there are the bookshops Words of Antiquity and Sutek's Scrolls. For those seeking to upgrade their battledome equipment you have the choice of Battle Supplies in Sakhmet, or Desert Arms in Qasala. For fun souvenirs you can check out Osiris Pottery, or Mystical Surroundings for some fantastic additions to your Neohome and wardrobe.

To eat:

The Food Stall in Sakhmet is always filled with delicious, traditional foods. Specialties include edible sand shaped into many different forms, fruit or mint filled ice cubes if you are feeling hot and lots of juicy, locally produced fruits. The Rhuby fruit is a firm favourite of many neopets in the area. In Qasala, try out the Qasalan Delights shop to try their local delicacy Queela – a spicy fruit which goes into many of the traditional Qasalan dishes.

Terror Mountain / Happy Valley:

For those seeking high action winter sports, and lots of cosy après-ski then look no further than Terror Mountain. With plenty of exciting snow and ice based sports and games, and many warm firesides this is a place where winter lovers can rejoice.

To do:

Do some winter sports – from ice skating in the valley, to sliding through the ice caves to rolling down the snowy slopes at the top of the mountain, there are plenty of extreme winter sports for you to try. Deciding on which to do will be your challenge as they are all immensely good fun and come highly recommended.

Visit the Snowager in the Ice Caves – be careful not to get blasted as he isn't keen on visitors, but seeing this awesome creature in his home is an absolute thrill and, if you are feeling brave you can try and take a little souvenir home from his pile of treasure!

Do a quest for the Snow Faerie – Taelia lives at the top of Terror Mountain and frequently requires items from elsewhere, so if you've managed to bring some useful things in your suitcase then you should pay her a visit and take a chance with a fun reward for your efforts.

Shopping:

Check out the Garage Sale for some great bargains on all kinds of items that Mika and Carassa are getting rid of. Although the items are second hand they are all good-as-new and you can often get a great discount compared to normal shop prices.

If you need some ice-based weaponry the Ice Crystal shop sells all kinds of battledome goods, and the Scratch Card kiosk in the valley is a must visit – as one of the few places in Neopia to purchase scratch cards you should add this to your list.

To eat:

You absolutely must try a delicious ice cream from the cart, or get a cool slushie from the shop on the valley floor because cold food in a cold location is just so right! If you venture into the ice caves you can exchange Neggs at the Neggery to get some really rare treats – just make sure you have enough plain Neggs to exchange – Neopoints are not accepted in this shop. At the top of the mountain they make many incredible ice-based foods and drinks from ice lollies to Chia Pops and some very intricate carved ice treats. Once you've walked to the top you will be so warm you will be glad of some cold food to cool off from all the exercise.

Mystery Island:

If you need to get away from the hustle and bustle of pre-Day of Giving madness you can seek out a relaxing island retreat on Mystery Island – a thoroughly unspoiled destination which has maintained much of its unique cultural charms.

To do:

Head to the beach! With white sandy shores and a warm sea you can while away many hours in bliss, catching up with the latest goings on in The Neopian Times and going for an occasional swim or snorkel – you might see some colourful aquatic petpets! If you want to get a bit more active there are always some Mynci's playing volleyball which you can join, and not far from the beach you will find the famous tombola stand for a daily chance at some prizes.

Take a tour of the island, Tiki-style! From the comfort of a wagon, pulled by the knowledgeable tour guide you will be pulled across the highlights of Mystery Island – from the beach, into the jungle – with fabulous views of Techo Mountain in the distance. If you time your tour well, you will catch the sunset over the sea as you return to the beach for the conclusion of the tour.

Immerse yourself in local culture: get your fortune read by the wise Island Mystic, or visit the haiku house and exchange some poetry with the Island's resident poet. Most visitors enjoy a trip to see Jhuidah and try their luck at making an offering to the Great Pango Pango. We would advise some research before this trip to make sure your offering is acceptable to get the best results.

Go exploring – from Techo Mountain to the ruins of Geraptiku there is plenty of exploring to be done across the island. Once you traverse through the jungle you will reach the base of Techo Mountain – it is a very steep climb and not one for beginners, but the views of the island from the top are well worth the effort. Caves litter the lower slopes of the mountain, but unless you have a guide it is wise not to wander too far into them. Further through the jungle you will come across the old city of Geraptiku, now in ruins, although one shop has been set up to cater for the increasing tourist trade – here you can find a selection of petpets discovered in the local area. If you are feeling brave head into the deserted tomb in search of treasure!

Shopping:

There is a thriving marketplace on Mystery Island which rivals the Neopian Central Bazaar so there are plenty of shopping opportunities with most shops widely stocked. Mystery Island is also home to the Trading Post where high-end good are often exchanged so if you have something to sell, or you are looking to make an extravagant purchase this is the place to come. If you are looking to purchase local goods, Tiki Tack has a great selection of souvenirs.

To eat:

The Tropical Foods shop has a wide selection of local produce, from fruits to seafood you can definitely pick up some traditional delicacies and eat like a local during your stay. Must-trys: Plurburbs, Islandberry Fruit Kebab and the Famous Crab Burger.