This section is random meaning miscellaneous. I do have random events here, but it's mainly bits and pieces.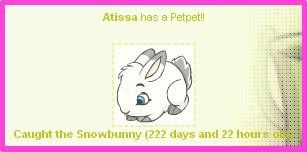 Someone was laughing at the name of my snowbunny. I went to see how old she was and found all 2's in the time.
Spelling please - ABOMINABLE. Lol, I know it's only a typo, TNT are only human.
Thank you Mystery Valentine!! Actually not so mysterious because I split the cost of a card with a friend so we both got the sidebar.
Maths please people!
Darn those chombies.
At least TNT put some effort into their error codes. It distracts from the disappointment.
More evidence that TNT doesn't use a spell checker.
Still more evidence of the lack of spell checkers.
Typos, typos.
I took this before I painted Marissa.
I got this 2 days after I painted Marissa. I'm glad Boochi missed because the paint brush cost me 250k, and I don't like Baby Kois.
This person was very apologetic when I explained I'm not Donna and that screenie with asparagus was to do with Adam's birthday. :)
Pure evil. This is the only time I've had this event (29th September 2005) since the avatar was released in January 2005. It's now 2006 and still no luck. Give me the avatar!!! *hisses*
I got my first Faerie Queen quest. It cost 13k to complete.
And then she blessed the wrong pet, graarr! Oh well.
One 'E' too many - sheltered!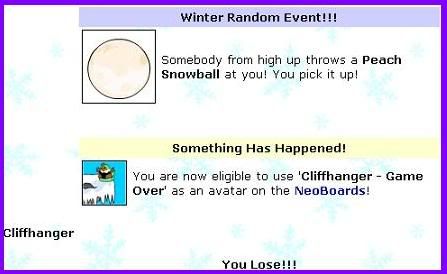 It's not often you get two events on one page.
Sold for a decent amount.
Another one! :o
And once again she helps the wrong pet. Oh well, at least I got a quest.
I painted Atissa fire. As you can see from the before pic, she used to be a faerie blumaroo.
Wow, I love this event!
Bizarrely, dear.
Who would think TNT can't spell 'properly' properly?
I morphed Elodie23 into a mutant grundo.
Here's the paint brush that painted Elodie23. Then I got the av on her pet page!
Oooh! A negg worth 17k!
She strikes for the second time. The date was the 27th Feb 2006. That makes twice in 13 months. TWICE!! And I see newbies and 1 month old accounts with the tooth faerie avatar! That's why part of my font says "Tooth faerie is evil." She is!!! Ok. Rant over.
I decide to turn Elodie23 into a Royal Girl Flotsam. Here's how I did it.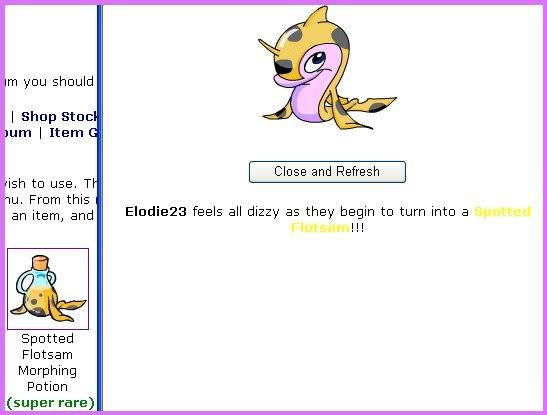 First, I morphed her into a spotted flotsam.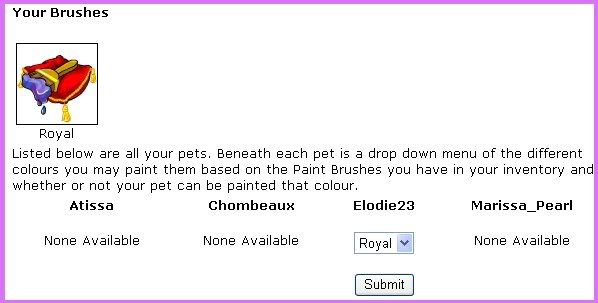 Then I bought a paint brush from the hidden tower and went to the rainbow pool.

Here's the before shot, on my lookup.

Here's the after shot.