___Welcome

Hi everyone and welcome to my new page. A fresh start is just what I needed:) I re-did the layout and some of the content. My owner would love to hear any feedback/constructive criticism so feel free to neomail her at skatediva86. Oh yeah, this layout looks OK on 800x600 but it totally rocks on 1024x768! PS- I'm not quite sure if this layout works on Macs!

___My Life

I was born on Febuary 17,2001 along with my sister Roxy8686. It was my owners first day in Neopia, and she has learned alot since then. I was born on Mystery Island as a kougra. I stayed that way for quite a while. One day my owner discovered the cybunny species. She fell in love with it. She knew she wanted a cybunny that would someday be painted faerie. She saved enough money to buy a red cybunny morphing potion, which at the time was only 15,000np. She fed me the potion and I transformed. I remember how my owner wanted me to be painted but couldn't afford a faerie paint brush. I recall being painted Halloween at one time just for the sake of being painted. Then a miracle took place. Someone discovered the Rainbow Fountain! My owner signed up for some sponsors and painted me faerie! I was soooo happy. Up until now I've lived a normal life; at least as normal as it can get. Oh, heres a picture of me: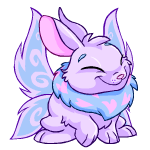 ___My Stats

Owner: Skatediva86
Species: Cybunny
Color: Faerie
Age(in hours): 151962
Level: 24
Strength: 32
Movement: 20
Defence: 23
Hit Points: 23/23
Intelligence: 76

I'm trying to raise my stats so I can be a good battledome fighter. POW!


___Battledome Stats

Total Fights: 52
Won: 17
Lost: 32
Drawn: 3
Score: 1010


___Family

Roxy8686- Roxy and I are the same age ;) We're really close to each other because we were born at the same time :) She's mah best friend!



Jasca_Lee- Jasca is quiet and smart. We don't talk much but we're close. She's really shy I guess. She has a diary posted here.



Yuna_Lee- Our newest addition to the family is Yuna (named after the FFX character of course)! Yuna is sweet. She really looks up to me. She always tells me how pretty I am and how she REALLY wants to be faerie. I like her :)




___Mah PetPet

My petpet is the cutest ever. Her name is Fiona the harris. Skatediva86 says I get to paint her when Neopets makes up a cool painted harris (all they have now is Christmas and Halloween).




___Home Sweet Home

I live in a 12 room neohome located at 21161 Market Square, Neopia Central. We all live there comfortably and in the future my room will be all tiger furniture. Right now it's rather eclectic. I even have my own garden (with some gnomes in it)!


___Fan Art

Clickie on the thumbnails, oh and any fan-art will be loved regaurdless of the owners drawing abilities! Just send the image URL to skatediva86!




___Educate Yourself

This is the section that I have dedicated to learning about cybunnies. We're an interesting species, so for more info about us go to the pages listed below.

To learn about Erick the cybunny click here.

To learn about the Undead Cybunny click here.

To find out how to draw cybunnies click here.

Learn how to take care of a cybunny with the insightful Neopian Times article called The Cybunny Tutorial by muas.

Learn about the Cybunny Carnival by taking a look at this Neopedia article.


Link me: