Welcome!

Welcome to Isty's All-You-Need-To-Know Guide to The Neopian Times. Here, you get to learn all about Neopet's one and only newspaper- The Neopian Times! Some Neopians may regard our paper as 'a waste of time' or 'just a place to read silly stories', while in fact, the Neopian Times is a large network that connects and allows people from all over the world to learn from each other! It has it's own items, history, and even a special petpet. However, I understand that not all of us make it part of our daily (or even weekly) routine to read the Neopian Times. So, for your sake, I'll explain the way this beautiful assortment of writing works.


---
What is The Neopian Times?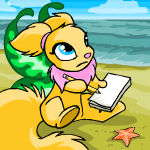 The Neopian Times is (as explained above) Neopia's newspaper. In the beginning, it was a place to, well, read the news. Each issue not only contained the usual Stories and Articles, but Stock Markets Reports, updates on the latest plot, and info on new pets or worlds. Eventually, most of these things moved to the New Features page or disappeared completely. Now, we are left with the six basic pieces: the Editorial, Articles, Short Stories, Comics, and Series. All of them are written by Neopians and submitted to be judged by TNT. If one is picked, the piece is published in The Neopian Times for everyone to read!
The Neopian Times is published every Friday with the weekend news. Occasionally, TNT skips a week for Holidays, but this is very rare. If you're not sure whether or not the newest Times has been released, check the New Features page, where TNT always posts a message when it's officially released. If you don't want to go there, then you can click here or copt and past www.neopets.com/nt into your browser. This will automatically take you to the latest issue.


---
Sections of The Neopian Times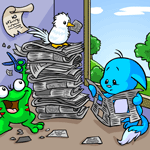 The Editorial: The Neopian Times is now a place to read for enjoyment, information, or personal gain. The only "News" piece left is The Editorial, a place where Neopians can submit their questions about Neo for a chance to have them answered by TNT. Many Neopians read only this part of the Neopian Times, which unfortunatly means they're missing out on all of the other great sections! There are many, many questions submitted each week, so don't feel bad if yours isn't picked! The questions published are picked for their intrest level and humor. If a question is particularly popular, it too will be published so that the Neopians can finally get their answer!
Articles: This section is the information section of the Neopian Times. The articles published here vary from Game Guides, to Interviews, to Rants and Raves about something in Neopia. Having trouble beating Hannah and The Ice Caves? Search the game in the search bar and you're sure to come up with more than a few articles explaining. Want to learn more about Sloth? There're plenty of articles concerning him and his history if you need! Some other fun Article topics are:
Quizzes: Find out if you're most like a Meepit or a Faellie, whether or not you're a Neopian Genuis, and what type of cheese you'll like the most. :)
Top 10: These are an easy way to learn about the scariest items, funnest games, or ways to use up old shoes.
Other Info: Everything else pretty much falls into this category. You can find info on Altador Cup teams, guides to teaching your pet how to stand on their head, and tips on the latest fashions!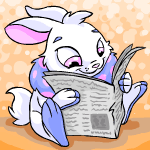 Short Stories: My personal favorite part of The Neopian Times, this section includes ten to fifteen short stories written by Neopians. The main characters are always Neopets related, and since this is also the most popular section to write for, only the best of the best get in. If you spend enough time here, your're sure to find one that sparks your interest. There are stories about adventure, horror, and friendship. Go ahead and take a browse.
Comics: Ahh, the most popular section of the Times. The Comics are humorous drawings, videos, or the traditional comic-book style panels that are a garunteed laugh. There are thirty-five to forty of these a week- they are under high demand from the Neopian public. There are a few comics that run a panel every week, maybe you'll get hooked on one and read it every Friday!
Series: Possibly the least read part of The Neopian Times, this section consists of two parts: New Series and Continued Series. Series are the same as Short Stories in the sense that they are both stories, but Series are longer and are released in parts, one every week for up to twelve weeks. Very few New Series are published every week, but even the few that are contribute to the Continued Series list, which is usually quite long. To read this section, I suggust you start with a New Series and read all the parts of that one until it is finished, after which you can move on to another one. This is an easier way to read and not get confused and if you keep it up, there's no doubt that you'll get very involved in the story and wait impatiently for the Times to be released so that you may read the next part.


---
Neopian Times Items
The Neopian Times is not only a Newspaper, but out in Neopia it has its value too! There are currently several Neopian Times items and even more items for Neopian Times writers! They are good for galleries, toys, books, and just admiring. They are as follows:
Neopian Times Items















Neopian Times Writers may want to pick up a few Notebooks or Pencils as well, the best choices being these:



Neopian Times Writers










The Neopian Times is such a special part of Neopets, that TNT has assigned it its very own Petpet! Please say hello to the White Weewoo! These petpets are not only adorable, but they have a certain amount of charm and intelligence about them that just seems to inspire writers. You'll know a Weewoo not only for its appearence, but for its popular call: Weeeewoooo!


Weewoos are not only white, however! They come in many other colors as well.


Weewoo Colors


















---
How to Get Into The Neopian Times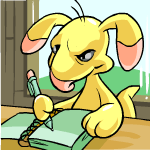 Now that you know more about the Neopian Times and what it is, some of you should be ready to become a part of it. However, getting into the Neopian Times is more than just submitting something you like. It's a long process that should take you, at the very least, one or two weeks of dedicated work. Many of us first time Neopian Times writers (Isty included!) went through 3 or more stories or articles before finally getting in. However, that doesn't mean you shouldn't try. Once you've gotten in, you'll find that it just keeps getting easier! Here are the basic steps to writing your piece and getting it in! (Note: this section can also apply to comics, simply replace write with draw)
Brainstorm. For some, this is the hardest part of the process, while for others this comes easily. To make this part easier, try to think about things you've done yourself, something that struck your interest today, or an adventure you think your pet might go on. There are so many ideas out there, you just have to look for them! Another great way to begin is to put aside the story part and just make a character and setting. This is usually pretty fun (you can do whatever you want with them!) and it's a great way to get your story going.
Write, write, write! This is the most important step, because without the story-there's no story! This may take a while, and it's okay to take your time! It's much better to take a month and come out with something good than to take two days and get something that couldn't get in if it was the only submission left. Feel free to take frequent breaks or to only write a little bit a day. Just because you think your done, doesn't mean you are. Add on if you feel like it, or take away parts you don't think fit. Your almost done! (Wasn't that easy?)
Edit. This is a two-part step. First is your personal editing session. Go back and re-write something that doesn't sound right, spell check, add a missing word, spell check, write a new beginning if you want and spell check. This is a very repeptitive process as you must read over your writing 2-10 times to make sure it's the way you want it. Then, get someone else to edit. It can be a friend, teacher, parent, or person from the Neoboards. If you're going to find someone off of the Neopian Writers Board, be sure to post that you want a serious editor and to be careful that they don't steal your writing. It's been known to happen, so be careful! If you don't feel comfortable getting a random person, then get a friend or family member. (By the way, if anyone ever does claim your writing as theirs, report them here)
Submit. Finally, the time has come! At the bottom right of The Neopian Times home page there is a stack of newspapers. Click on those to submit your piece or click the stack of papers below. At the bottom of the submitting form you get a chance to write a comment about your submission. Many people like to put something about finally getting in, but why not make it different and special? Dedicate the piece to someone or tell everyone how you got the idea. If you want people to Neomail you about it, put that too!

Rejoyce or try again. By the end of the week, you should get your Neomail from TNT saying whether or not you got in. If you did...congratulations! I'm so proud of you! Look below and see what you've won. If not, that's ok. TNT may give you a reason why, and if they do, fix the problem and resubmit. If not, you can still let others read your piece! Paste it on one of your pet's petpages with a link on your lookup or publish it in a Guild Newspaper. There are still plenty of ways to get noticed!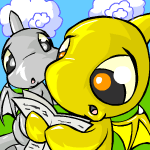 Some extra tips for all of you out there: don't write about something that's been written about before. TNT is looking for original and interesting ideas, not just stories about earning a Paint Brush. Also, keep in mind that spelling and grammar are extremely important, to the extreme that you will be rejected if it's not good enough. So please use your spell check! Lastly, make sure that you don't get too violent or romantic. Neopets is for all ages, and you wouldn't want your little sister reading something like that now, would you?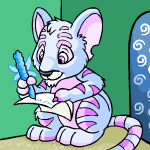 ---
Neopian Times Prizes
If you've gotten your piece into the Neopian Times, you not only get it published so that others can read it, but you get an uber spiffeh trophy for your lookup. If you get in more than once, a note is put below the trophy that says (xNumber of times you've gotten in)


This trophy could be yours!
The Neopian Times Trophy isn't the only thing you can get, however. If you get 10 articles, stories, comics, or parts of a series published, you will also get the NT Star avatar.


Those enough lucky to be published in the 200th or 250th issue of The Times also recieved the Neopian Times Writer avatar.


Sometimes, if you get published in a special issue o of the Neopian Times (such as the Halloween or Jhudora Day issues) you will recieve a special Rare Item from TNT. These are not given out on a usual basis however. If this is very important to you, you can wait to submit your piece until the week of that issue, though there is not guarantee that it will get in at that time as many people write special articles or stories for a special issue.
So far, there are no Neopoint prizes rewarded to those published. However, the prizes you can get are much more special than any amount of Neopoints could ever be. Having one or more of them helps you to stand out as a great writer, one worthy of a place in The Neopian Times. Doesn't that make you feel great?


---
Goodbye!
All good things must end, and this page is no exception. I am a monster with goodbyes, so instead I shall call upon another to do the honor. To quote the Ultimate Writer:
If we do meet again, we'll smile indeed; If not, 'tis true this parting was well made. ~William Shakespeare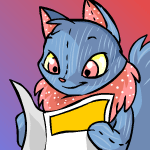 ---
Link Back
If you'd like to link back to me, please use one of the two buttons shown below. Thanks!