SECTIONS:
* About Me
* Accounts
* Avatars
* Coloured Sketches
* Dailies
* Galleries
* Lab Rays
* Limited Edition Pets
* Lookups
* My Pets
* My Pages
* My Username
* Neofriends
* Neopets Premium
* Neopoints
* Quests
* Trading With Me
* Wishlists


PLEASE READ THE FOLLOWING CAREFULLY BEFORE NEOMAILING ME...

Accounts

My main account is UV_Goth but I also have four side accounts with pets.

UV_Goth: Happiness Faerie lookup, Goth Gallery
UV_Poogle: MSPP themed lookup and Gallery
UV_Poogletastic
UV_Christmas: Christmas Kougra lookup, Lab pet
thedigitalangel

I first started playing in 2002 but lost my first account after two years of playing. :(

My Pets

Battle pet
UVPoogle (Spotted Gelert)
Poogles
CaptainJacor (UC MSP), t0ffee_cream (UC Plushie), Jexxen (Robot), chrin409_42240 (Jelly), Bear_1346 (Camouflage, Moltara), Azthana (Halloween)
Christmas
spirit_foxx (Christmas Cybunny), UVKougra (Christmas Kougra), ExtraPBClothes (Christmas Lupe)
Draiks
Aleliue (RoyalGirl Draik, Shenkuu), Alieuea (Stealthy Draik), Alelix (to be Robot Draik)
Other Pets
Liutheri (RoyalBoy Blumaroo), Niabli (Pea Chia), Serpenteia (Magma Hissi, Knight Who Says Ni), Linsomnie (RoyalGirl Korbat, Goth)

Galleries

I have a Goth Gallery.

I also collect MSPP items.

Lookups

I have designed and made the graphics for my lookups and these aren't available for people to use without my permission.

Anybody found stealing graphics I've made without asking will be reported!

Current Lookups (need to be updated to Neopets v2)

Happiness Faerie on uv_goth
MSPP on uv_poogle
Christmas Kougra on uv_christmas
Baby Kau on bloo_moo

My Pages






About Me

Name: Vicki
Location: London, UK
Real-life Pet: Ngalyod - Marajo Island Brazilian Rainbow Boa
Interests: Geek, Kubuntu user, alternative, social butterfly, proud snake mum, Eeyore and Tapir lover, sci-fi mad, BSG and H2G2 fan, traveller to far-flung corners of the globe
Favourite Neopets:
Favourite Neopets Can't Get: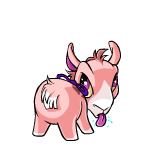 Favourite Petpets:


Favourite Neopet Items:




My Username

I'm not a Goth in the new sense of the word. I don't listen to Marilyn Manson for example. I always class myself as alternative as I like a range of alternative music.

The Goths were originally a group of people that fought the Roman Empire, then later were a group of people in the 1980's who listened to bands like Bauhaus, Sisters Of Mercy and Fields Of The Nephilim.

I'm the next generation on, where the music is more electronic by bands such as Icon Of Coil, Apoptgyma Bezerk, Covenant and VNV Nation, though many of my friends are old punks and Goths from the 80's!

I wear UV-reactive clothes to glow in the UV-lights (blacklights) in the club so that's why I'm UV_Goth!

Neofriends

I only make friends with people I know so I will turn down your request if I don't know you.

Neopets Premium

I'm a Neopet Premium member.

Please visit this page for any questions you may have about the service.

I have referrals but I recommend reading that page first before neomailing me for one.

Neopoints

Don't neomail me asking for Neopoints or items for free.

I don't tolerate begging and I don't give out things to people I don't even know.

Also don't try to Neofriend me to get items or Neopoints. Please see the FAQ section on Neofriends.

I have worked hard to get the items, pets and Neopoints I have and won't just give them away.

Any donations I do make to needy Neopians are via The Money Tree.

I'm also a Mass Collector and I collect Heart Toast Sculptures, Icklesaurs and Tapiras.

Premium Mass Collectors

Trading With Me

Please bid pure Neopoints or any items from one my wishlists or any of the following items:

bottled faeries, map pieces, codestones, neggs, paint brushes and scratchcards.

I am online most days but not 24/7

Wishlists

NP and Pet Wishlists

NC list

Avatars


Looking for a SuAP lender
Dailies
Lab Rays
LAB RAY GUIDE


Limited Edition Pets

There are several limited edition/restricted pets which can't be simply created.




Quests

You can get quests randomly from Faeries and choose to do them from places like the Mystery Island Kitchen or Edna's Tower.






If you have further questions, then you can Neomail me.
Last updated: 10th May 2013



Coloured Sketches

I have coloured several black and white sketches from The Gallery of Heroes and The Gallery Of Evil which are available for your use though please credit me and host yourself.

Anybody found stealing graphics I've coloured or made without asking will be reported!

Current coloured sketches (please neomail if you'd like one done):



Fyora



Illusen



Jhudora



Space Faerie



Space Faerie



Soup Faerie



Psellia



Happiness Faerie



Court Dancer



Nabile
(In memory of ninnyrose)



Darkest Faerie
(Requested by jbl10000)



Talek version 1



Talek version 2
(Requested by izachan)