The main page of the World Challenges can be found here. There you will find pictures and links to the various worlds that offer WCs. Click on the link that says 'Games' under the picture. For example, I like playing the Virtupets games, so I will click there and be taken to a page like this:
All hail Sloth!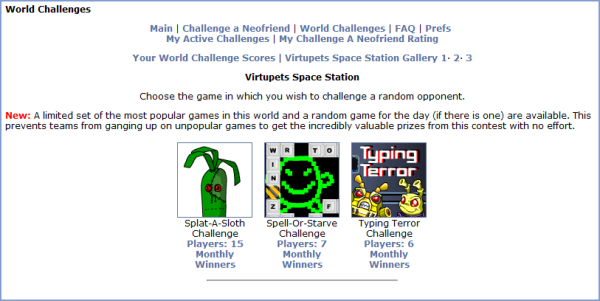 You can also get to the World Challenge by clicking on the World in the row of icons located at the bottom of your game page: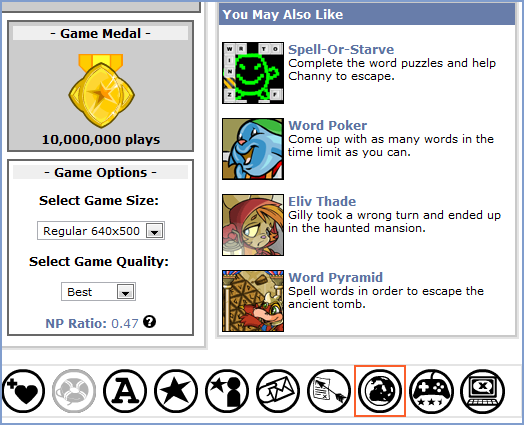 Now we can see what games are being offered for today, and how many users are playing this hour. If you see your favorite game offered, go ahead and click on it! You will be taken to a page like this: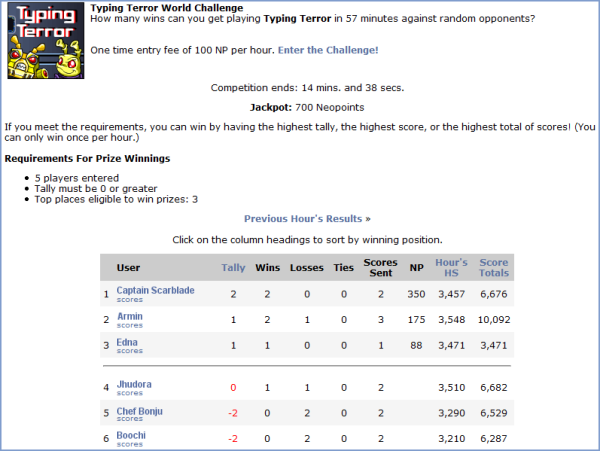 Before you jump right in and start playing, take a look at the table. There are already at least 5 people playing this hour, so I know that prizes will definitely be awarded. I also usually take a look at the players' high scores for the hour. If I can consistently score better than those in the top 2, maybe top 3 places, then I know my chances to win and get a Map Piece are higher. Typing Terror is one of my favorite games, but to get a great score, you need a lot of luck to see those elusive red and purple robots. I know I can almost always get a score around 3,000. However, this hour, Boochi scored above that and still has 2 losses and a negative tally. So I probably won't enter this hour. I might get lucky and get paired with someone who doesn't send a very high score, but I don't really like my chances here. But that's just how I play, if you're feeling lucky or believe you will have an awesome game then go for it!

Enter and pay a 100 NP fee, then play your game as many times as you can (or want to) for the allotted 57 minutes. Don't worry if you have already sent 3 scores for the day. You will still send your score after playing a game, but you will not get any NP from it. Instead, you will get the following: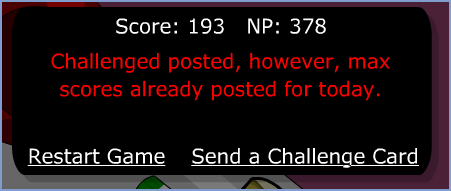 After sending your score, it is randomly matched up against another user playing that hour that has already sent a score. If you get a higher score than them, you win, and your tally increases. Have the highest tally at the end of the hour, and you win a Map Piece and a portion of the jackpot!

Some things to keep in mind while playing each WC:

*There must be 5 players any given hour for prizes to be awarded.

If there are less than 5 players for the hour, your score and tally will be rolled over to the next hour. This has saved me many times while playing Bumble Beams! Sometimes if your score has not been processed, you will have to pay the 100 NP entry fee for the next hour to get it to come up. If this happens to you for a few hours, or you're just impatient, check the Games board. There is usually a board where you can ask for more players. If not, go ahead and make one. A lot of people will generously take the time and 100 NP to help you out. Don't be afraid to ask!

*You must have a tally greater than 0 to receive a prize.

This is the key to the WCs and where a lot of people get confused. Let's say you send a score that gives you a gold trophy in a game. Congratulations! As long as your score doesn't go under review, your tally will increase. But if you play again and send a low score, you will most likely get your tally decreased. Do this too many times, and your tally will drop below 0, not allowing you to be awarded a piece.

*The top 3 places receive a prize in any of 3 categories: highest tally, highest score, and highest score total.

This is what makes the WCs interesting and where the strategy really comes into play. If you can't get the highest tally for the hour, keep playing! You might play a fantastic game and get one of the highest scores for the hour. Or, if you send enough scores, your score total might win you a prize. Just always keep in mind that your tally must be above 0 to win any prizes. Up to 9 pieces can be awarded at any hour! However, if there are only 5 players, this rule is slightly changed, and only the top 2 places receive prizes. Following is an example of what this rule is talking about.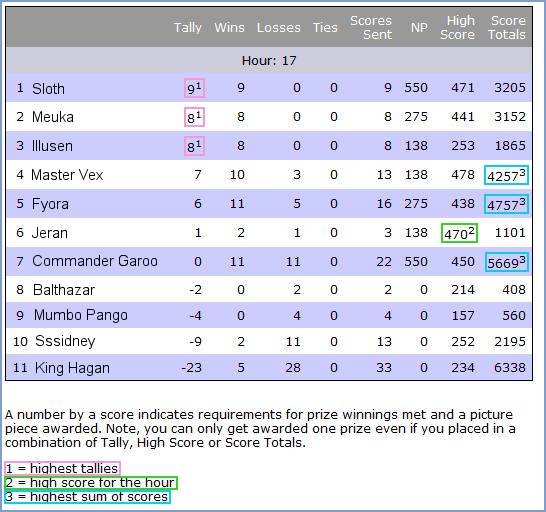 OK, so here we have the results of an hour of Splat a Sloth. There were 11 players this hour and 7 received a Map Piece. Sloth (don't ask me why he was playing Splat a Sloth), Meuka, and Illusen each received a random Virtupets Map Piece for having the highest tallies. We then see that Jeran had the second highest score of the hour. Sloth had the highest, but he already received a prize for having the highest tally. You can only win in one category for any given hour. And, finally, Master Vex, Fyora, and Commander Garoo each received a prize for having the highest combined score totals for the hour. Notice that King Hagan had the highest combined score total for the hour, but his tally was less than 0, so he did not receive a prize.