I didn't want to move away from home. Not really. My dad told me I would be going to the school he went to when he was a kid, and he told me I would
love
it. It would be like having a whole 'nother family, and I wouldn't be
too
far away, so I could come home for long weekends and vacations.
My mom said I would be living with my cool older cousin, and I would get to see the city, and I would have
my own
bedroom. She could come to visit me when she had time off of work, and my cousin would show me the Zoo, and the museums, and all the other cool places we don't have out in the suburbs.
Both of them told me that they loved me very much, and they would miss me, but it was going to be great fun. Both of them said that everything was okay. But everything is not okay... why would they send me away, if everything was okay?
I still don't know what I did wrong.
Stats
Basic
Name: William Shawn Jacobs
Nickname: Billy
Gender: Male
Age: Nine
Species: Kougra
Birthday: July Sixth

Family
Father: William Jacobs
Mother: Morienne Jacobs-Write
Siblings: None

Life
Education: Grade four, Ozat Academy
Current Accommodations: Penthouse Suite, High Hopes
Hobbies: Reading
Language: English
Pet: Quinn the Juma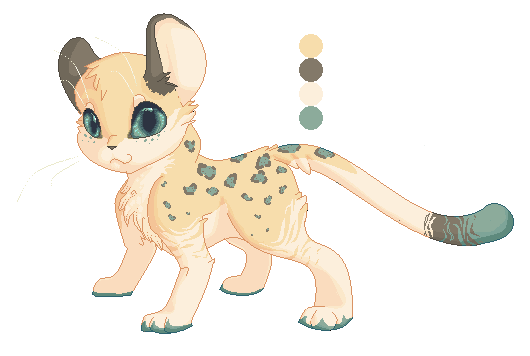 Math

Science

Social Studies

Language Arts

Physical Education

Art

Music
A+

A

A

A

C


A

B+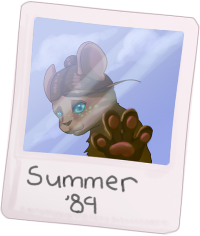 My mom is my favorite person in the whole wide world. Back home my classmates called me a
baby
or a
momma's boy
because of it, but I don't care… too much. Before she married my dad, my mom was a law student, and a dancer. After I was born, mom had to stop dancing, and she never really started being a lawyer, so she had a lot of time to spend at home with me. I think it made her feel sad that she couldn't do what she wanted to… but she always said that being my mom was what she wanted to do the most, so I guess it's okay. Mom was there to teach me to read and to help me with my homework. She's very patient and a good teacher, she never gets angry if you do something wrong. She even taught her petpet Quinn to do all kinds of tricks, before she gave Quinn to me. She tells me that she loves my dad very much, but the spend a lot of time yelling at each other. More than other people, I think. Something went wrong, and mom sent me away to live with my cousin… I'm not sure what I did, but she sounds very sad and tired when we talk on the phone.
I don't know my dad all too well. He was a law student too, but he actually got to be a lawyer in the end, so he spends a lot of time at the office working on cases. My dad is really smart and good at solving puzzles, but he isn't very understanding. He's impatient and he doesn't like it when people can't keep up with him, which isn't very fair if you ask me. I didn't see a whole lot of him, aside from when he came home from work at night, and sometimes when he took weekends off. Mostly he holes himself up in the study. Dad went to Ozat, the boarding school that I go to now, and he was on a bunch of sports teams and in clubs. It feels like I see him more often now that I'm at school, with all his pictures on the walls. Some of the older teachers talk about his "Legacy", because he was captain of the football team last time we won the Country Cup, and he was Head Boy, and on the Debate Team too… he was a very good student and everyone at the school loved him. Sometimes I read his quotes in the yearbooks – he has a lot – and wonder if I'll ever be like him.
I actually live with my big cousin, Klieru. He's some kind of artist and my bedroom is really his "studio". He's very messy and never cleans up after himself, which is why my room is full of junk and half-finished paintings. Quinn is always bothering me to clean up, I guess she doesn't understand that it isn't my mess all over the place. Klieru did let me pick new wallpaper for it, though, which was nice I guess. Eru doesn't seem to like me very much… he doesn't mind my being here, (I think my mom might be the only person to actually pay him rent) but he never wants to do anything with me. Sometimes he can be a real jerk. He's got this horrible messed up blue fuzzle that he likes to hide in my room to scare me. I want him to stop, but he just laughs at me. He went to Ozat when he was younger, but he hasn't done anything since he graduated, not more school or actual work. My mom says he needs to get a job.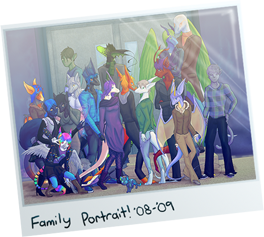 This is what Klieru calls his family - the people who live at High Hopes.They haven't taken a picture recently... I guess that's why I'm not in this one. I don't really know them that well.
Quinn lives with me here in the city, but she's not really
my
juma. She's my mom's. When I was just a little kid, my mom and dad had a really big fight. There was a lot of yelling and when dad left the house he slammed the door… he didn't come back until the next day. But when he
did
come back, he came back with Quinn. Mom had always wanted a juma, so when dad really wanted to apologize he got her one. After that, Quinn and Mom were inseparable. Mom trained Quinn to do all kinds of neat tricks, and Quinn followed her everywhere around the house. A while ago, I was writing a biography of my mom for my Language Arts class, and I asked my mom who her best friend was. She told me Quinn was her best friend. I guess it makes sense, she used to spend all of the day at home, with only Quin there… it made me kind of sad that she let me take Quinn with me. I think mom misses her. Last time we were on the phone, I asked if mom wanted me to send Quinn back when I was used to the city, and it wasn't so scary any more, but mom said she wanted Quinn with me so she knew we were looking out for each other.
Quinn is really smart for a petpet. I mentioned that my mom trained her to do tricks, but some of her tricks are way cooler than 'normal' petpet tricks. Like if I stay up past my bed time, she'll sit on whatever I am doing until I go to bed. Or if I don't do a chore, she tugs on my tail until I return to it. Some of the chores I did at home I don't have to do at the apartment, like clearing the table after dinner, or making my bed every morning, but she makes me do them anyways.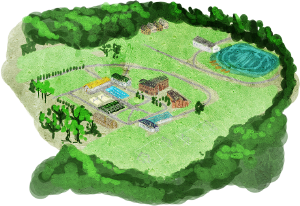 I go to Ozat Academy, a school with a long and
il-lustrious
history. I'm a top student in my class, and I get some of the biggest vocabulary words in grade four. Like
illustrious
. Ozat was founded one hundred and sixty-eight years ago out in the "countryside" outside of Kisme City. The grounds span more than three hundred acres, and are covered with vur… uh… verdant… sports fields, and big old trees. The entire campus is surrounded by impressive, big stone walls. It couldn't survive on its own, though, so a town started up, with houses for the teachers, groundskeepers and custodians, a grocer, a carpenter… the necessities. And as more shops opened, and more people arrived, more stuff had to be made... it's called
infrastructure
. Kisme was already a big, clean, pretty city at the time, but it was growing too, and so Terne started to make factories to supply work to the people; stuff like power plants that keep the light on here, but also in the big city. Once the power plant opened, more factories came, and even more workers. Kisme closed down the ugly, smelly places in their city and sent them here… soon Ozat wasn't in the countryside at all, but right in the middle of a city uglier than the one it tried to distance itself from.
Lots of kids pick on me, at school because I'm smaller than the others and my parents aren't nearby - unlike the other
day students
- and around home, because I go to the snobby school and my neighbours just don't like Ozat students. There aren't any other kids in the apartment, unless you count Kahia, and I don't really because she's actually really really old. And kind of annoying. I do get good grades, though, but my teachers all want me to talk to others more and to participate. I'm in the f-f-Philatelic club (that's "stamp collecting" for laypersons!) but I'm not very good at sports. Lots of the old teachers want me to go on the debate team, but I don't like fighting with people, even if they're polite about it.
One of the things I do like is we're all in Houses. When we get in to grade six we're allowed to start boarding, staying at the school, but even before that we're assigned the place where we'll eventually live. The dorm buildings are all identical, except that their roofs are different colours. Just like my dad, I'm in Percival, which means that my House Mascot is the Pteri, and our colour is teal. Percival is special because Ozat's School Mascot is a Blue Pheonix, and the Pteri looks a lot like it; it's like our mascot is all over the school! Percival was also the house where the first Headmaster's kids all stayed when they came here, which makes it even more special. The other houses are Yorick, the Gold Yurbles, Laurent, Indigo Lupes, and Tomas, lime green yurbles.
(Student parliament, Father's history, teachers?)
My cousin Klieru is really creative. He made me these stickers to decorate my stuff, which was pretty nice. If you want, you can have one!
The URL box to the right has everything you need to collect your adoptable. All you need to do is change "Colour" in the code with the colour you want to use.
Available colours:
Blue, Green, Red, Yellow
Baby, Brown, Darigan, Faerie, Gold, Orange, Pink, Purple, Rainbow, Shadow, Silver, Speckled, Split, Spotted, White