Greetings guest! My name is Kali and if you are here, you are probably hoping to learn more about the Kadoatery and how to feed those pesky little petpets.
First of all, we should cover some basics. Like what the Kadoatery is. The Kadoatery is a place for kadoaties to go when their owners are away and cannot take care of the kadoaties. They get very lonely, very quickly and it's up to us to help the kadoaties feel loved by feeding them. Sometimes they want very expensive stuff, but most of the time, they want reasonably priced items. You can find the kadoatery here.

*Note: The kadoaties in the kadoatery aren't actually owned by a neopian.



The Basics

When the kadoaties get hungry, they will look like this: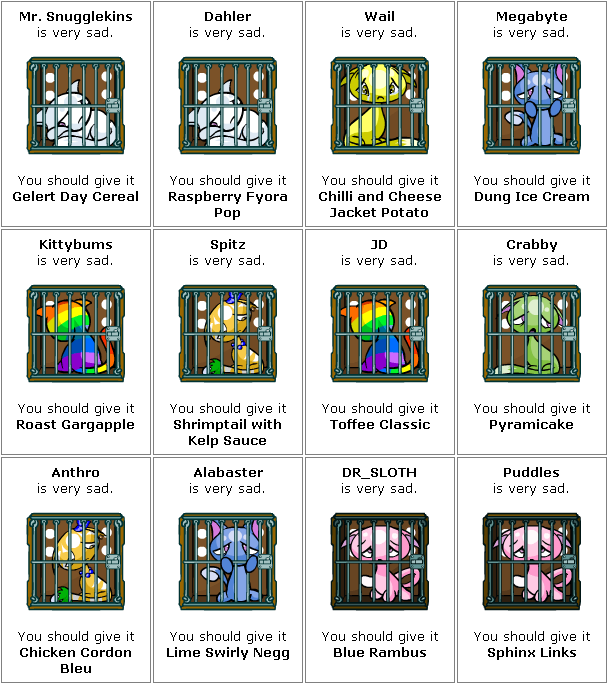 As you can see, they don't always ask for really expensive stuff.

To feed a kadoatie, just click on the picture of the one who has an item you are asking for. You have to be quick though! You do have to have the item in your inventory in order to feed it. If you don't, you will get this message: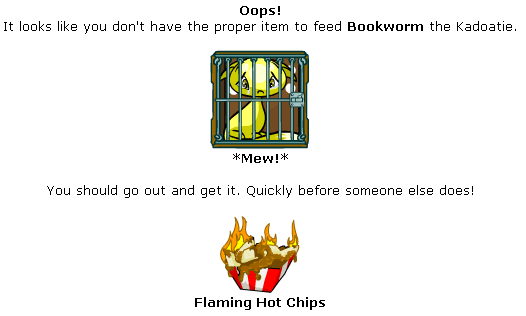 If you are the first to feed that kadoatie the proper item, you will get a message that looks like this: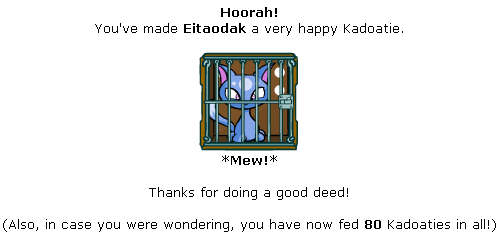 When you go back to the Kadoatery after feeding a kadoatie, you should see this: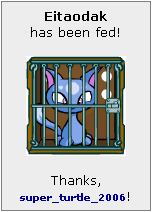 Sometimes you may see this, even after getting the message that you've fed that kadoatie:





This means you tied with someone else. You still get credit for the feed, except someone else's name shows up. This happens when 2 people click to feed that kadoatie and the information is sent at the same exact time.


Sometimes, people get click-happy with the kadoatie's pictures. If you get click-happy, you may get this message:






Lots of times, especially when you are first starting out, people will beat you to a kadoatie feed. When this is the case, you will see this: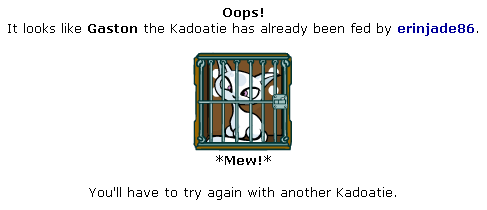 Don't be discouraged, sometimes you can even go back and feed a kadoatie after getting this message.




Prizes

You are probably most likely reading up on kadoatie feeding because you want that spiffy pink avatar. Here, I shall show you through the stages of prizes/trophies.






1-9 Fed Kadoaties





10-24 Fed Kadoaties





25† Fed Kadoaties





Recieved at 75 fed kadoaties by viewing your look-up.





This is simply a rumor as of now, as no one has recieved an actual kadoatie. And apparently, some time ago, this was debunked entirely in the Neopian Times. I'll still leave it here, just in case it turns out to one day be true. But who knows- it could be random or maybe you need to feed a million kadoaties! I hope not...




More In-Depth Stuff

Methods of Feeding

Inventory Feeding:
Easiest method but doesn't guarantee you will feed often though. Easiest because the item is already in your inventory, you just have to click. You just have to hope a kadoatie wants something in your inventory. Has a limit of 50 items though. Having more than 50 could result in a frozen account as it is considered cheating when feeding kadoaties. Yes, in the Neopian Times, TNT has mentioned about how it is not automatic freezing, there have been feeders frozen who have fed on overloaded inventories. It is generally frowned upon and I advise you just not tempt the powers that be...

SDB Feeding:
Slightly more challenging, but doesn't have a 50 item limit. You quickly copy and paste the item into your SDB quick search, remove the item and then feed. (Requires at least 2 open windows and only 49 items in your inventory to do it "the right way")

Wiz Feeding:
Probably hardest and least reliable of all, but can result in more constant feeds. You have to copy and paste the item into the shop wizard, buy it and then head back to the kadoatery to feed it. This can be very expensive as you won't have time to search for a low price, unless you have the premium super shop wizard. (Requires at least 2 open windows and a 49-item inventory)


Handy Kadoatery Board Info.

In order to feed kadoaties, you need to know the approximate time. Times are now determined as follows:
The potential for a refresh of kads to happen, at the earliest, is 28 minutes after the last refresh. This goes for both mains and minis. If they do not refresh right away, then the next possible time they will refresh is 7 minutes after the first potential time. That pattern keeps going until they refresh, at which time the cycle starts over. Here is an example:

Main @ :02
Next main @ :30
Main doesn't refresh, so now main @ :37
Still doesn't refresh, so now main @ :44
Main finally refreshes, so next main @ :22

There is always a handy thread dedicated to just the times and lists. For the courtesy of all trying to feed, please don't chat in that thread- there is a separate thread for kadder chatting. You can find this handy dandy thread in the games board. The feeding times and lists thread usually, if not always, has pink kitty faces around it. This thread is nifty for more than just times- you can look at lists of the foods the kads asked for from the last several restocks.


Kadoatery Board Lingo

Of course, before you brave the boards (possibly brave them again) you should know some lingo in order to know what everyone is talking about.

GLF: Good luck feeders. Said before a restock to wish everyone luck.
CF/GF/GJF: Congrats feeders/Grats Feeders/Good Job Feeders. Said after a restock to congratulate those who fed.
HN: Had nothing. Usually seen in combination with the above, meaning the person had nothing to feed.
Mewbie: A newbie to kad feeding. Unoffensive.
m00b: A n00b to kad feeding. Meant as an insult, usually.
RS/RF: Restock/Refresh. When the kadoaties ask for foods again.
Main: When most kadoaties ask for food.
Mini: When a few kadoaties want food, at a different time from the main. Usually created by feeding a food after all the others have been fed, typically an unbuyable food. There can be multiple minis.
UB: Unbuyable. Costs over 100,000 neopoints and takes longer to be fed.


Some More Stuff to Know


Feeding Kadoaties doesn't have to be expensive

Many people stock their inventory with items the kads typically ask for that cost less than 3,000 NPS a piece. I won't make a list, when there are so many better ones.


Extra Tips

~ Play TNT Staff Smasher to practice the basic skills for kad feeding: speed of clicking and quickly recognizing what needs to be clicked. Alternatively, if you practice this one enough, you might just come out with another avatar.
~ Before attempting, simply watch the restocks to get a feel for them.
~ If inventory feeding, you might want to try for items that seem to not get fed as quickly.
~ On the Kadoatery board, kindly introduce yourself and become part of the conversation, if you like. The boards will warm up to you better that way.
~ Speaking of boards, number one mewbie rule... Don't ask the times unless you ABSOLUTELY cannot find them!



Kaddie Links:

Overfeeding Overfeeders Guild Webbie
Carmy's guide
Sora's Guide
Lissie's Guide
Aquariss's Guide
Forsaken_dreaming's Guide
Dimmy's Guide
Elijon23's Guide
Toni's Awesome Food List
Forsaken_dreaming's Fantastic Food List

Macky's Computer Protection Guide***
While not related to feeding, the information contained on Macky's petpage is very valuable so I didn't want to leave it out.


Link to Me!

text link
Kali's Kad Guide





Feel free to neomail me.



Last Updated: 4 August 2008