Jackovy
First things first: I'm changing Jackovy's design! Y'see, I've been bored with his overly complicated design and Gary Stu backstory. So I'm starting over. For his design, I'm using the Royal Boy Zafara's looks as my inspiration - because really, there is NOTHING cooler than this:
So here we have the result of my brainstorms so far for Jackovy's new look. His current age and how he looked when he was a little kid (for his backstory):
Here's his skeleton form and a different outfit:

Ignore the fact that he's wearing the same distracting purple pants. I just don't feel like adjusting that right now.
I'm probably gonna change the color of the neon green feather in little-kid Jackovy's hat and some of the details of his skeleton form. Otherwise, I like Jackovy's new design.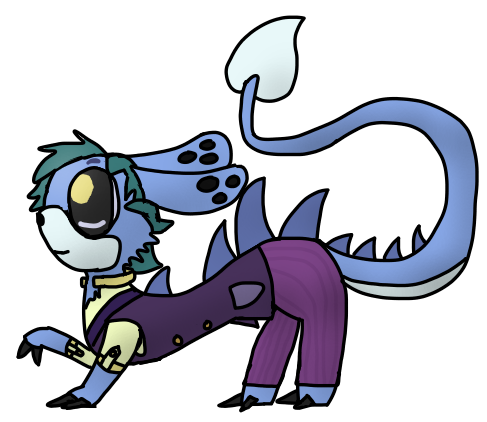 ...
Now for his backstory, he's still a librarian in Yuanaan's Castle. I'm just going to change how he got to be there in the first place. Anything is better than his old story which was something along the lines of:
Jackovy is a prince who ran away from his castle home to become an honorable thief, stealing only from the rich. He gets caught when he tries stealing from Yuanaan's Castle and must work as a servant in return for not being turned in. One of the other servants is insane and uses Jackovy as a lab rat in her mad science experiments. In one of the experiements Jackovy's brain is switched with the brain of his sister (and never switched back). Later, Jackovy tries some potions. One potion turns him into a half-skeleton, the other potion makes him sprout wings. Finally, he finds a magical library in the castle and becomes its librarian. The end.
Someone needs to put this backstory out of its misery NOW.
New Adoptables
Normal


Blue



Green



Red



Yellow



Brown



Orange



Pink



Purple



Shadow



White

Customs are CLOSED until I make new adopts for:
Ehzelle
Elnora_outcast
Youngshe429
Hiazel
Draymere
__prinncess_cleo__
_Dimitry__
Sylvayne
Tatsuyumi
delemae
Jayquaz
Freiiheit
Quntial
Paul_Hitachi
Korito_8_8_8
JullyDol
Anyway, stay tuned for Jacko's new backstory and petpage. :) While you're waiting, you can browse through some art and such from his old page (there's no way I'd lose this stuff).
Old Design Art
Old Design Custom Adopties
Links

Link trade? Neomail -seahorsepond-

Farewell for now, my friends.