Now Playing: "Lilium" from Elfen Lied


Before you lies a dark and mysterious castle on top of a barren rocky hill, that almost could be considered a small mountain. This castle is in a place beyond the Haunted Woods where everything is much more sinister and deadly. The castle itself is crumbling and seems to lack life, but if you listen closely you can here some music coming from it. It's the depressing sound of classical renaissance music.
Rumors say an Ixi lives in that castle; a very evil Ixi without a heart. Some say she is disfigured and has mechanical parts replacing the anatomy she is missing.
The rumors are true, and the Ixi's name is Kijoyagi.
There was only one person who has seen the inside of her castle and returned to tell the tale. The Neopian asked her questions, and she replied. He wrote this down carefully, remembering her every word and kept it in his journal. If you ever find it, this is what it would read:
I used to be a normal Ixi, just like all the others. I was rather good-looking, or so others say. I was satisfied with myself, content even. I used to have friends and also many suitors. However, that was before I became what I am now.
I am now half mechanical, or a cyborg. Whatever you wish to call me. I was searching for the one thing that could have returned me to my true form, the Darigan paintbrush. However, I was attacked, but I could not win. I was quickly defeated by the monster and left for dead. I was prepared to die, and welcomed death. However, a scientist found me and the mad man took me in and saved my life, turning me into something I would come to despise.
After getting my revenge against him, I retired to my home and now live in solitude. My past haunts me and my future is bleak. I have nothing left, save my rare collections and my old gramophone. Leave me be. Leave me to my solitude.... Away with you I say, let me suffer my final days in peace.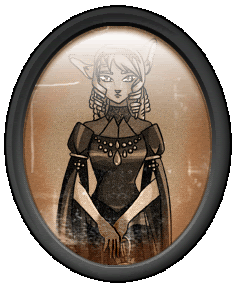 A very long time ago, there was a noble family of Ixi's. They were very wealthy and had a beautiful daughter whom had many wealthy suitors asking for her hand. The parents were pleased, and told their daughter that she would be allowed to choose her husband to be.
The daughter however, wanted nothing to do with the family that was obsessed with society and their own self-image. She knew there was something more for her out there. Something more than anyone could ever imagine.
One day, as she was sitting at her dressing table, she caught a glimpse of that future. She saw her reflection as it was meant to be. It dark and powerful. She had always been a dark Ixi to begin with and her parent forced her to hide this from every day society, but this only made the darkness grow even darker.
One faithful day, she met someone that she fell in love with. This man seemed to return her love and they lived happily for a little while. But one day, he disappeared leaving a letter explaining that he had fell in love with another, more wealthier woman. She had given her heart to him, and he destroyed it.
Rejection is always a turning point in someone's life, and it was the same for Kijoyagi. It was then that she knew her heart would be reborn as a cold icy organ to pump her cold blood through her veins. It was chained and locked away, surrounded by painful thorns that could never be ripped away. It was then that she decided to leave and seek her other, rightful self. The one she saw in the mirror that one faithful day.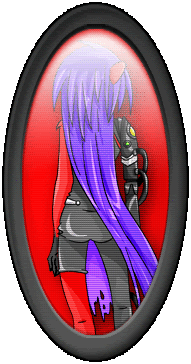 Name: Kijoyagi
Owner: