Cleaner Code, Better Browsing and A Safer Neopia!
Bull! More like inconvenience, destroy the many hours I worked on my petpage!!!! Okay okay so this is supposed to prevent people from putting evil codes up. But its 3 months too late, and neo has still not responded to my account problem *storms off* (I will eventually fix this mess when I am not so ticked)
My Journal! May 29th, 1:11:18 am NST

AHH...sorry I haven't updated in F-O-R-E-V-E-R. With Britt moving back from school, things have been crazy and hectic. But now we have wireless internet, so I have no excuse not to update.

Britt has been busy working on a secret project, but she still took the time to make me a spiffy lookup. So check it out!

She will also begin working on adopts tomorrow. Here is the list:



Carryionn
Novangaard
Lentarnu
Timolus
Spywared
Xellioth
Warxen
Sea_Otter_Girl
Zleu




Thats it for now, Kue
There's More!
Current Visitor: guest
Visit the Lookup
Neomail Kue and Britt
---
.Kuepiter's Story.

M
ystery Island, known for its exquisite topical dining, and clear blue waters, shares its territory with both the islanders and travel-folk. Although the island is said to be mysterious, nothing shocked the town more then that one sunny day in April.
T
ourists sit on the harbor of Mystery Island. They roll up their pants and dip their toes into the cool refreshing water. A young boy throws a big red ball off the dock tip. 'Now how are you going to reach that?' his mother screams. Tears stream down the boys face. From the depths below, a little Lutari by the name of Kuepiter sees a flash of red at the surface. Being the curious Lutari he is, he swims closer. The faint smell of rubber intrigues him. He swims down a few feet and with a smirk on his face swims at full speed towards the red ball. The boy, who is still complaining to his mother, suddenly has a look of surprise on his face as the red ball goes flying into the air, almost hitting their pet Wocky. The Wocky hisses and resumes its comfortable position on a beach towel. Everyone's attention has now shifted towards the glistening water. Shouts of 'what was that?', 'Oh my gosh, did you see that?' and 'I'm getting out of here' mesh into a chaotic racket.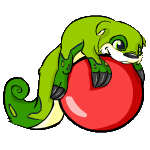 M
eanwhile, Kuepiter, watching the mess from below, decides to give his audience a bit of a show. Not only are Lutari curious, but they enjoy being the center of attention. With no effort he jumps into the air, making a complete summersault, and lands, making a slight splash. The harbor, once filled with a few spectators, is now covered. A few more Lutari have now joined Kuepiter, and one by one they pop their little heads out from the water.
L
ook at how cute they are' 'I was gonna say, isn't this a little too far South for them Maraquan Chombies' 'Do you think they are harmful' 'Does that look like the face of a killer to you?' Feeling more risky the Lutari approach the dock, Kuepiter leads. The spectators see how friendly the Lutari can be,and Lutari see how friendly the spectators can be,and before you know it Lutari sightings become more frequent. Similar accounts are heard from the shores of Krawk Island.

K
uepiter makes it a habit to visit the harbor once a week. He has grown quite fond of a human that feeds him bread crumbs. This human, is me, Britt. After meeting Kuepiter for the first time, I also made it a habit to visit the dock every Tuesday. On Tuesdays Kuepiter awaits eagerly for me. We play with his favorite Goldy bath toy, which I introduced to him. Although the Lutari are still quite rare, I have a feeling we will be seeing a lot more of them around Neopia in the future. Their curious nature will eventually take them beyond Krawk and Mystery Island.
---
.Lutari Adoptables.
Adoptable Status: Customs: OPEN/CLOSED!

For those intrested in a custom Lutari pixel, please neomail Britt with a detailed description of your Lutari's design. Also, provide a reference picture.
*IMPORTANT* I spent a lot of time making these talking Lutaris, so I will not be a happy girl if I find that someone has stolen or altered one of my pixels. And not linking back is considered stealing, so
link back
!
Basic:
Customs: (click for lookup)






---
.Lutari Listings.
---
.Link Back.


So did you like Kuepiter's petpage? Of course you did! In which case you should grab a link and help spread the word :D