~ Updates- Just got the layout up! :D ~

A small gelertess, looking roughly about age six, sits calmy in a meadow beneath a tree. Not just any tree, however- a cherry blossom tree. Soft blossoms glide through the air, and one lands on the gelertess's nose. She giggles softly, and flicks it off with her paw.
You cock your head. It was a very pretty field she was in- long grass, many shady trees, green... in short, it was gorgeous. Seeing the gelertess as the only other living thing there besides you, you pad up to her.
Sensing your presence, she sits up. "Hi there!" she grins, clearly not miffed by your sudden appearence. "I'm not one to wait with long introductions, so in short... I'm Missy." Missy extends one bleach-white paw, and sits looking at you expectantly.
Hesitating, you take her paw. "I'm guest. Nice to meet you."
Missy smiles. "That's nice. Now, we're gonna get down to business... clearly, you want to know something about me, judging by the way you approached." Even though Missy was direct and guessing, you couldn't help but feel a twinge of curiosity. Yes, you did want to know more about her.
Her tail begins a slow wag. "Well, then, let's begin!"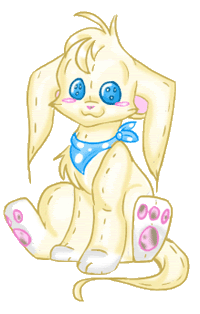 Name-
Missy
Gender-
Female
Species-
Gelert
Age-
14 (not six)
Pelt-
Baby
Eye Color-
Bright blue, with hints of lilac
Acessories-
Blue spotted bandanna
Personality-
Bouncy, optomistic, bizzaire, direct
Owner-
Puppy
Siblings-
Luke, Zap, McKinley
Official Petpet-
Puzzle
Other Petpet-
Sadie

Missy pauses for a moment, then disappears behind a cherry tree. You see her re-appear within moments, carrying a heavy leather book in her maw. "This," she grunts, dropping the book at your feet. "Is my scrapbook. It's where I keep pictures of my family and friends."
Luke (the fire gelupe) is the oldest in our little family. :D He is currently 24, and studying archaeology in the Lost Desert, so I don't tend to see him much except when I'm working with him. Yup, when I go out there, I get to be his part-time assistant! It's actually pretty entertaining to dig up old pottery and explore lost tombs. :3
Zap (the shadow gelert) is one of the newer editions to the family, despite the fact he is older than me. Zap tends to deny being apart of our family tree... but everyone knows he's in denial, and that he really actually enjoys being around us. XD (yeah, right...) He's pretty grumpy and whatnot, but nevertheless, if you catch him at the right time, Zap can be pretty sweet and sensitive.
McKinley (the brownish-yellow lupe) is a forest lupe. I don't really see him much like Luke, but McKinley is on different business. You see, he's a forest lupe- very rare. You don't see many around now... but nevertheless, McKinley is super-smart in plants and herbs! He could heal anything with the skills he has! McKinley is currently in search of other forest lupes, and he's pretty desperate to find someone like him... but he hasn't been successful yet...
Puppy (the yellow dog) is my 'owner'... I prefer the term 'slave', however... Seriously, how is she not? She feeds me, and gives me stuff. :D It's not hard to manupulaate her. She'll jump off a cliff if you tell her there's a pillow at the bottom. XD But what can I say? That's what owners are for.
As soon as Missy closes the book and sets it neatly aside, a small bark sounds from behind the tree. You look at Missy in confusion, and can see a tinge of pink form on her cheeks. "One sec..." she mutters, and disappears behind the tree...
Moments later, Missy appears, carrying two petpets in hand- a squirming black spardel, and a very disgruntled looking brown faellie. "These are my petpets..." Missy sighs. "I don't technically own her," Missy points to the faellie, who is sitting in the grass looking very miffed.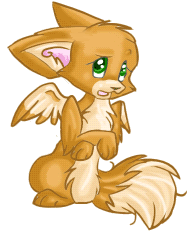 Sadie actually is owned by my brother McKinley, but since he is constantly gone, he left Sadie with me to take care of for awhile. Believe it or not, I think she's somewhat attatched to me. (The faellie snorts at this given moment.) But the real interesting thing is, she talks! She actually used to be a brown lupe, but something happened to her, and she refuses to talk about it. I'd prove to you that she actually CAN communicate, but Sadie doesn't seem very willing at this given moment...




I actually own the spardel... his name is Puzzle. There's nothing to special about him. He's kinda... stupid." At this moment, the spardel sits up and gives Missy a glare.


Puzzle has been in the family for... I don't know how long. I recently painted him black, however... blue was boring. :P I recieved Puzzle as a birthday present for my 9th birthday. At first I loathed him deeply, but within a week the friendship was set. We've been great friends ever since, and he, unlike a certain faellie, is loyal, entergetic, and friendly. :3 But still, his purple eyes scare me. o_________o They're rather unnatural.





Missy grins and sets down Puzzle and Sadie. "Wait RIGHT HERE." she chirps, once again darting behind the tree. Within seconds, she returns with some little trinkets in paw. "These are little customs 'n' stuff, made to look exactly like me!"
-Collecting-
Missy smiles. "And then, believe it or not, I have my own customs to share with you! The customs are more like gifts though... friends ONLY. :3 But you're still welcome to take the regular kind."
Trade? Nope
Request? Nope
Gifts? Yesplz. :D
(Colors not displayed: Royal, Robot. These are in ALPHEBITICAL ORDER.)


Suddenly, a strong gust of wind blows, sending several flower blossoms into the air- but through the shower of pink, you spy several pieces of parchment tumbling through the wind.
Missy follows your gaze. "Drat!" she yelps, leaping to her paws within seconds. Within several great bounds, she manages to recover most of the papers, snatching each one out of the air. As soon as the gelertess returns, she sighs and begins to tack each picture onto the tree. "This always happens," she grumbles, taking out a hammer and begining to pound the nails. "This is the art I've recieved- and art drawn by Puppy. Care to take a look?"
- I'm currently recalling the art. D: -