body{background:#ebf8ff} #img{position:absolute; top:0px; left:0px;} #nav{text-align:center; width:172px; height:20px; overflow:hidden; position:absolute; top:15px; left:784px; border:none;} #afy{text-align:center; width:172px; height:228px; overflow:hidden; position:absolute; top:245px; left:784px; border:none;} #mai{text-align:center; width:885px; height:450px; overflow:auto; position:absolute; top:510px; left:38px; border:none;} td{background:none;} #upd, #nav, #afy, #mai{color:#9c65ca;} a:link, a:visited, #upd, #mai a:link, #upd, #mai a:visited{color:#ff0f81;text-decoration:none;} a:hover, #upd, #mai a:hover{color:#ffffff;} .sidebar{position:absolute;top:35px;left:784px;background:none} .sidebar a,.sidebar a:visited{ font:8pt verdana;color:#ffffff;background-color:#CC66ff;border: 1px solid black; display:block;width:172px;text-align:center;margin-bottom:0px;} .sidebar a:hover{filter:alpha(opacity=65);opacity:.65;} />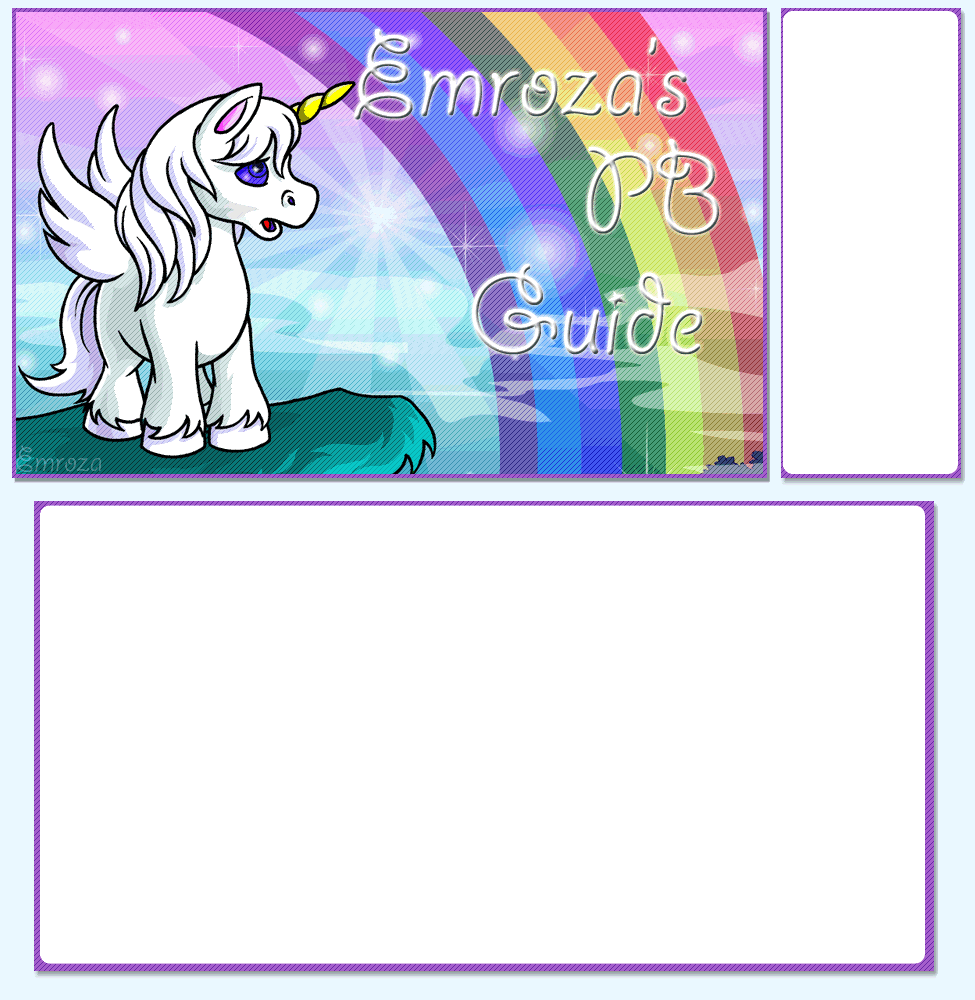 Welcome
(1/5/09)
IMPORTANT: I'm going to have to take a break from neopets for a while just because I have too many other things to deal with. This page will no longer be updated, and may be deleted later on. Some of the prices may be outdated, so if you're using them, be sure to double check the actual prices on the trading post. Of course, there's always an easier option. You can check out another guide, The Paintorium, which is a much more useful guide anyway. I'm sorry about any troubles.
Well, it seems that you have stumbled across my PB guide. Welcome. This is a guide that tracks all of the current prices for paint brushes and has some info on how they work. =)
Link Back?
What Are Paint Brushes?
Paint Brushes are rare items found in Neopia that paint your pet different colors, and sometimes have special themes to them that adds an even more special twist. For example, the Grey Paint Brush not only turns your pet grey, but it changes the posture and the mood of the character so you get into a mood of depression.
These paint brushes are rare and can get pretty expensive, because they're a
one time use only
. They can only be used once, so after you use it on a pet, it disappears. So choose wisely!
Where Can I Find Them?
Paint Brushes can be found all over Neopia. The most common way is saving up some NP and buying them from other users at the
Trading Post
and
Auctions
. Some of the cheaper ones that are under 100k can also be found in user shops. Below I have a list of Paint Brushes and their average prices it would be easier than going to the TP and looking up how much each one costs.
There is also the
Hidden Tower
. The hidden tower is the only main shop that restocks paint brushes. There's only 3 that Queen Fyora restocks. Baby, Darigan, and Royal. Those 3 paint brushes sell for about the same amount of NP as the users on the TP (but slightly more). I like the Hidden Tower because you can buy immediately. It's not like the other shops where you keep refreshing and refreshing. Also, you don't have to wait around for someone to accept your offer or for the auction to end.
Some people just find paint brushes by getting lucky! You can get a paint brush through a random event from Jacko The Painter, which is very rare. There's also the wheels. The two wheels that will give you paint brushes are
The Fruit Machine
and
The Wheel of Monotony
. There's also
Test Your Strength
and
The Vending Machine
. Also every once in a while Tarla comes along and hands out PBs. Here's a Tarla FAQ
here
. This tells you all about who Tarla is, etc.
How Do I Use a Paint Brush?
When you recieve a paint brush, it automatically goes to your
inventory
. But I suggest putting it in your
SDB
immediately
so it doesn't get stolen by the Pant Devil. Then when you're ready to use it, put it back in your
inventory
.
When you want to paint your pet, go to the
Rainbow Pool
. At the front page you should see the PB's that you currently have and your neopets. Under each of your neopets, there is a dropdown box. Click the dropdown box of the neopet you wish to paint, and select the color you want it to be.
Note: Not all neopets can be painted all colors. If a neopet can't be painted a certain color, that option won't show up in the dropdown box.
Once you've chosen the color you want your pet to be, click submit. Pretty easy right?
What Will My Neopet Look Like?
It's best to know what it will look like before you paint, because you don't want to paint and then realize that you don't like the way it looks, especially since PB's are very expensive nowadays. Go to the
All Neopet Colours
section of the Rainbow Pool to find the best color to paint your pet.
There's a Lot of Colors That Don't Have Paint Brushes!
Yes, that's true. Not all neopets colors can be obtainable through paint brushes. The other common ways you can get a painted pet are through the Lab Ray, the Rainbow Fountain, and Transmogrification Potions. These aren't all of them, but they are the most common.
To get access to the Lab Ray, you have to collect all nine pieces of the Secret Laboratory Map. Once you do, you get one free visit per day for all eternity. The Lab Ray can give you a stat change, gender change, or color change. All changes are
random
.
To access the Rainbow Fountain, you need to get a quest from the Fountain Faerie (FFQ). All FFQs are also random and extremely rare. Complete the quest and you get access to the Rainbow Fountain, where the Fountain Faerie will paint your active pet any color. Once again, the Fountain Faerie doesn't have all colors available.
Transmogrification Potions will morph your pet into a mutant of that species. For example, a Blumaroo Transmogrification Potion would turn any pet into a Mutant Blumaroo, etc. These potions can be found for a range of prices on the trading post and auctions, or Sloth may show up in a random event and give one to you.
Who's Boochi?
Boochi is a baby bruce with a raygun. He comes in a random event to try and zap your active pet. Sometimes he hits, sometimes he misses. If he zaps your pet, it'll turn into a baby of the species. This random event can be good and bad, depending on who you are and what color your active pet currently is. If you have a maraquan draik and he zaps it, that's usually not a good thing .. unless you were planning to paint it baby anyway. But if you have a red xweetok, then that's a good thing for most people =). If your pet is already baby, well, nothing happens xD. If you don't want boochi to zap an expensive pet, make sure you have a different pet as your active that you're willing to let him zap.
What Does "Retired" Mean?
When you view the rarity of a paint brush, it may say "Retired" on it. What this means is that the PB is no longer available in the main shops. It can still be used, and your pet will still look the way it's supposed to be.
However, there are 2 paint brushes that will NOT paint your pet anymore. Those are Glass and Stone.


These two paint brushes will not paint your neopets, but they can still be found and work as great collectables =)
What's With the Lutari PB?
Currently, the Lutari Paint Brush doesn't do anything to your pet, it doesn't do anything at all actually. Since now there is a Lutari Island, it probably goes with that. We don't know if TNT will ever release the pet color, so all we can do now is wait and stare at the pretty colors =)

Current PB Prices
Now here we go. These are the current PB Prices out there, assorted by price.
Red Font = Price has gone down since last update.
Green Font = Price has gone up since last update.
Black Font = Price hasn't changed since last update.
Last Update: 10/25/08 7:28 AM NST

Green Paint Brush
67,000 NP


Yellow Paint Brush
68,000 NP


Red Paint Brush
78,000 NP


Christmas Paint Brush
80,000 NP


Scritchy Sketchy Paint Brush
92,000 NP


Invisible Paint Brush
93,000 NP


Blue Paint Brush
97,000 NP


Speckled Paint Brush
120,000 NP


Split Paint Brush
120,000 NP


Glowing Paint Brush
135,000 NP


Silver Paint Brush
150,000 NP


Golden Paint Brush
180,000 NP


Cloud Paint Brush
205,000 NP


Starry Paint Brush
220,000 NP


Checkered Paint Brush
225,000 NP


Purple Paint Brush
250,000 NP


Ghost Paint Brush
255,000 NP


Biscuit Paint Brush
300,000 NP


Strawberry Fields Forever Paint Brush
300,000 NP


Striped Paint Brush
350,000 NP


Electric Blue Paint Brush
400,000 NP


Skunk Paint Brush
390,000 NP


Camouflage Paint Brush
405,000 NP


Brown Paint Brush
450,000 NP


Rainbow Paint Brush
475,000 NP


White Paint Brush
480,000 NP


Disco Fever Paint Brush
490,000 NP


Shadow Paint Brush
500,000 NP


Spotted Paint Brush
500,000 NP


Tyrannian Paint Brush
525,000 NP


Snow Paint Brush
530,000 NP


Baby Paint Brush
590,000 NP


Orange Paint Brush
750,000 NP


Usuki Paint Brush
800,000 NP


Fire, Fire, Your Pants On Fire Paint Brush
920,000 NP


Halloween Paint Brush
1,100,000 NP


Darigan Paint Brush
1,400,000 NP


Lost Desert Paint Brush
1,200,000 NP


Royal Paint Brush
1,750,000 NP


Pink Paint Brush
3,000,000 NP


Faerie Paint Brush
3,100,000 NP


Grey Paint Brush
3,500,000 NP


Mystery Island Paint Brush
4,000,000 NP


Zombie Paint Brush
4,750,000 NP


Plushie Paint Brush
5,100,000 NP


Maraquan Paint Brush
7,000,000 NP


Pirate Paint Brush
7,500,000 NP


Lutari Paint Brush
20,000,000 NP
Fanmail/Awards





Contact Me
If you have a question, or any other comments about this page, you can neomail me. Remember, fanmail/hatemail is always appreciated! =)



Counter Started 8/7/08