Welcome to our Creativity Hub! Here you will find all sorts of fun activities to participate in. The activities listed on this page are for those who are ready to dabble into their creative minds.

If you choose to participate in our activities, you will need to add a special section to your Portfolio page for your activity submissions. You are not obligated to participate in our activities, but you totally should! They are fun, and you can earn Pins & Points for your participation. Each activity contains all information on Pins and Team Points.
If you have any questions please contact either Anna or Melly.

This month we are taking a small break, we will keep you all updated on changes when they occur!
Beauty Contest
December 21st - December 28th





There is now an avatar you can earn for winning the the beauty contest! To earn this avatar you need to place 1st, 2nd or 3rd overall or in species in a round of the Beauty Contest.

For the dates listed above, we will have our monthly round of the beauty contest in Mythic! All you will have to do is draw, paint, or sketch your favorite pet on your main account, and enter it into the beauty contest. For participating in this activity you can win 2 points for your team and if you place or get the avatar you will receive 5 additional points. Also, I hear there are special pins for participating in the Beauty Contest!


Its the month of celebrating! For this month's round, you can draw your entry with holiday gear, snowy or whatever you seasonal fancy is!


Don't forget to mail Anna if you will be participating and click here for more information on the beauty contest.
Member Entries
( drag to see the full preview and hover for artists name )


None yet
Writer's Block
Welcome to the Writers Block! A section dedicated to those who like creative writing, imagery, or just clicking away at the keyboard because you like the sounds the keys make. Below are two different prompts you can dwell on and make up a piece of writing for. There is no minimum requirement of words nor do you have to do them both. You will be awarded 20 points for each prompt for this activity and there are many pins to earn! Mail Anna with a link to your submission.

Prompt One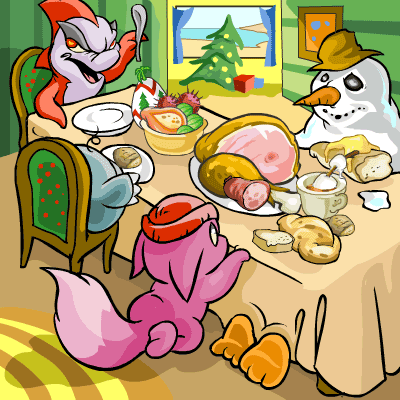 Using this caption contest image, write either a funny caption for all to admire or you can write a short story explaining this scene!
Prompt Two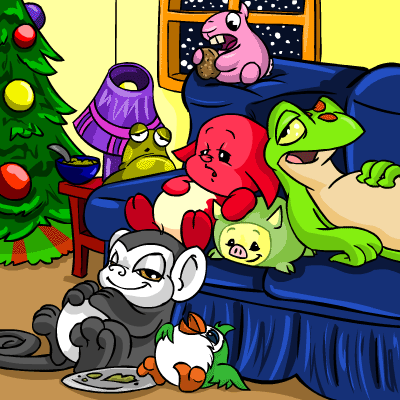 Using this caption contest image, write either a funny caption for all to admire or you can write a short story explaining this scene!
Submissions
Entry by name
Project Runway
For this month its getting a little chilly, and with the holidays on the rise I want to see your best holiday/Christmas attire! And for this month you can submit up to 3 entries per person! We know sometimes you just have many different outfits for the same occasion. When you are ready, head on over to DTI/Jellyneo and put on your best outfits. As usual, you can use any pet and any items. Once you have entry ready, mail Anna, so we can have them showcased here for all to see. Hover over the image to view the designer! For participating in this activity you will be rewarded 5 points for your team.



The Pin Factory -
The days are long and brutal here at the Mythic Pin Factory. Foreman Defuel runs a tight ship, and expects perfection. Each month, Defuel gives out a list of words the Factory needs turned into Pins for the Mythic guild. He expects the pins to be completed by months' end, and he won't accept any excuses. The pins must be made according to exact specifications, or you won't receive your monthly Team Points. However, if you excel at your task, you will be rewarded nicely. Mail Anna with a link to your submissions.
This Month's Pin Order
This month we are working on category of ...Fishing! Something different eh? There will be a total of 8 pins needed to complete the order. Below are the words you will need to use:


Fishing Level 10
Fishing Level 30
Fishing Level 50
Fishing Level 75
Fishing Level 100
Fishing Level 200
Fishing Level 500+
Earn the Fishing - Titanic Squid Avatar!
You can choose to do 1 Pin, or 5 Pins. The amount is up to you!
Specification
All Pins must use a specific border and font. Use the following border and font to complete your task. Right click and save the border to your computer.


Border
This image is 55 x 55 pixels, and contains an inner and outer border. The outer color is 1 pixel, and is black in color. Although you cannot see it on this background, there is also a 1 pixel inner white border that is set at 50% transparency. You may change the color of the black border, but the white part must stay white, and remain at 50% transparency.


Font
The font that we use for our Pins is called Wendy. The size should be set at 10 pixels. No bold is needed. If you do not have this font you can get it for free at most Font sites. Please be sure to create a 1 pixel border around the font so that it shows up well on the pin.
Image
You may choose whatever background image you would like to use for each pin. Please make sure it is not blurry, and that it looks nice.

Dr. Sloth's Neopets Image Emporium is a great place to find images for your Pins.
Animation
You are free to animate the pin however you like. Creating a Pin is exactly like creating a button. Below are some good tutorials on how to create and animate images.



&
Pin Example
Showcase
Here we have showcased member's submissions. Hover over the image to see who made the fabulous pin!

None yet, you can be the first!

Rewards
You will receive the following rewards for participating in this activity:

1 Pin: You will receive 5 Team Point

2 Pins: You wil receive 10 Team Points

3 Pins: You wil receive 15 Team Points

4 Pins: You will receive 20 Team Points

5 Pins: You will receive 50 Team Points



One of the best parts of this activity is one of your Pins could be selected for usage as an official Mythic Pin. If this happens, you will be notified by one of our Council members, and your will be awarded an extra 10 Team Points, and an Exclusive Pins that are made especially for you!

Please visit the Pin Directory to see what other Pins we offer for this activity.

Character Development
Oh well hello there! My name is Anniette and I do have to apologize for the long wait. I've been stuck at the Pin Factory with Defuel all month long but now I am ready to host my own show here! You are here because you would like to develop your pets into full fledged characters correct?

Well, I shall do the best that I can in explaining everything I know! There are 10 basic steps we will go through and this activity is all at your own pace. There are no time limits or requirements for this activity either. For special parts of this activity you can earn a pin. Exciting right? Now, let's begin shall we!

I am one of Anna's longest running character ideas on neopets and that is really all it takes to start, an idea. Something to start off thinking about is, what sort of character do you want to have? A tip to start is - think about what sorts of interests, hobbies, or goals you personally have. Maybe you are a fan of outdoor activities, the steampunk theme, you like to cook, or you like hoard bottle caps - anything is a good starting point. There are many great character developing charts to get your brain juices flowing, these are especially good for people who have multiple ideas.
Oh wait is this, a note? Maybe you should take it and fill it out. I'm sure this would be a good starting point for your character development!

Step 1: Brainstorming- Fill out this character chart.


You don't have to answer all of the questions on that image, you can jot your notes down on a piece of papers or even a word pad. Now that you have had some time to get your thoughts together, we can start sketching out ideas for your character. Most character pages have some art in one form or another. Does it mean you have to have a lot, or really any at all? No, but its just a nice addition to your page that really elevates the design. Also, will put a face to the character you have been brewing in your head. I mean after all, if you have made it this far you already at least an idea of what you want your character to look like, am I right!

Now for Step 2: Choose your Characters Form - Anthro, Human, or Quad?


The human form is pretty self explanatory, it is a human form of your neopet, but this doesn't limit any cool features you want to add! Humans with scales? We can do that! Humans with tails or wings, totally awesome. There are no limits to what you character can look like. Many people on neopets have an "Anthro" version of their neopets. Anthropomorphism is Anthro for short, and literally just means "Human Like." Blumaroos are a great example of Anthro characters. The last form pretty common on neopets is Quad. This form is more for pets/characters who have four legs. Such as Kougras and Poogles. But there is no rule to how many forms your character can have! Aisha's are a good example that people might have all 3 for!

Step 3: Find Layout for Page
Now that we have been thinking a little deeper into your character ideas, its time to pick out a layout for your character page! Now I am warning you now, this could take sometime, but I am here to help you. Somethings to keep in mind when you are looking for the perfect layout is how lengthy do you want your page. If you are more of a writer and would like a long story for others to read, maybe a scrolling layout would be good for you. If you are leaning towards simpler ideas, maybe an anchored page would be better for you. Here are a couple of Anna's character to give you ideas of the potential for layouts.




Here are some awesome premade sites that offer character layouts, designed specifically for this purpose. Do keep in mind though, any layout is a good layout for character's, some just take more editing than others!


Step 4: Sketch!

Great, we have found the perfect layout for your character's page, now you need to start filling it in with your content. Let's get out those handy dandy tablets or sketch books and start to bring your character to life. For best reference, you should have out the character chart you filled in from Step 1 , and think about the forms from Step 2! Keep in mind these are just sketches - they are not expected to be full-fledged character the first time you draw them. You should have seen Anna's first sketches of me, *giggles*. Well of course this is not me, this is actually Scribbuls, our wonderful page host! Once you have spent a little bit of time working on building your character's look, send Anna a message so she can check your progress! Once you have done that we can move on to step #5. We are half way there!
Step 5: A companion for your Character!

Something you can incorporate into your Character's page is a companion. Otherwise known on neopets as a petpet. Its a nice addition to your Character's story and can really tie in all these nice elements we have been working on. This step can cost you a pretty penny, but it does not have to at all. There are a variety of cheap petpets and p3's all around to buy. You do not have to give your pet a petpet or p3, but for those who choose to give their neopets a companion, might earn a special pin I heard. My petpet's name is Spoily, I will not bore you to death with the details of this little guys story, but he is the last machine of his kind and needs special care. You Character's petpet doesn't have to have a story to go along with their friendship at all. In fact, a lot of people buy petpet's just for the sole fact they match their pets color. You can do that too! Once you have decided on what petpet belongs in your story/page or if you decide you don't want to participate in this step, you can move on to step 7!

Step 6: Drafting the Story

Now that we have spent some times sketching, thinking about our Character's companions its time to solidify our thoughts into writing. This step will take some time, and like all good projects, it will never feel finished! Lets begin with the history of our character. Do we want to dive into the history of town your character lives, or maybe you want to start with their birth? Either way is completely up to you as the Author! My story jumps right into a heist mission, so a little bit of action to captivate the reader. One thing to keep in mind as well is, the perspective of your story. Are we first person reading from the perspective on the character or 3rd person? Are we mixing it up or speaking only in the past tense? There is no right or wrong way to start or end your story, but something to keep in mind if your flow. The 5 stages of story structure are -


Exposition: Setting the scene.
Rising action: Building the tension.
Climax: The exciting bit.
Falling action: Tidying up loose ends.
Resolution: Ending the story.

Step 7: Create an environment.

An important aspect of Character building is deciding on an environment for your character. Where does your character live? What type of work does he/she do? Is your character a pirate sailing the high seas hunting for treasure? If so, you want the environment to match.

Another approach may be to put your character in an environment that is unlike the character, and make it a fish out of water type of situation. There are no wrong moves when creating an environment for your character.

Think about places your character may go, beings he/she may encounter, favorite items he/she may possess, the work environment, home life, and anything surrounding your character. Does he/she have a luxurious tree house? Perhaps your character has a special herb garden from which he/she grows ingredients for magic potions. Did your character discover a secret cave filled with precious crystals?

You don't have to have everything figured out all at once. In the beginning, you may want to create something basic, like where they live, and build onto that as you get to know your character better. Once you have the basics down, you can add more detail.

Basic Example: Your character lives in Brightvale.

More Detail: Your character lives in an abandoned shack along the edge of the woods in Brightvale.

Even More Detail: You character lives in an abandoned shack along the edge of the woods in Brightvale, where he/she conducts secret rituals. Maybe the inside is filled with spell books on old wooden shelves, and an alter with candles and dried flowers. On the floor is a circle with a star in it, signifying the use of magic.

Slowly build up the details, and you will eventually have a well thought out environment.

Step 8: Build Wardrobe

This is the best part! Picking out a wardrobe for your character is so much fun. Go to DTI, and choose some clothes, backgrounds, and other trinkets you think fits with your characters personality, save your outfits, and take screen captures of each one. Add these outfits to your character page, and dress your pet up! You don't have to have all the items in the beginning. Add the items to your pet's wardrobe when you are able to attain them.

Be sure the items fit with the characters personality, and surrounding environment.

Example: If your character is an archer you will want items that fit with that role. Things like nature backgrounds, bow and arrow, clothing that has a woodsy feel to it, foregrounds that belong in the outdoors like flowers, trees, etc.

Create as many looks as you want to help get a visual image of who your character is. Below is a link to Anna's lookbook with screenies of my best outfits!


Step 9: Spice up page! details, decor


Lets get some details and decor in here. There are some really nice fonts and header generators you can take full advantage of to get some aesthetics for your page. There are so many things you can do to decorate your character page, and make it look amazing. You can create banners, add special backgrounds, buttons, bullets, line dividers, and so on. There area lot of sites that have these items already premade. Below is a Directory that contains many sites that help with creation.

Click on the Creation link, and scroll down the list to see everything offered. Check out the sites, and get some ideas of what you might like to add to your page. Also, don't be afraid to look at other characters and draw inspiration from them. Just be sure not to copy their content.

Below are some really amazing character pages. Take a look at them, and notice all the details added.

The esthetic of this page is pleasing to the eye, and it all flows well with the character's story. Use your character's environment to help choose your page decoration.

Example: Maybe your character is a faerie. For this you might choose a soft color scheme, a background that features billowy clouds, a banner with cursive writing, etc. Of course, this depends on the type of faerie your character is. It may be a dark faerie, in which case, soft colors probably wouldn't work...or would it? It's completely up to you to choose what you think works with your character.

Step 10: Proof read and admire.


Awesome, you have made it to the last step. Just like with anything you work on, you want to take the extra time just to proof read and check it over for any mistakes. Just because you have made it to the end doesn't mean our work here is finished. Good art is never finished! And if you are feeling really adventurous there are many pet directories you can have your pets added to!
Here are a few but there are many more not listed here~



Don't forget to check out the Pin Directory, to see what pins you can earn from this activity!


Once a week a newspaper called the Neopian Times, or NT for short, is throw at our doorsteps for us to read. Now whether you are a writer, an artist, or simply an avid avatar collector, this is one avatar everyone should have on their to-do lists at some point! This section is dedicated to connecting our members who are willing to collaborate or to showcase their achievements thus far! For those who do not know, you can receive two very shiny avatars from this spotlight.

Member's Showcase
Click on the name badge to view that member's NT entries!


Draw this Again!
Welcome to one of our newest activities! A popular Meme that continues to make its way around the web, stumbled here in Mythic. The directions are simple- save the template provided below, to your computer. Pick one of your older art pieces, (you have hopefully saved somewhere), and redraw it! This activity is just for fun and if you see no improvements that's okay, but you might be surprised at how much you have improved over the years. This activity will earn you 5 team points and you can do it up to 5 times. Don't forget to add in the years for each of your pieces! Mail Anna your submissions to be added to the page.

SHOWCASE
Drag and drop for full previews!


Decorate-A-Pressie
The month of gifting is upon us. Below you will find the template of a present. We want to see your best wrapping sk-ills! Save the template to your computer and open it in your art program and feel free to decorate the present however you like. When you present it complete, send your complete present to Anna so we can add it under our tree. You will receive a special pin for participating in this activity and 15 points.
Present Template
Display