Gourmet Club Guide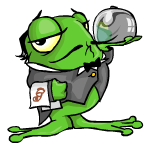 Welcome to my Gourmet Club Guide! I see you're interested in becoming a member of the Gourmet Club. Well you've taken a step in the right direction. Here you will learn everything you need to know. Getting started is super easy. I'll teach you about buying the foods, feeding your pet, and a few secret tips along the way to help smooth out the process.
Gourmet Club is where neopets eat certain foods to earn points. Once you earn a point, it can not be taken away. There are no resets at the end of the month like the other games on the site. Items classified as a Gourmet Food can be eaten to earn one point in the Gourmet Club. A Gourmet Food is an item that is between rarity 90 and rarity 100. There are multiple ways to check an items rarity. You can type its name into the Neopets search bar or by clicking on the item in your inventory.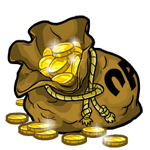 You can purchase Gourmet Foods from the main Neopian food shops, other user's shops, the trading post, or shop wizard. The price range will vary depending on where you buy your foods. Some can be purchased through the Shop Wizard. These items are under 100,000 neopoints (100K) and purchased from other users. Gourmet foods can get expensive. They may not restock often due to their rarity which makes their prices higher. Kadoaties also ask for gourmet foods. Some of these items are also considered Unbuyable. UB's for short. These items are over 100,000 neopints and must be bought through the Trading Post. If you're fast enough, you can restock items from the main shops at greatly discounted prices... and don't forget on the 3rd day of every month is Half Price Day!
Gourmet items keep your pet full for a long time. The best way to start is waiting until your pet's hunger level is dying. Then feed a Gourmet item every 75 minutes to keep their hunger level low. If your active pet is your Gourmet pet, avoid visiting The Discarded Magical Blue Grundo Plushie of Prosperity, The Healing Springs, and The Grand Neopian Neolodge. They can make your active pet less hungry.
If your pet becomes bloated, you can feed them a Rainbow Melt Pizza.
It will decrease their hunger by one level.



click to buy
Every point earned gets you closer to being on the high scores table. After eating enough gourmet foods, you'll earn a trophy. You become an Honorary Member once you make it in the top 200. The award shows up on your pet's lookup.







You can see what items your pet has eaten by visiting the Gourmet Club. Find and click the link above the high scores table. This will take you to a page of foods your pet has eaten. To see what each one of your pets have eaten you'll have to make them your active pet and revisit the page. You can also keep track of the foods your pet needs to eat with Jellyneo's Gourmet Club Food Tracker. It has easy to follow instructions.
There you have it folks! Your journey begins with your first bite.
GET CHUFFING!