Welcome

BC Vote? ♥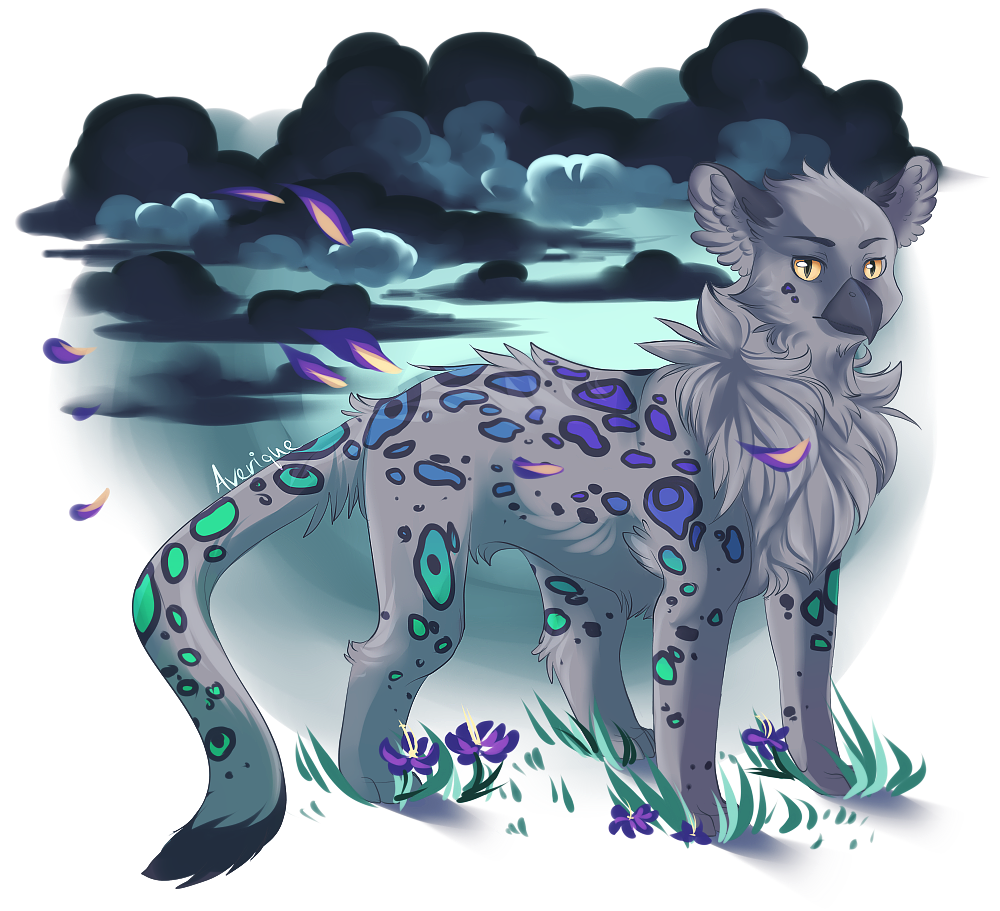 LEFT PIC BY JAX CLOCKBIRDS

On top of the highest peaked mountain, overlooking a small forest and a mass wasteland, there's a nest of a giant creature. So high up, temperatures are so low with ice cold wind slicing by you that no one ventures this high. Not many creatures could candle this sort of climate. But, this giant beast can withstand the cold.
This giant beast is a creature of an older breed of gryphon, who had the dna of both a gryphon and a snow leopard. His breed could survive the coldest, roughest wind currents on the highest peaks of mountains without as much as a shiver. That being said, these bigger, older breeds do not to well in warmer climates.

Tosh's muscular body is perfect for maneuvering through thick snow on slick mountain sides. He's claws are so sharp and legs so strong there's no chance of him having troubles in this weather. A beast made for snow travel, light as a feather on top of snow banks able to run along top without sinking in at higher speeds. Extremely strong legs for lunging from rock to rock.

In this temperature, one's appetite is less than someone in warmer climate. Tosh needs nutrients every week or so to survive, storing it and surviving off it it for long periods. He doesn't need much food at all, and has plenty of snow for water. But, when he does venture down the the forest floors for short visits he stops by the magical lagoon for a refreshment.



Stats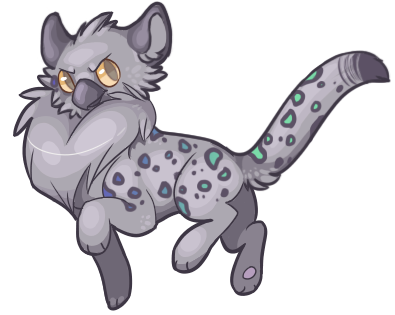 Name Tarshanon, Tosh
Age Adult
Build Bulky
Nature Timid
Colors Grey, Blue, Purple, Teals

Habitat Mountain Tops, Forest


Tiny feet pitter pattered around in circles, chasing one another. Tosh's big, soft ear twitched at the sounds. He lifted his mighty head and looked over at his companions playing together. Kre was chasing his bug friend all over the place. It must be time to get up, he laughed to himself.
With little effort, Tosh lifted his hefty body and leaped down from his tucked away cave in the mountain side. He landed in soft snow and stretched out his feline like body. Each jelly bean toe individually being stretched outwards, and a another big stretch of the spine.
The sun was just starting to rise in the distance. Being at the top of the mountain has it's advantages, like watching the sunrise from the highest peaks in the lands.
As he stared off into the glowing morning colors he realized today was a meal day. Not often does he feel the need to feed. He doesn't burn many calories, he spends the majority of his day napping. He said goodbye to his companions who were still playing, and made his decent down the mountain side.
Chills ran over Tosh's body as he adjusted to the lower altitude temperature changes. He felt the heat the moment it was in the air. He doesn't mind a little heat, but for prolonged periods it could be very dangerous. Tarshanon is a big, stalky build who is made for fierce winters. Overexposure to heat could be fateful.
Sunlight lightly brushed his fur, causing great comfort. He hadn't gotten down from the cold peaks in a moment. Looking around, not much has changed. The forest remains beautiful, lush and silent. Just the chirping of birds and other nature sounds softly in the background.
He made his way through the tall grasses, pushed through low hanging leaves and vines and made his way to the center of the forest. This was why he was here.
Before him, was a lagoon of deep blue that sparkled in the light. Creatures drink from here because it's the only fresh water around for miles, dripping down from the cold mountains. As much as he loved snow, fresh water was such a treat he couldn't help but lap it up.
The forest somehow smelled more sweet today, like flowers. Tosh thought this was odd, as most of the flowers around here are predatory and don't give off sweet scents. He basked in the warm sun and delicious scents, and continued forward to gather some food.
He quickly found some raspberries, figs and herbs that he very much enjoyed, and tucked them away for later in his fur. With that, he made his way back to the base of the mountain to head home to the cold peaks for another week or so.
Fam

Link back? ♥