Basic Information
Basic Information:Name:
Zaille
Gender:
Male
Age:
Thirties
Birthday:
Nov. 6
Sign:
Scorpio
Zodiac:
Monkey
Hair:
Long dark green with bangs
Eyes:
Gold
Ref. Sheet:

Click and drag to the url bar to get a better look!
Design
Eyes-
Gold eyes with a red ring around the pupil
Fur- Green fur with a light green muzzle
Tail and Spikes- Zaille has a deer-like tail unlike other mutant ixis and doesn't have the spikes that other mutant ixis have either
Horns- He should have large, long horn like a bull or an ibex but normally, I draw Zaille with small stubs for horns because I'm lazy (and I don't really think I like the giant horns. I was considering maybe he has small horns when he is 'normal' and then mutates when he is 'evil' and then he can have longer horns... I just don't know.) For now, he has small stubs.
Personality
Zaille is quite the gentleman. He strongly believes in chivalry and that men should be polite and cordial to women.
Zaille likes the finer things in life. He enjoys fencing and dueling for sport and he enjoys tea and crumpets. He loves attending balls and he is a fan of classical music- he played the piano since he was a very young boy. He reads rich, leather-bound novels and he likes to flaunt his wealth. He keeps his large manor in tiptop condition by hiring a working staff to clean it everyday because he dislikes filth.
Zaille is capable of being kind and romantic- but only towards his lovely fiance, Anastasia. Zaille tolerates others with as much courtesy as he can- sometimes he cannot hold back a rude or sarcastic remark- but he is, for the most part, not a people person. While he doesn't like mingling with people, he does like others to see his lavish lifestyle and acknowledge his luxuries; he is very egotistical.
Zaille is cold towards strangers- especially if they are from a lower class than he is (it's hard to find someone who isn't as rich as he is) or if they are particularly annoying or dim witted.
While Zaille can be stingy and greedy with his wealth, he loves to spend his money on expensive items to flaunt his good fortune and he usually spoils Anastasia. He turns his nose to beggars and will only contribute to charities (hesitantly) that he deems 'important enough to gain his respect' (or to charities that Ana begs him to donate to).
Story
The following is fictional and is meant to entertain only. It shouldn't be taken seriously. The ideas below were created by Zaille's owner for him only. Please don't use any of the ideas below for your own pets or characters. Thank you.
Once upon a time, a successful physician attended a grand ball and fell in love with a beautiful lady.
He courted her and eventually the two were engaged to marry.
However, before the ceremony, the beautiful fiancé was stricken with a dastardly illness.
The doctor fretted day and night over his weak love as he struggled to find a cure to save her.
However, the woman- naturally delicate and weak- was no match for her aliment and she passed away in her sleep.
The doctor was devastated by his loss and locked himself away inside his large, empty manor. He refused to see or speak to anyone and spent most of his time by his fiancé's bedside, grieving.
One day, the doctor was approached by a mysterious woman who offered him the chance to revive his lost love; for a price.
The doctor anxiously accepted, believing that his love was worth any price fate had to offer.
The woman revealed herself to be a dark fearie. It was her duty to bring the soul of the deceased to her dark overlord. She is paid by absorbing the energy from the life she takes. She gains beauty whenever she sucks the energy from the life force she takes. She explained that she was willing to exchange the fiancé with another soul. However, because she was so beautiful and pure, she warned that it would be hard to find a soul of equal worth. The faerie then declared that the doctor should capture the souls of all the beautiful, young maidens of the city- their beauty, youth, and innocence combined is equal to the poor, dead fiancé.
The surgeon, who normally would have the sense to be appalled by such a demand, accepted.
Since that day, terror reigned over Neovia.
… One day, the doctor awoke in a room of the sanitarium he used to run. His only possession was a torn and broken photograph of his lost love.
After his fiancé ran away with another man, the doctor went insane and believed that she died. He became reclusive and enraged by his broken heart. He couldn't stand to be deceived and thus attacked lovers.
Zaille and Ana
Here are some short stories that I have written in the past for Zaille. They may be a little out dated as I wrote them a couple of years ago. They are watermarked because they belong to me and no one else. I really don't think these are worth stealing but I don't want to take the risk because they do have a lot of effort and sentimental value to me. They are a little violent and dark so don't read them if you are sensitive to that sort of thing (that is why they are images instead of written text. I don't want to offend anyone). These stories are fictional and are only meant to entertain and develop Zaille's characterization and should under no circumstances be used in any other way or be taken seriously. Thank you. (Click and drag image to url bar for better view.)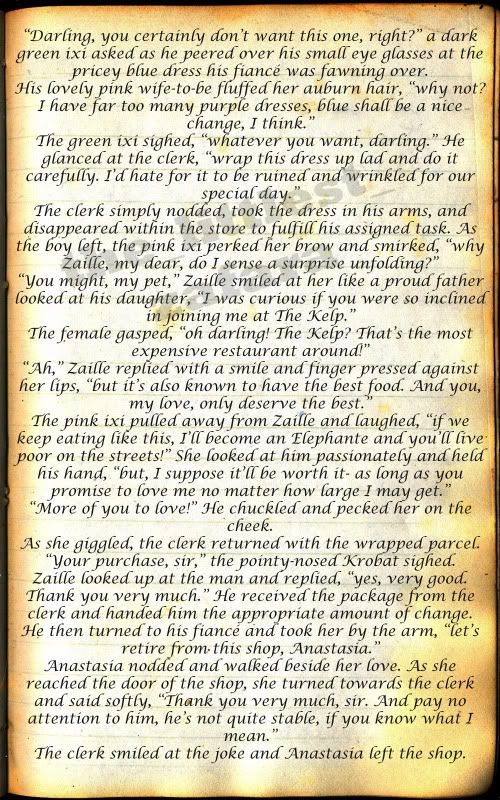 Foreshadowing of what is to come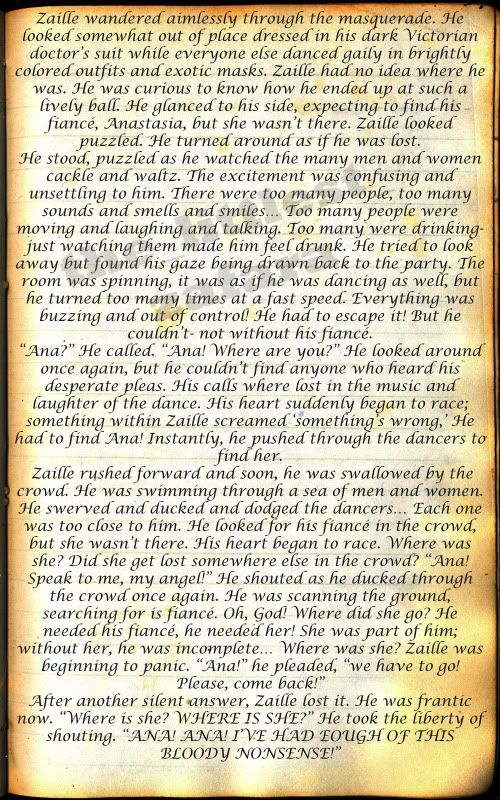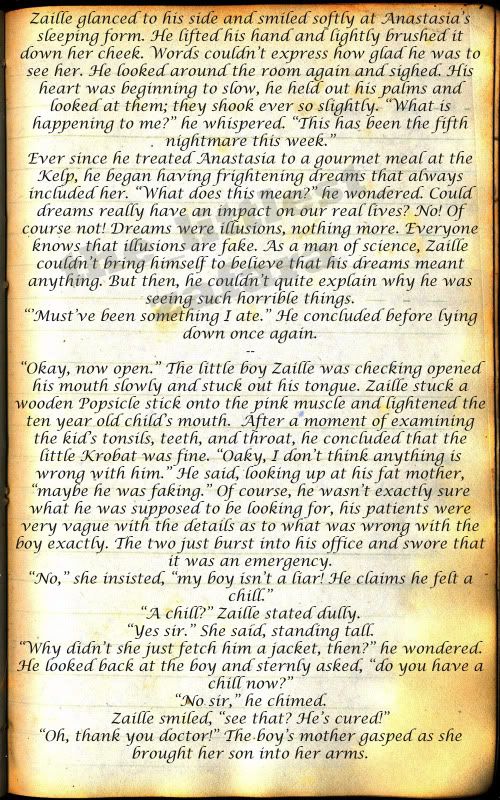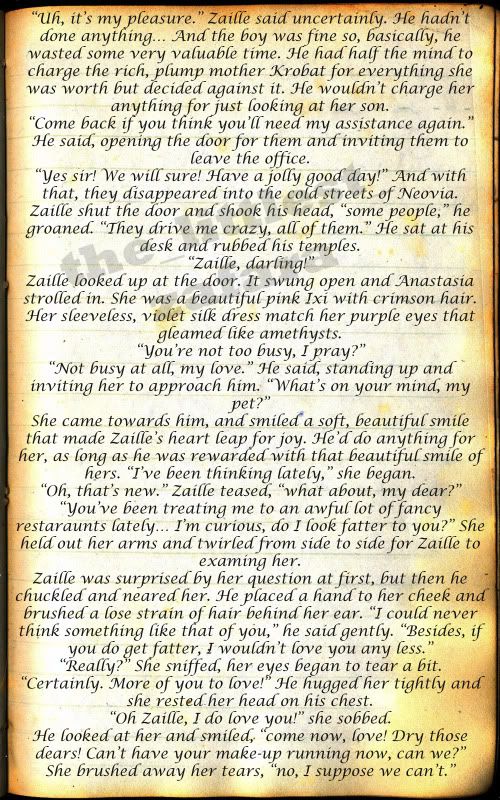 The break from reality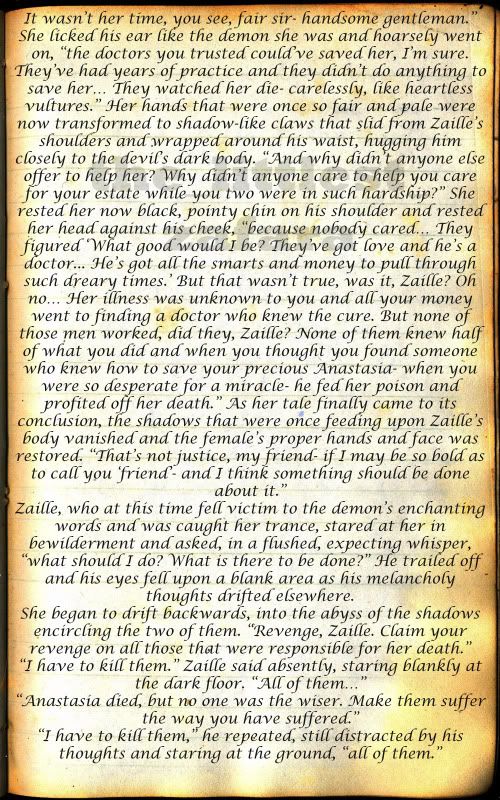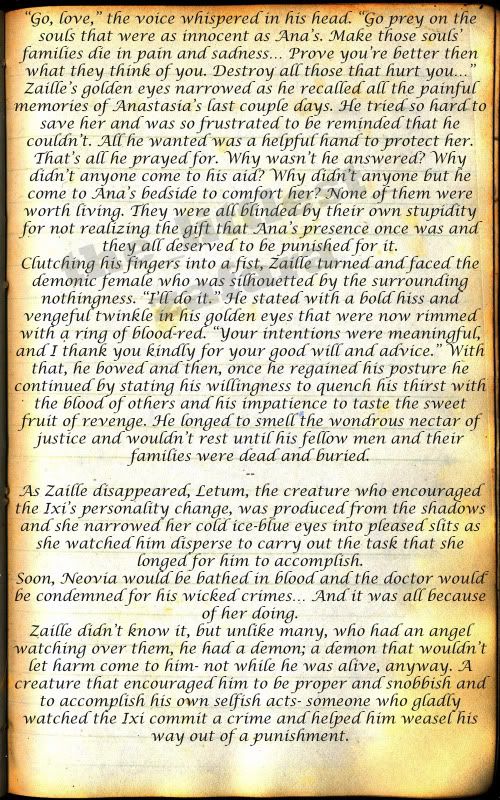 Likes and Dislikes
Likes:
Anastasia, Wealth, Knowledge, Novels, Tea, Chivalry, Beauty, Classical Music


Dislikes: Stupidity, Lower class, Filth, Beggars, Annoying Couples, Losing Anastasia
Art Gallery
A note from Libby: Here lies a bunch of drawings of Zaille! If I forgot to mention anyone who drew a picture, let me know! I need to give credit where it is due!
Hover mouse over image for credit/information about picture. Absolutely no stealing. That includes taking the pictures and using them in contests or editing them for any reason. You cannot take them and claim you drew them or use the poses or designs for your own use. BE CREATIVE! Thank you.
Art by Libby- Base for last picture by Pinkvanilla.net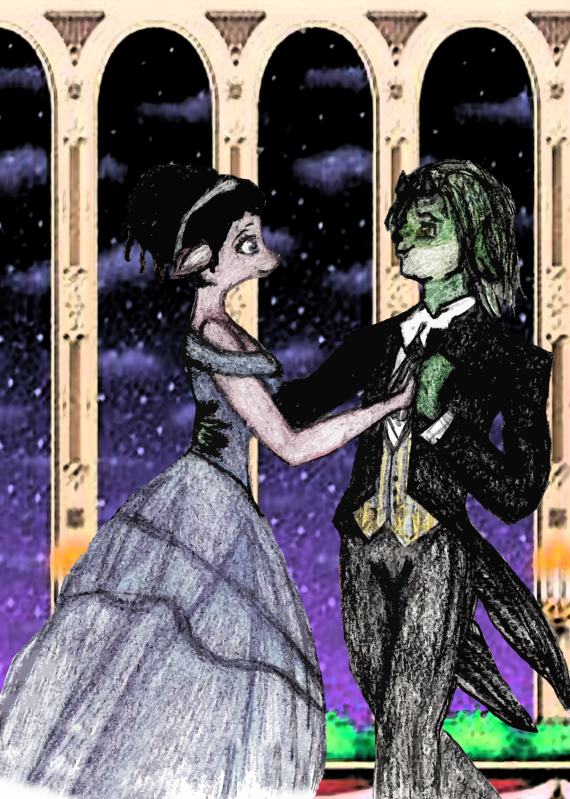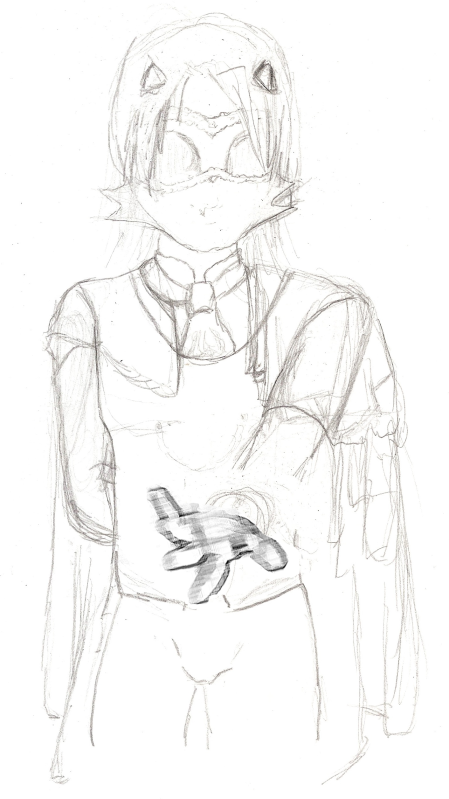 Art by Others- Thanks so much!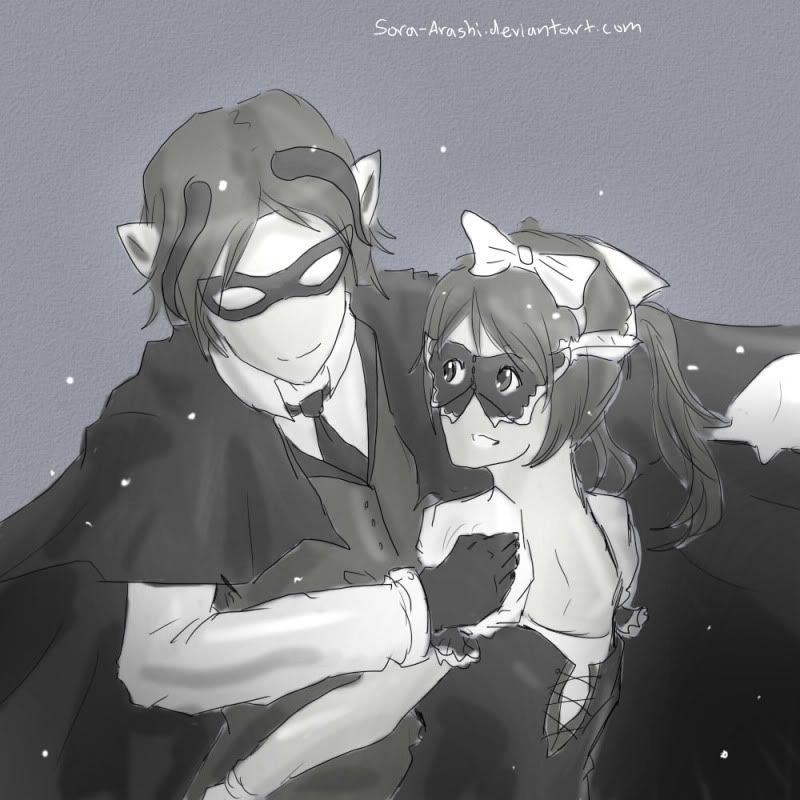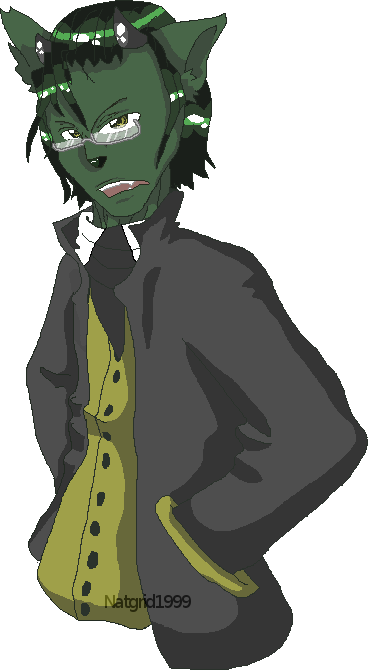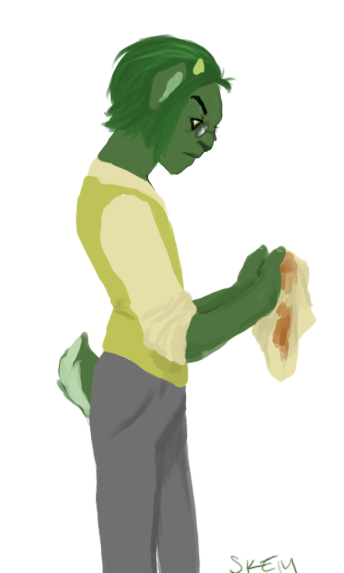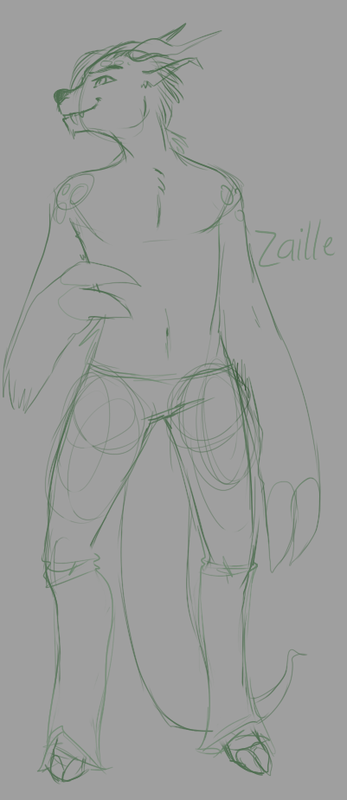 Links
Here are some links to other cool ixi pet pages!