Introduction
This tutorial will teach you how to make your own guild layout. Most people don't realize how easy it really is to make their own! I will try to explain all of the steps slowly and clearly. If you have trouble understanding any of it, neomail me and I can explain it as best I can. I think this turtorial will be especially helpful to those who learn best visually, as there are lots of pictures.
Before you get started, make sure you have Microsoft Word and Microsoft Paint on your computer. To find out if you have these programs, click Start on your computer (lower left hand corner) and then All Programs. Paint is usually under Accessories. Microsoft Word will most likely be listed by itself if you have it. In addition to these programs, you will also need an image hosting site. If you do not have Microsoft Word but you do have Microsoft Paint, here is a good How to make Guild Layouts with Microsoft Paint guide.
Getting Started
First you need to find the image you'd like to use as a background. For my example, I decided to use a picture that I took on my camera. I had to resize it using a resizing website so it would be the size that I wanted. The picture you choose could be from pretty much anywhere. Just be sure the picture doesn't contain links offsite which is against the rules for Neopets and that your picture is the correct size. You can resize you picture in Microsoft Word by dragging the lower right hand corner to the size your picture needs to be. Your picture should be no larger than the height of your screen, meaning you shouldn't have to scroll down to view the entire picture. The standard guild layout size is 750 pixels tall by 650 pixels wide, so keep that in mind.
Once you've found your picture, you need to copy it. You do this by clicking your picture with the right side of the mouse. A white bar comes up. Click 'Copy'.
Now it is time to open up Microsoft Word. Once it is up, you may need to change some settings. First, click 'View' which is on the top bar then click 'Web Layout'.
This will make the screen wider so you will have more room to work with. Then you may need to open up the Drawing Toolbar. You can do this by clicking 'View' then 'Toolbars' and then 'Drawing' as demonstrated in the picture below.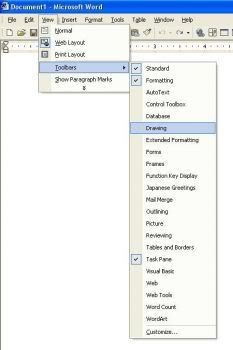 Remember if you ever make a mistake, you can always click undo as shown below.
Then right mouse click on the screen and click 'Paste'. This should put your picture on the screen so you can begin to create your layout.
Now you should decide how many text boxes you want and where you want them. There is no rules for how many text boxes you can have, so it's all up to you. Once you have a general idea on where and how many boxes, you can start drawing them.
First you need to activate the rectangle drawing tool by clicking it as seen in the picture below.
Once you have done that, you can click where you want a box. This will make a white square where you clicked.
You can then click and drag the white circles to widen the box to the desired dimentions. You can move the entire box by dragging it.
So you now have a white box, but you probably want something a little more offical looking. I decided to make my boxes so I can still see the picture thru them, but text will show up. You can make your boxes solid colored as well. To change the background, right mouse click in the box and click 'Format Auto Shape' as shown below.
When you clicked 'Format Auto Shape' the following box showed up.
The top color choice or 'Fill Color' is the background color. The 'Transparency' bar is for if you want to see your background thru the box. The second color choice, 'Line Color', is for the outline of your box. The drop down menu, 'Line Style', controls the width of the outline. The 'Dashed' specifies the style of the outline such as solid, dashed, etc. The 'Weight' can control the depth of the outline.
Since I decided on clear boxes, I set the transparency at 30 percent so I can see the picture thru it.
In order to see your text in the boxes, you need to go to the Layout tab as shown and select 'In Front of Text'. Don't forget to click 'ok' when you are done with your settings.
After you have all of your boxes completed, you can add your guild name to the layout. Some people prefer to write the topics of each of the text boxes above them. It is also nice to write your username in a corner so everyone knows that you made it and it will prevent others from possibly stealing it. To create text, click the 'Insert Wordart' tab.
This will bring up a box that has different text types. Select one and click 'ok'.
This will then bring up another box where you can specify the font type and size. Type you guild name here.
After hitting 'ok', your text will apear down low on the page. Right mouse click on it and select 'Format Wordart'.
That will bring up this box where you can select your text color. You can even choose an outline color if you wish.
Make sure to select the 'In Front of Text' option.
You can now click and drag your text to the desired location.
Congratulations! You have now created a guild layout!
Saving Your Layout
Now you must save it. We cannot save our layout on Microsoft Word, so we must move it to Microsoft Paint. Before we go on to that, let's review our keyboard.
The key we will be using is the 'prt src' or 'Print Screen' key. You can see 2 different pictures of the same key below.
Okay, now that you know where the 'prt scr' or 'Print Screen' key is, we can save our layout. Click outside your layout and hit the 'enter' key a few times so your layout isn't selected. Now hit that 'prt scr' or 'Print Screen' key. Don't close Microsoft Word, just minimize it incase you make a mistake so you won't have to start over.
Next, open up Microsoft Paint. Click 'Edit' and then 'Paste' as demonstrated below.
If the 'Paste' button isn't highlighted as it is in the picture, go back to your layout in Microsoft Word and hit the 'prt src' or 'Print Screen' key and try again. After clicking 'Paste', your layout and the entire Microsoft Word screen will be in paint. You must drag the entire thing until your layout's upper left corner matches up with Microsoft Paint's -blocked- When that is done, click 'Image' and then 'Attributes'.
That will bring up this box.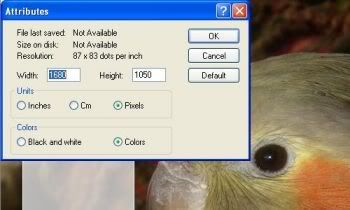 In small increments, decrease the size until you can only see your layout. If you make a mistake, you can always click 'Edit' and then 'Undo'. Now you can save your layout. Do this by clicking 'File' and then 'Save as...' as shown below.
A box will come up and you can name your layout. Remember to click 'Save'!
Coding Your Layout
Before you can code your layout you need to upload it to a picture hosting site. There are plenty of free ones out there. Once your layout is uploaded, you can find it's URL or address by right clicking on it and clicking 'Properties'. Then copy the Address or URL in the box. You will need this when you code your layout. I'm not going to explain coding on this help page since I'm not all that good at it and others already have explained it well. Here is a section of someone's Guild Layout Guide all about coding. Personally, I use neotacular's x-blog for all of my coding.
Conclusion
I hope you have had fun creating your guild layout! Once you can do this, you can make blogs by using smaller pictures and adding only one text box. If any of this confuses you or you need coding help, neomail me and I will get back to you as soon as I can.
Thanks!
-Hc