Hi there guest,
My name is Ahsoen and I'm a Faerie Uni.
I got my color scheme from the Fountain Faerie, when my mama completed a quest! That was one of my favorite days! I had never been painted before, and it was VERY fun!
My mama is very addicted to Scorchy Slots, and since some people find it a little confusing - and mama hasn't found any good guides or explanations for the game out there - she decided to make her own guide.
All of the screenies of my games have been reduced in size to make life easier.
Basically, Scorchy Slots is a chance game. I like it because it is cheap (Only 5 NP per spin), and because it is a "refresh" kind of game, which means I get more random events when I play it since it reloads the page on each spin.
You can find all of the winning combinations HERE ... Strategies and such are not really relevent in Scorchy Slots. And people tend to get hung up on the volcano at the bottom of the screen. In my humble opinion, the volcano is a distraction that really has very little to do with the game. It can take points away from you... As many as 20 NP at a time that I've seen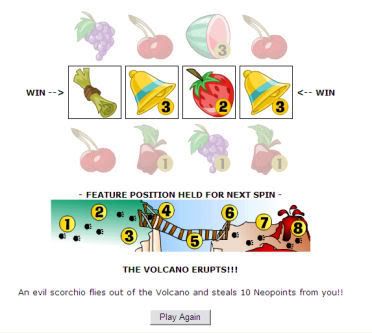 Or it can give you points... Up to 50 NP from what I've seen.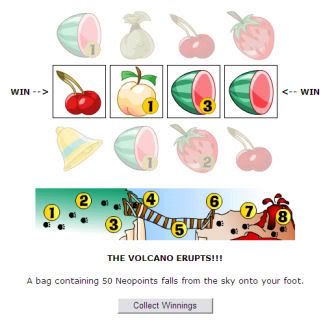 But other than that, the volcano is really not a big part of the game. Sometimes you win a single neopoint, or sometimes one is taken away from you - but really nothing ever drastic happens from the volcano.
The real fun in the game is the items in the "win" row. For instance, 4 bells in a row wins you 1200 NP!!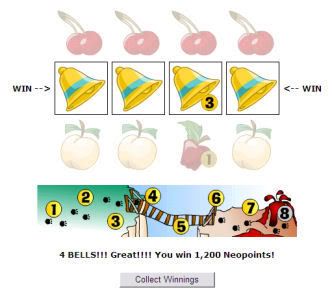 Once in a while you will come across a spin where it says "HOLD" under your win row. Depending on what is in the row, you can choose to hold one or more of your objects, or just play again without holding any of them.
For instance, in some of the below screen shots, I held a few and some I didn't.
This one was 2 grapes and 2 cherries. I chose the grapes for two reasons - ONE - they are worth more NP... and TWO - there were two together - odds are much better that one grape will appear on either side of the two than that two cherries will appear in the middle (which is the ONLY way that the cherries could have caused a win). Three of any one object TOGETHER causes a win - three that are not together do not win!
... And see what happened?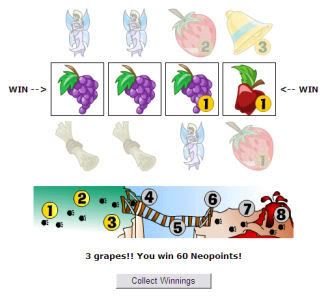 In this case, the choice was much easier - Two apples in the middle, and random things on either side.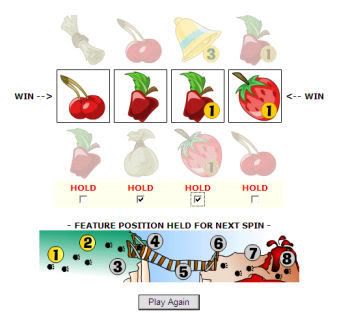 And... Check out the score - I got to hold the 3 apples, so I got 120 NP twice! Yay!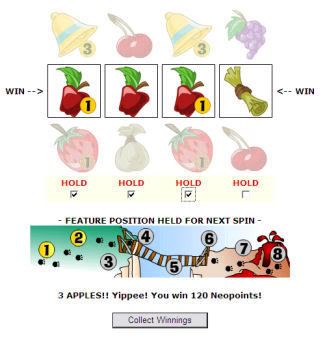 In this instance, I decided to choose the faerie over the two strawberries in the middle... It didn't get me anything, but I took a chance.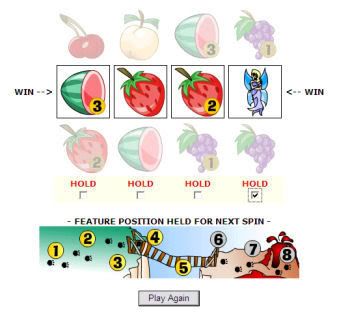 Sometimes there are not two of anything, and you may need to decide whether or not to hold anything at all. If it's all fruits, and they are all different - I never bother holding any of them.
But sometimes there is something good that I hope turns into something better! And in that case I hold. I do this with Bells, Map pieces, Faeries and of course MONEY BAGS!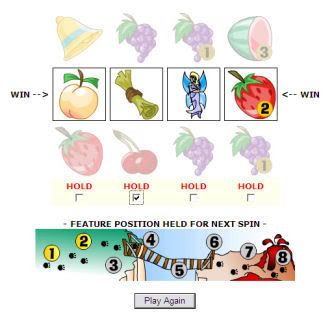 In the above screen shot, I chose the map simply because I get map pieces much more often than I get faeries. I've actually won a few map pieces.
And DRUMROLLLLLLLL PLEASE!
I finally won a bottled faerie! :)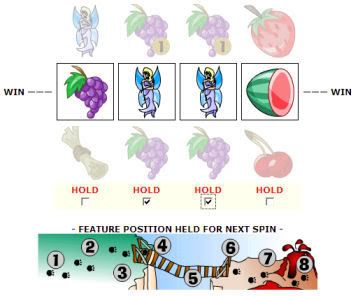 Sometimes I get lucky when I am offered a hold... and in those instances, even if a faerie or money bag were over there in the last spot, I would hold the 3 winning items.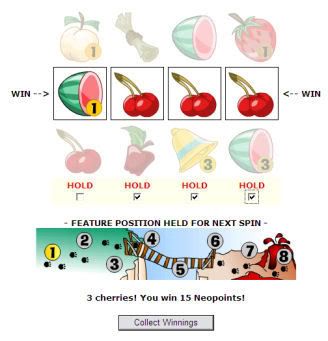 But eventually, all fun must come to an end...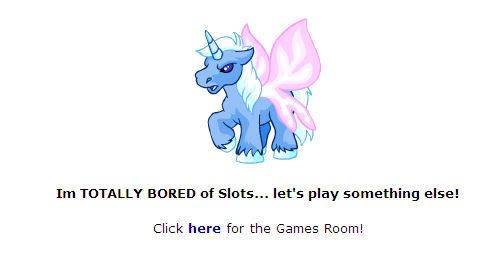 Yup - there is a limit to how much you can play each day. I have won a few map pieces in the past, but stupid me did not take a screenie!
Hope you've enjoyed the guide!
Happy Spinning!