Akaiiko
Searching for the light...

Hi. Your name is guest, right? Well, it doesn't really matter. Welcome to my page. There isn't very much to see, but if you'd like to look around, go ahead... Below are shortcuts to different parts on the page.

So, as you probably know already, m'name is Kai. I was born in Mystery Island, but if you've read my story, then you'll know that I've been traveling for quite awhile now to far away places. No, I'm not a tour guide, so don't start asking me questions about the best sites to see in Faerieland. Oh believe me, I've been there, but there had been more pressing things on my mind than the poogle races...
::Bio::Story::Family::My Customs::Adoptables:: Links::
Akaiiko's Bio
Stats:
Name: Akaiiko
Nickname(s): Kai
Species/Colour: Christmas Kyrii
Gender: Male
Age: 19 years old
Physical Description: Akaiiko has a tall, slightly muscular figure and bright white fur. He has dark red eyes, and random curly designs scattered against his fur. Kai has a long mane of red and green twisted together, and very angular features.
Personality Description: Before the loss of his precious friend, Akaiiko had a very humorous and sarcastic personality. He appeared to be quite grim and shifty to those who didn't know him well, but Kai was definately a big softy underneath. (Well, to his Love, at least.) However, after parting with his friend, Akaiiko scarcely communicated with anyone anymore, and had an almost permanent, bored -disallowed_word- read Akaiiko's story for more information)
Story
Here's my story. Exciting? Not so much. So don't say I didn't warn you.
Prologue
."Kai! You're going the wrong way again!" Pixiru craned her neck to look at Akaiiko straight on, a mocking -disallowed_word- opacity=100);overflow:auto;height:200;width:300;border:double black>

It was as if the life had been drained from my body. I lay there in an unfamiliar place, numb and oblivious to my surroundings. I couldn't think. I couldn't gather what had happened. Eventually, I felt a throbbing pain in my right leg and I discovered the long gash stretched there from my ankle to my knee. That was odd; when did I give myself such an injury?

Thinking back, I recalled the dreadful meeting with the mysterious intruder. I winced at Pixiru and mine lack of caution. Pixi! The name reinvigorated me, and I shot upright. My head spun unpleasantly at the urgency of my thrust, but when the ground stopped spinning a million thoughts entered my mind at once.

Pixi and I had been running through the forset. Then what? I wasn't careful enough. I was foolishly ignorant of the messy turf. I had tripped, and then... here I am. Oh no. Oh no, no, no... Where was Pixiru? Did she leave me and continue to flee? This I knew the answer to at once. Of course Pixi didn't leave me; I knew her too well to hope for her to do such a thing.

My heart sank. Where was Pixi? For the first time, I drank in my surroundings. I was sitting in thick, waist-high shrubs. They were densely scattered in every direction. To my left, the forest stood under the overcast sky, as daunting as ever. This wasn't where I fell. Pixiru must have dragged me out of the woods somehow. I shuddered, imagining her dragging my bulky body between her slight arms while a ferocious enemy stalked her in the darkness.

I rolled over and blanched, my hands clenched into fists on the sodden dirt. My surroundings started to spin again and I became aware that I was wheezing, gasping for breath. Not entirely sure if I was going crazy, I pounded the ground with my right fist and forced my breathing to slow. It wouldn't do to panic, not when Pixi was probably still near.

There were several, obvious plans of action that came apparent. First, I should search the marketplace. I knew that if I walked half a mile or so to the right, I would end up at the border of the shops. That would be the most likely place for Pixiru to go, because she obviously left the forest to drag me here. It would be safe surrounded by the crowds and officials.

Then, if by ill luck she wasn't there - I forced myself not to think too much about this scenario - then I would go back to our house. After that, I would probably go back into the forest.

ooc: Eek, I finish the story later.
Family and Friends
Scruffy
Scruffy's my friend. To tell you the truth I still don't know too much about him because we just recently met. But I don't have too many friends so it's nice to hang out with someone every now and then.
Pixi
Ahhh Pixiru... Where to begin? We've known eachother for ages now; since we were only a few feet tall. And as we grew older our relationship changed from friendship to partnership. We never really officially proclaimed ourselves as a couple to other people, but in a way that suited us better. We weren't really into the whole "show and tell" business. But we knew the love we shared and that's all that really mattered. Right now we still recovering from our little adventure, (see my story for details) so we've both have changed a lot emotionally. We're still happy and content though, and in time hopefully we'll return to our usual selves.
Rosie
My owner, Rosie. Heh heh... she's certainly unusual, to put it in the least. Rosie's quite optimistic and hyper, and is easily excited. But she is also sympathetic and maybe a little too observant. Rosie tries to help me but I honestly would rather have my own time alone... She was incredibly frustrating at first, but now she's learning to give me more space which I am very grateful for.
Rules:
1. Do not claim the adoptables to be yours
2. Do not enter these into any contests
3. Do not take off my signature
4. Do not copy the drawing by tracing, alterations, etc. (I'll make a makeable eventually, but until now this is the rule!)
5. Do not take off the link back
Customs are currently open, so feel free to request! Neomail all requests with a design to o0silver_dragon0o.
Traditional
Blue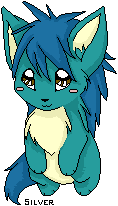 Green

Yellow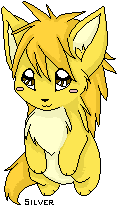 Red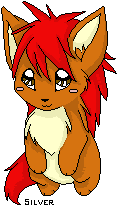 White

Purple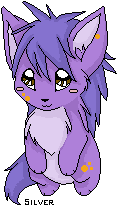 Christmas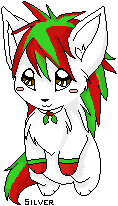 Brown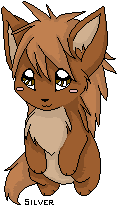 Orange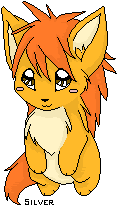 Shadow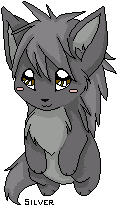 Gold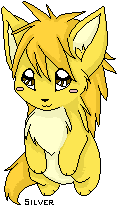 Pink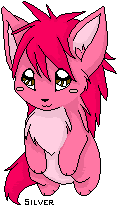 Cloud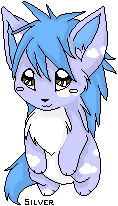 Skunk

Custom
Lebyby

TheWhiteOwl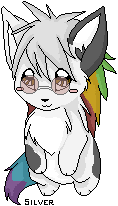 Zairjaii

Clambr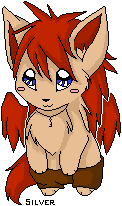 Rabeaba

Margiela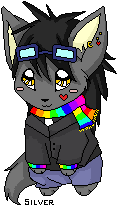 Yalup

Link Back