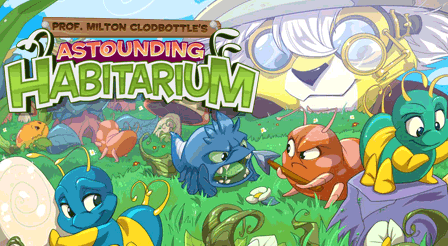 WELCOME TO FAARQFTHB
Frequently Asked And Repeated Questions From The Habitarium Board!
LINKS
Board: http://www.neopets.com/neoboards/boardlist.phtml?board=39
A much prettier FAQ than mine: http://www.neopets.com/~Vihvae
Guide: http://www.neopets.com/~Habitarium
Ink and Deco:http://www.neopets.com/~gupppppppy
Screenies: http://www.neopets.com/~mulinz
Game: http://www.neopets.com/habitarium/game.phtml
Neopian Times Article The Habitarium by nirette
Submit a Ticket Here
Use ctrl-F or apple-F to search for the term you are wanting.
A GLITCH! A GLITCH!
We know, we also expect it, as the game IS in Beta, so go and submit a ticket.
So, because of this, many of the responses you get will be one of "Try refreshing. Try restarting your browser. Try clearing your cache. If these don't work, report."
.
all my P3s died, how do i restart?
you cannot restart
.
All my P3s died, what do i do!
Go to your bag, there should be a nester egg there, given to you by the prof. If if itsn't there, refresh!
.
I need help! Non-raiding friends needed!
Go look at the board, there probably already one up asking for NFs, just go add the people volunteering there, and they'l help out.
.
I can't see all my neofriends to help!
Yeah, this is probably a glitch, since it seems to affect usernames starting with certain letters, but its probably for the best, imagine if you had to wait for 200 NFS to load Oo
.
Green Meadow Club?
For the first couple of weeks of the game, a lot of people couldn't see their habs, just a green meadow, hence the name. TNT just fixed this today. YAY SNARKIE :D
.
I can't see my habitarium! My habitarium is invisible!
This glitch should be fixed today, so go have a look. Try refreshing. If it still doesn't show up, submit a bug report.
.
IT WONT LOAD
Try refreshing. Try restarting your browser. Try clearing your cache. If these don't work, report.
.
Please Help! Rebuilding from one nester is going to take forever! send me an egg?
Unfortunately we cannot send eggs. It would make the game to easy, probably.
.
I see people want Pinchets, Mootix, larniken, etc. What are so different about them anyway? Does each have like a different ability?
The species doesn't affect their abilities or anything, their type eg Worker, nester, soldier does. Some people just think one species is cuter than the others
.
Is there any way to encourage my P3's to collect more of a certain resource than another? Because right now, they are very into collecting pollen. All of my resources are in good shape except for my rock- but the little buggers refuse to collect wood unless I'm directing them all the time. And I need wood/mud/etc to build more structures.
yes, just drag them a space next to the resource u want them to collect. just drag them to wood mud and stone. the more p3s u put at a resource, the more they collect.no each p3 doesnt prefer to collect a certain resource just drag them to what u want to collect---rinifriend
.
How does the seed hammer work? I can't seem to use it to fix decayed resources!! how do you use it??
you cant fix resources with hammers, only buildings. ---rinifriend
Hammers only work on buildings. To fix broken resources, you have to either wait 3 hours for it to regenerate or a neofriend to fix it. ---apophis_heliopolis
.
MY pinchits have gone extinct and the larkins are endangered! I've lost a species! NONE LEFT! Only one species left.
sometimes when u level up the professor will give you an egg just hope it is a nester you need---vammie98
OR use this tactic, which i havn't tried yet.- When all your P3s die, the Prof gives you a nester egg of a random species. In theory, you could just keep letting your P3s die until you get nesters of the species/species('s?) you have lost. Apparently he gives you the egg even if you have many stockpiled.
.
I can't get into my item bag!
People have been saying they have been getting locked out if they have stockpiled too many eggs or buildings or food. Usually eggs, as people have been saying it glitches out ~around~ the 400 egg mark. Although im not entirely sure why you need that many eggs stored Oo
.
Whats the maximum level?
25 is the highest level currently Once you reach that, every time you fill the experience bar you get a purple gem worth 200 np.
.
Can i earn NP from habitarium?
yes, from leveling up and getting purple gems once you reach level 25.
.
Can i play on a side account?
NO. This is because you are able to earn Nps, which you know you are not allowed to do. TNT stated this clearly in... a recent editorial.
.
But it doesn't work on my main account? Please can i play on my side?
No. No. And No. This is because (presumably) the game will soon be working, and then you will want to play on your main, which gives you an unfair advantage over other players.
.
What do pests do?
They only come when you are online_ They are good because you get 30 exp from killing them. But Bad because if you dont defeat/kill them they can damage your resources and buildings. But then good because you get exp from reparing buildings. But bad because they can injure and kill your soldiers. Which seems to be fairly rare.
.
can Nesters only breed Nesters? Or can they breed Soldiers and Workers as well?
Nesters breed a P3 of the same species, the occupation is random.
.
What determines the eggs species?
The eggs species is determined by the nester that LAID it, not by whichever or all the nesters that incubate it.
This can be useful if you have heaps of nesters of one species but only one of one other species. For the single one, get it to lay an egg, then immediately move it to another, empty nest, and get it to start again. Get any other nester to finish incubating the egg for the first, single one. This way, you can rebuild your endagered species faster than if you were having the single nester incubate its own eggs, one at a time.
.
I'm stuck on the tutorial, where i have to move things around, nothing happens.
Lots of people have this issue, refreshing fixes it. If it doesn't, submit a report.
.
How many P3s can i have at level 25? maximum population maximum capacity?
You can have 28 P3s at lvl 25.
.
MY resources don't match what i have in my storage building?
When you start the game you have resources even though you don't have a building, so to start with they wont match, but they should match up eventually.
.
how long can they live with no food and sleep or is there a way I can make them eat and rest while I am gone?
they dont die if theyre hungry or tired, its when theyre health runs out or their life span comes to an end---rinifriend
.
This is the next question
This is the next answer
.
This is the next question
This is the next answer
.
Sorry that i havn't credited anything to anyone, i just wanted all this in here. Most of it is by me, but if you want your name on anything, send me a neomail and i'll update. Figured it wasn't like a work of art or anything, and heaps of people were asking the same things, and people just casually answering. But if you've been dedicateing yourself to answering the questions, ill gladly credit you :D Well, i will credit, just,.... when i remember lol.