The Angry Meerca
Who is he?
Oh, hai.
So, you're clearly here because, like me, you detest the
Angry Meerca
as much as I do. It seems he always pops up at the most annoying of times (including several times while attempting to compile this site). Clearly he is trying to stop me from informing you all of his evil. So, you may ask, why am I so upset about the Angry Meerca (AM)? Well, that is just a stupid question. Of course, if you must know, continue reading.
Be warned, once you know his secrets he will find you, and you will never know freedom again!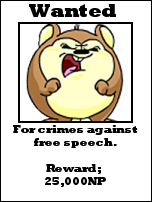 *Note: There is no actual reward. I'm poor x.x
Coding help from SunnyNeo.
Angry Meerca Spottings
Where has he been? Is any place safe?
The AM can be found all over Neopia, from the various boards where you like to play, to your guild, where you thought you were safe. Many times he is busy trying to correct your posts (when they don't need it) and tell you how you can code your petpages!
He's there, lurking in your role-play, waiting to kill your character in the heat of a passionate moment, to interrupt your tantalizing debate over the deliciousness of cake. Or to just annoy you as you are chatting it up with your awesome guild members.
It seems
no place is safe
from the Angry Meerca. Not even under a rock. Nope, he will find you there too.
It seems he had taken a rather unnatural hatred towards
A Mad Tea Party
, my guild. I have several theories on this matter. The most pressing one is that simply his own guild is not going well, and seeing as how
AMTP
is chatting it up, and living the high-life, he is just jealous. Yes, that's right. Green with envy for the wonders that are in
AMTP
.
Tea Parties
And why you don't want the AM there.
The Angry Meerca is a
terrible guest
. I've compiled a compelling list of reasons why you wouldn't want to invite him to your next tea party.
»
He will never RSVP. He just shows up.
»
He will always come at the most inconvenient moment. Preferably when the party has just gotten underway and you thought you were safe from him.
»
He will never bring anything. No tea, or cookies, nothing. (What a jerk.)
»
He will always eat all of the appetizers, or at least touch them, so no one else wants them.
»
He slurps tea very loudly.
»
You can't trust him with the fine china.
»
He is horrible at dinner conversation.
»
His small talk usually involves telling you everything you have done wrong in life.
»
He never remembers anyone's name.
»
He will drink all of the tea, and eat all of the cookies, not even asking if you'd like any.
»
He will steal the teapot, just to spite you.
Defences
How can you stop the Angry Meerca?
Well gee, that Angry Meerca sure sounds like a terrible fellow! So you may ask me, how can you defend yourself against this awful little neopet? Well so far, it seems that you cannot hide from it, or destroy him. To this day, only one thing seems to work to temporarily deter his appalling censorship of your written word.
That, my friend, is an
apostrophe
, the Angry Meerca's pixelated enemy. No one knows what strange powers it holds, or why the Angry Meerca is so terrified of this tiny little warrior. Either way, be friends with the apostrophe, for he is your one defense from the AM. Together, my friends, we must use punctual warfare and wipe clean Neopia of the Angry Meerca.
So, you have to wonder, how would an apostrophe work? All you have to do is put it at the beginning of your post, and you will be dandy. It scares him off (at least until the next post).
StormTroopers
And why they hate the AM.
It seems we Neopians are not the only ones who hate the Angry Meerca. Apparently those loveable Storm Troopers do as well. We have a special presentation explaining exactly what the situation is;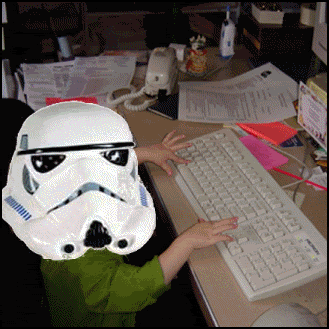 Credits
All that legal and links and stuff.
This page was made by
Kitteh
, but the base-coding is from
Sunnyneo.net
.
Want to link back to me?