Welcome to the Apple Orchard!
Welcome, jellydust! I see you managed to find your way to this little garden? As you can see, the apple trees are in blossom now, but soon they will bear fruits. I'm waiting for this time.
You probably came here for some aisha adoptables? If so, feel free to scroll the page down and get some!
Rules:
1. Please, do not steal these adoptables. It is reportable and just rude. Do not claim them to be your own and please don't remove my username from the picture.
2. Don't enter my pictures in the Beauty Contest.
3. Please, do not alter the images. If you need a custom and the requests are closed, you can neomail me and I will make a pixel makeable version for you.
4. Please, do not steal custom adoptables which were made for someone else.
5. Always link back to this page.
6. You may use the adoptables for your pet applications as long as you are giving me credit for them.
7. All adoptables are free to use.
8. If you are making a request, I prefer to get a reference chart for the pet which I should draw.
9. Neomail all questions, requests and give all the credits to Jellydust.
---
Updates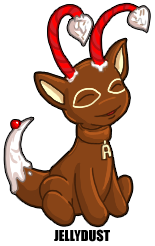 Last update: Aug 13th, 2014
I decided to continue my work on Aisha adoptables set =) So, here are two new colors for you: Chocolate and Christmas!
I will add a new set of adoptables soon, but for now it's a secret!

Currently working on:
Aisha adoptables: Baby, Faerie, Magma, Maractite, Mutant, Strawberry.
Projects: Fake items page.
New set of adoptables: Secret!


---
Aisha adoptables!
Basic colours:
Painted Pets:
| | | | |
| --- | --- | --- | --- |
| Alien | Biscuit | Brown | Camouflage |
| Checkered | Chocolate | Christmas | Cloud |
| Custard | Disco | Electric | Eventide |
| Fire | Glowing | Gold | Invisible |
| Jelly | Orange | Pink | Purple |
| Rainbow | Shadow | Silver | Sketch |
| Skunk | Speckled | Split | Sponge |
| Spotted | Starry | Striped | White |
Unclothed painted:
---