The Background of Gormball
Welcome mystikal_angel99 to my gormball guide. The game was first played in the year 2000. To play a game, have twenty neopoints on hand and go
here
Basically, you don't want to get soaked by the ball. You pass around the ball to other players in a counterclockwise fashion, and you can choose to hold it for either one second (by refreshing), two seconds, three seconds, four seconds, or five seconds. The longer you hold the ball, the more points you get. The ball is timed as to when it will explode on someone, however, it is unknown to the players as to when it will explode. The objective is to be the last neopet standing in the gormball circle. If you win, the points you get throughout the game get multiplied by four, and you also win a bonus item prize. These item prizes vary in rarities and types, but they are mostly food, grooming, or toy prizes. While getting neopoints is nice, the prize is really what you are after. By selling the items you win while playing gormball, you can get a lot of neopoints to spend on that draik egg you've had your eye on forever. By playing gormball, I've won
3 Usukicon Gift Bags
with just a couple of days of playing. On the average day, I can make anywhere from 15000-60000 just from the prizes alone from playing this game.
The Characters in Gormball... Who to choose?

Thyassa
Thyassa is ranked to be the best gormball player, ever. He's one of the best competitors. I usually play Gormball with him.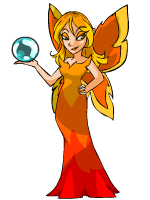 Ember
Ember is a fairly average player, but she has the drive to win. In my experience with Ember, she has won some games, but, she's not as good as Thyassa.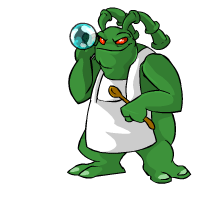 Gargarox
Gargarox is a pretty bad player, from my experience. He doesn't win very much, and he usually gets splashed with the gormball early on in the games. I don't recommend playing games with him.

Ursula
Ursula is very confident in her abilities. She's a better than average player. She usually makes it pretty far in the games that I've played with her. If you're just beginning to play this game, she is a good contender.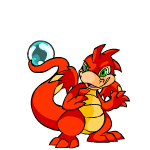 Brian
Brian is not a good Gormball player. I hardly ever use him, and the times that I have used him, I've never won. My advice would be to stay away from him and stick with better players.

Farvin III
Farvin III is a really good player. I've won a lot of the times that I've used her. She tends to make it far in the games that I haven't used her in as well.

Zargold
I normally don't play with Zargold. The times I have played Gormball with him have been mistakes. If you're considering using him... don't! Just stick to a better player.

Kevin
Kevin is not a good player. He tends to get soaked with the Gormball during the first couple of rounds. I do not suggest using him, at all.
In conclusion...
I just stick with playing the game with Thyassa. If you realize that he's not winning as much as you want him too, then you can try out Farvin III, Ursula, or Ember.
So You want to learn how to play Gormball, eh?
Gormball isn't really a hard Game. It can get tedious waiting around for the game to end, but the prizes are worth it, completely. Also, while playing, you increase your chance for random events, because you keep navigating through pages on the website.
Scoring in gormball is fairly easy to figure out...
When you hold the ball for one second, you get two points. There is no option on the menu to do this, but this can be achieved by pressing down f5, or refreshing the game, when it is your turn.
When you hold the ball for two seconds, you get four points. This can maximize the amount of points you get with a fairly low risk of the ball exploding on your character.
When you hold the ball for three seconds, you get six points. If you want to do this, I would do it at the beginning of the game. As the game goes on, it's more risky to hold the ball for this long.
When you hold the ball for four seconds, you get eight points. I hardly ever do this, and I don't recommend it. This is extremely risky, but, on the other hand, if the ball doesn't explode on you, then you get the eight points, which is nice.
Lastly, when you hold the ball for five seconds, you get a whopping 10 points! However, when you hold the ball for five seconds, you have the highest risk of the ball exploding on you, and this makes you loose the game. I never hold the ball for this long.
Strategy?
If you want to get through the game quickly, after the first move is made, you can refresh the rest of the game. This won't get you a lot of points, however, it will drastically cut down the time it takes to play the game.
In conclusion
, just stick to either refreshing, holding the ball for two seconds, or holding the ball for three seconds. Refreshing makes the game go much faster, however, holding the ball for longer gives you more points.
There are bonuses?
Indeed, there are bonuses you can get from playing gormball.
This is an example of a bonus you can get while playing. However, bonuses are normally much smaller.
This is a typical bonus you can get while playing the game. Although it is a small bonus, they do add up, and every once in a while, you do get larger ones.
You can also get bonuses that take away from your points.
When your score is 1-9: you get small bonuses. These are normally just 1-2 points.
When your score rises up to 10-15:you get higher bonuses.
When your score is 16-33: the bonuses you get subtract from your score. When you are in this range. If you can, you should hold the ball for a long time, so that you get enough points to get out. This range of scores is not a good place to get stuck in.
When your score is above 33: the bonuses get much higher. This is the ideal place to be.
When you win a game of gormball, the points you won are multiplied by four and that is your total score. You receive this score in neopoints, along with an item.
We get items too?!
When you win the game, you get an item as a prize as well. Some of these items are very expensive, and others are not.
This is an example of a typical win in gormball.
So, have you been tracking your results?
Yes, I have been tracking my results. I try to win around twenty games, daily. I use Microsoft Excel to track my winnings.
These are my daily winnings for June 9th
I did well today, because of the Usukicon gift bag. I did get some cheap items, but, combined with everything else, I made a nice chunk of np.
If you're curious, you can also look at
tropikalgoddess18's daily results
and
monthly results.
Site Spotlight?!
On September 23, 2009, I won the site spotlight for this guide. Thanks everyone for continuing to come to look at my guide. I've gotten a bunch of neomails from neopians about how my guide has helped them out, and that makes me happy. If you have any suggestions, then neomail me.
Click here to play, and have fun!

This guide was created by mystikal_angel99, with help from the html guide by tnt.