The point requirements to open the door and advance to the next level on the medium mode are:
level 1 = 96
level 2 = 105
level 3 = 115
level 4 = 125
level 5 = 140
There's a bonus of 200 if you open the door on level 5
If you can't make 8 letter words just make the best words you can. Its possible to complete the medium mode using words no longer than 5 or 6 letters and still score over 1000. To do this you have to make as many 5 & 6 letter words as you can - try not to "waste" too many letters making shorter words. Unlike word pyramid, you dont get any more letters so you have to make the best possible use of the ones you have.
If you make an 8 letter word using the bonus letter on all 5 levels and a few extra 7 & 8 letter words its possible to score around 1500 on the medium mode.
When you can consistently score 1100+ on the medium mode, you are ready to move up to the hard mode.
---
The point requirements to open the door and advance to the next level on the hard mode are:
level 1 = 200
level 2 = 220
level 3 = 245
level 4 = 275
level 5 = 300
Theres a bonus of 300 if you open the door on level 5
You can get by with 5 & 6 letter words for the first 3 levels, but by the time you get to levels 4 & 5 you pretty well have to make at least a 7 letter word with the bonus letter.
To get the higher scores you need to use the bonus letter to make 8 letter words on all 5 levels and then as many more additiomal 7 & 8 letter words as possible.
---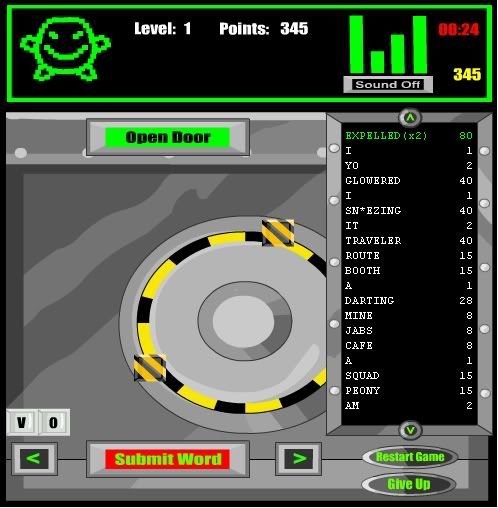 In the above example Ive done as much as I can with level 1. The word list on the right of the board has scrolled up so you can't see I had to make a couple of words in order to position the letters to make "expelled" using the bonus letter. After that I was able to make 3 more 8 letter words without using up a lot of additional letters to set them up. Note that "ing" endings are excellent for making 8 letter words. In case you were wondering, "vo" isn't in the dictionary for the neopets word games.
The letter mix is different every time and some boards are a lot better than others. I would guess the maximum possible achievable score would be somewhere between 2200 - 2300 but the chances of ever getting 5 consecutive boards that could produce that kind of score would probably be about the same as the chances of getting a paint brush from the fruit machine 5 times in a row. I finally broke 2100 after playing a LOT of games. I took a screen shot 'cause I don't think I'll ever break 2200. It gets VERY difficult to improve your score when you get over 2000.
---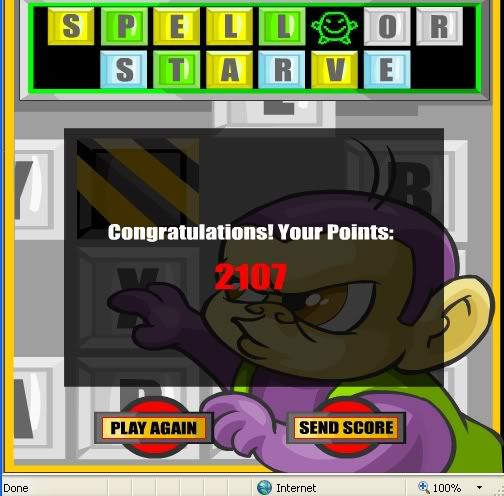 ---
Despite the fact that scores in the 2300 range are pretty well impossible, you will sometimes see scores like that or higher on the hiscore table - how do they do it? I don't know and don't care because it definitely involves some form of cheating.
---
I hope you found this guide helpful. If you have any comments or suggestions just send ketale a neomail.
---