Wolfie's World Challenge Guide
Alright, so this guide doesn't look so pretty just yet, but your not here to judge my code skills right, your here to learn about World Challenges. Let's get to it.
Finding World Challenges
---
The first step is to find where our challenges are located. Under each flash game are 2 rows of icons. We want the little world icon, 3rd from the end on the bottom row.
This link will bring us to a page that lists all the worlds in Neopia, that hold World Challenges. Click on the world link that your game is in. Snowball fight will be my example throughout this entire guide, so all the images are taken from it.
---
Each WC (world Challenge) costs 100 neopoints to join. Once you have paid your entry fee, you can open a game window and begin playing.
Note; you cannot hold scores until you have entered. No score will count until you have paid 100np and re-opened your game -blocked-
Each world challenge begins at exactly 3 minutes past the hour. Example; 10:03, 11:03, etc.

---
Now this part can become confusing, and is what turns most people off of playing world challenges. It's very easy once you understand what it means.
When you send a score for a WC, it is matched randomly against another players score. So pretend I send a score and it is matched with your score. If your score is higher, you get the win. Your tally will then look like +1. This is what you want. But, if my score had been higher, I would get the point, and your tally would look like -1. Now, if you are losing with a tally of -1, you can continue to send scores. If you get a win now, your tally will even out to a 0. Now at this point you must remember there are 3 ways to win a world challenge (we will get into those soon) and you can only win in these catagories if your tally is 0 or above. You may not be in the top 3 for tally, but you could be in 1st for high score or score totals. Check those before sending another score.
So here's a tally recap. You need a score of 0 or above to win in any catagory. Even if you have the highest score, you can't win with a negative (-) tally. And it is important to check each catagory before you send a new score.
---
So now that you know what your tally is, we can look at the other catagories you can win in. Remembering your tally must be 0 or above to win in these.
First we have high score
High score is self explainable. The top 3 high scores will win in this catagory. So even if you have a low tally, you can win np and a map piece for winning this catagory.
Next we have Score totals
Your score total is the number of all your scores added together. Say you sent 2 scores of 500 points each. Now your score total would be 1000. This is one of the easiest catagories to win in, as long as you can keep your tally at 0 or more.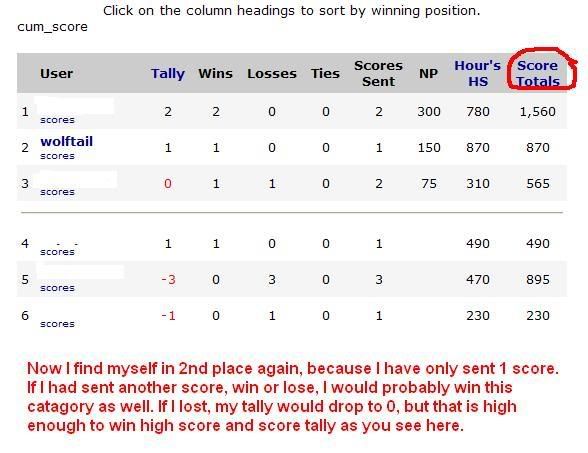 Note; Each WC has a top 2 or 3 winners for each catagory, depending on how many people have entered. If only 5 people enter, only the top 2 will get prizes.
Also, each challenge needs at least 5 players. If 5 do not enter within the hour, the challenge will not give out prizes, and the scores will be carried on to the next hour. Your scores will still be there, and you will be ellegable to win the next challenge as well. However, it is a good idea to enter this new challenge (yes, it will charge you 100np again) and send at least 1 more score.
---
Sending a score
Now, you know all the ways to win, but what kind of scores should you send? Well, I suggest you send your very best score, but keep in mind, you don't have to be the best to win, just average. You will notice in my screenies here, a person with a fairly low score is in the top 3. Why? Because her score was matched with an even lower score. It's random, and sometimes luck can help you win... or lose.

There is one key thing to remember for sending your score. You may have sent a fantastic high score, above all the other players, and noticed it has gone under review. Next thing you know, your score does not show up on the tally list, and a person with a lower score wins. This is tragic when it happens. For each game, there is a review score. My example is Snowball fight. A score of 1000 will go under review, and so the highest possible score you can send for a snowball fight WC is 995.

I have a list of review scores coming soon.
---
The map pieces
So here we are, you have won a WC and now to collect your prize. Each win gives you a map piece. Your map piece will be for the world your game was in. My example snowball fight is in terror Mountain, so this map will be a TM map.

Each world has 3 maps. The first ones you win will be map 1. Example, Terror mountain WC piece 1.1, 1.2, 1.3 and so on. Once you have all 20 pieces, you can convert the map for a prize. We will get into the prizes of these a bit later, and how to convert them.

When you win, TNT sends you a mail telling you what you have won. The map pieces are random. If you find you are getting double map pieces, you can easily trade them for ones you don't have on trades. This is called a swap. You swap the pieces you don't need to someone that has your piece, but doesn't need it.
---
Converting your map
Once you have your map, you must take it to your WC gallery. Again, each world has it's own gallery, so it is best to click the gallery link above the world you play in.

Add and remove your pieces using the form listed there. Once you convert, you win 2k and a random rare item. It can be a paint brush, a petpet paint brush, codestones, petpets, etc. In my experience, I win paint brushes most often.
Note; you cannot convert maps out of order. This means you cannot convert a third map before you have converted maps 1 and 2 for that specified world. Do not let anyone trick you into buying these maps out of order!
---
Frequently asked questions
I've already played my game 3x today, can I still enter the challenge?

Yes you can. This is why we cannot hold scores until we pay the 100np fee. You get unlimited score sends once entered, however you do not get np for them.

I have the highest score but I didn't win anything, why is that?

Probably because your tally was lower than 0. It must be 0 or above to win anything.

I entered the challenge, and I won, but I didn't get a mail or prize when the hour was up. I went to play again and my scores are still on the chart, but it is asking me to pay 100np again.

Ah, this happens when not enough players entered the challenge before the hour was up. 5 people must be entered for anyone to win anything. When not enough enter, the challenge is carried to the next hour, and you can still win, however you have to enter again to send any new scores.

What game should I play?

Not all games are WC games. Look at the WC page and choose a game your at least moderatly good at. An easy beginer game is Snowball fight. You can send a fairly low score and do ok, as you saw in my screenies. Do not expect it to always be like that though. Aim for the best score you can send.
---