.




.

what the situation, This Is What You Do:
As a semiveteran Neopian, I have experienced a variety of strange and difficult situations on Neo, and they have all had this in common:
Panicking didn't help.
Yes, it's pretty easy to lose your head when you think that your account, pets, or Neopoints might be in danger, and we've all done it at some point. But if you can keep your cool for long enough to evaluate the situation and figure out what's going on and what you should do about it, you're halfway to overcoming the problem already, and doing a lot better than the majority of Neopians. That's why doing your best not to panic is Rule Zero in this guide.
One important first step is learning to take what you hear on the Neoboards with a severe pinch of salt. If someone is making a wild claim, call them on it! Ask them where they got their information, and whether they have any evidence (and no, being able to produce an equally terrified Neofriend does not count as either). If they name a person who told them the rumour in the first place, feel free to ask that person the same questions.
Beware of the Assumed Authority Effect:
In order to seem authoritative about a subject on the Neoboards, you don't need to have an in-depth knowledge of that subject-- you just need to look like you know more about it than anyone else. Sometimes this is an advantage-- those who have some idea about a problem or situation can easily take command in a crisis and be listened to. Unfortunately, some people can misuse technical jargon or vague language so that it seems they're knowledgeable on a given subject, when in fact they don't have any more clue than the people they're trying to help or warn. Watch out for computing jargon that sounds like something out of a Hollywood film ("they hacked into my account with an embedded virus that bypassed my secretword and cracked my PIN!"), or overenthusiastic security measures that, if taken to their natural conclusion, would send us all back to the Dark Ages ("Shut down your email account! Don't Neomail anyone, even your friends! Stay out of shops! Don't read petpages EVER AGAIN until TNT says it's safe! Don't use a public computer/online e-mail/Wi-Fi/the Internet, if you can help it!") Both are a sure sign that somebody doesn't know what they're talking about.
Examine the problem for yourself. If someone else has seen it, get screenshots from them, and check to make sure they aren't faked. If the word is that accounts are going down, get names and keep count. It's amazing how often a "hacker" can turn out to be a couple of instances of someone guessing a user's secretword.
Many of the pages that follow will have numbered lists of advice. Do me a favour, and mentally insert Rule Zero in front of them all. Even if you have nothing else to try, this is the one piece of advice that will never fail you.
With that in mind...
.
(this is what you do)

The Situation
OK... that definitely shouldn't be working like that. The game character's moved off the edge of the screen and it doesn't look like he's coming back. The filters tripped when you tried to say "Good morning" to your guild. Your pet has a total of one visible ear, which has a shirt attached to it. Basically, something's gone wrong, and the Neopets Team ought to know about it.

This Is What You Do
1. Make sure you select the right form. When you click Bug Reports under Contact Us, you'll be taken to a long list of possible topics. (Premies will get a dropdown menu.) No matter how many reports it says have been logged in individual categories, it's highly likely that sending a report under the wrong heading will only slow things down. Don't be afraid to use Issue Not Listed if you have to.
2. Explain the problem you're having clearly and briefly. "Key Quest is broken" won't help the support team any more than it does the HC; say exactly what's wrong. For example: "When I'm playing Key Quest, my token sometimes appears to slide off the edge of the board at the end of a turn" would work.
3. Check to see if other people have been having the same problem as you. If you seem to be the only person experiencing the bug (and you've tried the generic fixes), it might be worth including some information about what browser (Internet Explorer, Firefox, Opera, Chrome, Safari...) and type of connection (broadband, dial-up) you're using.

What Not To Do
Don't send multiple reports about the same bug, unless you have new information (e.g. you thought it was only your Acara who had no ears, but now you've noticed that all yellow Acaras have no ears; or you've suddenly realised that the problem with the game always happens after you click to start the third level).


.
(this is what you do)

The Situation
The National Neopian bank is down for maintenance or glitchy, and nothing can be withdrawn, or worse, deposited until the glitch is fixed. You're worried about what to do with the Neopoints you've earned from your stocks, games, and shop, and the possibility of the Tax Beast is looming.

This Is What You Do
1. If it's a bug, report it. If the bank is already down for maintenance or "quick fix", you don't need to bother TNT about it again.
2. What to do with your NP on hand:
Buy easy-to-sell items. These can be stored in your Safety Deposit Box until the bank is up and running again, at which point you can sell them on. Easy-to-sell items include Paint Brushes and codestones.
Leave shop take in your till. The Tax Beast can't touch it in there, after all.
Invest in the Neodaq. If you don't need your NP back urgently, you could always invest in a low-priced stock and wait until it rises. That way, you can get your money back, and then some.

What Not To Do
Don't accept any offers from other Neopians to "hold" your NP in a trade until the bank comes up. Yes, Neopoints in trades cannot be stolen by the Tax Beast. They could, however, very easily be stolen by the kind person whose junk item you've just bid 100k on.


.
(this is what you do)

The Situation
...Eeek! They're trying to advertise WHAT on Neopets? They've got WHAT pictured on their banner? It directs you to WHERE? And it's just opened HOW MANY invasive pop-ups and possible instances of spyware on your computer?

This Is What You Do

Screenie the Offence:
1. Find a page with the advert on it, and press the button on your keyboard marked "Print Screen" (on some computers, "PrtScr/SysReq"). If you're on a Mac, use Command-Shift-3 instead.
2. Open a drawing program, such as Paint.
3. In the "Edit" menu, select "Paste". A picture of the page you saw should appear in the drawing program.
4. In the "File" menu, select "Save As" and save the file to your computer.

Grab the Source Code:
1. Find the page with the advert on it, and in your browser's "View" menu, select "View Source" or "Page Source". A small window should pop up.
2. Press CTRL-A on your keyboard to select the entire document, then CTRL-C to copy.

Alert the Neopets Team:
Send an e-mail (not a Neomail) to adreport@neopets.com.
Paste in the source code that you copied above, and attach the image file which shows the problematic advert. Be sure to write at the top of the email why you're complaining! Even if you think it's obvious why an advert is a problem, there's no need to make the support team's job any harder than it has to be.

Block Banner Ads:
Not really a fix so much as a workaround, but an incredibly efficient one. Click here to find out how to block banner ads on Neopets on your computer.

What Not To Do:
Don't make a board explaining to Neopia at large why you think TNT are behaving outrageously in approving this ad. By and large, Neo's adverts are selected by a different company, and every so often, a problematic one gets in under the wire. It isn't TNT's fault and they generally work swiftly to fix it when it happens.


.
(this is what you do)
The Situation
Oh no! You didn't mean to! But that link in the other person's post looked so much like it was officially made by Neopets, and you didn't think there was any harm in it... until people started shouting about how dangerous it was! It's all very well to say "if the link's not Neopets.com don't click", but you already clicked! What now?

This Is What You Do

Be Aware
This is NOT an open invitation to click any and all offsite links you find. These instructions are an emergency lifeline, not a reassurance that you can click and it'll be all right.

1. If you haven't done so already, close the offsite page.
2. Change your secretword to something nothing like your current one. If you have side accounts, change your main's secretword first, then do the sides.
3. Set a PIN on everything you care about, if there isn't one set already. Again, main account first, then your sides.
4. Change the secretword to the email account associated with your Neopets accounts. If there's a secret question to find out the email account details, change that, too. I haven't actually heard any reports of someone getting it, but it's better to be safe than sorry.
5. Report the post, page or Neomail with the offsite link in it to TNT.
6. Start noting down information about your account that only you could know, such as your pets' books read, any pets you created rather than adopting, and the names of your Neofriends. There's still a chance you could need it.

What Not To Do:
No matter how many people shout it at you, don't clear your cookies! I have no idea how this piece of bad advice got started, but it makes very little sense. When you clear your cookies, you're basically logging your computer out of the site-- after the scammer has already had the chance to log in on their computer. Imagine someone who's been burgled taking all their money out of their wallet-- after the thief has already gone, and while they could be using those vital minutes to call the police.


.
(this is what you do)

The Situation
You have a pet that needs sending to another account, and for some reason, it is absolutely imperative that you don't wait until next month. Maybe the sending account has a bad name and TNT have given you two weeks' notice. Maybe you're selling your computer in a couple of days. Whatever the reason-- and it better be good-- you can't use Safe Transfer. The only option left to you is transferring through the Pound.

This Is What You Do
1. Don't do it.
2. No, really. If there's any possible way you can get out of it, don't do it. Speaking as someone who remembers the bad old days before the Revamp, it really is not worth the risk unless you absolutely have to do it. But then, you wouldn't be here unless you absolutely had to do it. So, if you must...

Sender Preparations
3. Take good-quality screenshots and/or save copies of the following:
~ Your pet's list of books read.
~ Your pet's Battledome ability list.
~ The Customisation page.
If your pet hasn't any abilities or books read, buy some cheap books and bottled faeries and give her some. Skip this and you may well regret it later.
If your pet has a labbed Petpet, make a note of what colour and species it originally was.
4. If your pet does not yet have a Petpet, buy one and attach it. Change the Petpet's name to "IfFoundContact(Username)". It's generally good etiquette to make the contact the sending account, rather than the catching account.

Be Aware: Though it may damage your pride, it's worth mentioning that your chances of success increase hugely if the pet is unpainted. Consider the possibility of morphing her into something unremarkable before you transfer-- with the receiver's consent, of course.

Receiver Preparations:
5. Block incoming Safe Transfers. There have been instances of them interfering with adoption.
6. Make sure you have on hand 6,000 Neopoints, or ((Strength+Defence+Movement+60)xLevel)+5,000, whichever is the larger. The extra 5k is Kadoatie insurance. You may thank me for it later.
7. Disable anything that might interfere with refresh speed, such as antivirus scanning, browser extensions, and other programs running in the background.

The Launch
8. Between the two of you, ideally at least 24 hours before it happens, establish EXACTLY how the transfer is going to be run. If at any point you feel unsure about any of the details, call off the transfer until you are sure.
If at all possible, set an RDV time which means that neither of you has to be awake after 1am or before 8am. If you absolutely have to cut into someone's sleeping hours, compromise the sender's timezone, NOT the receiver's. The catcher is the one who has to be alert at all costs.
If neither of you has timezone issues, try to transfer during a quiet time of day, such as between 2am and 6am NST (the infamous HC off-peak time). Do NOT transfer exactly on the hour! It doesn't matter how odd the transfer time looks as long as you hit it exactly, so 04:17:30 is no worse than 04:00:00 and less likely to be anticipated by pound snipers.
Do NOT talk about the date and time of the transfer to anyone aside from each other, even your guild members, if there's a chance someone you don't know might hear.
9. About two or three minutes before the transfer time, have the receiver go into the Adoption section of the Pound and use the search box to search for the pet's name. When you see "No abandoned Neopets were found with that name", practise refreshing that page using the F5 button (Command-R) on your keyboard. The sender should keep an eye out for any Neomails in case something goes wrong at this stage. If there's even a hint of a problem, call off.
10. Have the sender go to the Abandon section of the Pound. The advice here used to be to click the button beneath the pet's name until you saw the words "Oh, please, no!"; however, I've been hearing reports that this is no longer reliable, so leave the button be until the transfer time.
11. The receiver should start refreshing her page a couple of times a second approximately twenty seconds before the set transfer time, and not stop until the pet appears on her page (at which point she MUST click "Adopt" and hit Enter as fast as she can. The days of the quick-adopt link are sadly long gone) or until at least a minute after the transfer time.
12. The sender should click the pet's disownment button over and over until it vanishes, as fast as she can, at EXACTLY the transfer time the two of you established. If something happens to make you miss the transfer time, do NOT drop the pet more than seven to ten seconds late. Neomail the catcher instead and set a new time.

...and if it goes wrong?
1. Establish who the pet is with now. If she's landed on an account labelled as someone's side account, try to find out their main.
2. It's accepted practice to let the sender handle this bit, all other things being equal. Put up the screenies you took on one of your petpages. Then send a polite Neomail to the person who intercepted the transfer, explaining:
~ What happened
~ The exact date and time of the transfer
~ The account to which the pet was supposed to be going
~ Where the interceptor can find your screenshots
~ Any other information that might prove ownership, such as a labbed Petpet's old species and colour

Be Aware
Not all interceptors will speak English. If you run across one who doesn't, try the HC to find someone who's willing to write Neomails for you and translate the responses. Do not even think about using an online translator. They aren't equipped to deal with anything more complex than "The cat sat on the mat" and the interceptor will probably get the impression that you're stark raving bonkers.

Remember: The interceptor did not "steal" your pet. He found her in the adoption section of the Pound, and had no idea to whom she belonged. Treat him with respect at all times. He's the one doing you the enormous favour here.

3. If the interceptor accepts your proof of ownership and agrees to return the pet or send her to her new owner, thank your lucky stars! If he's sending her on, see if he can use Safe Transfer to avoid the situation getting any more complicated.
And if he doesn't, or is completely uncontactable in the first place (child without a permission form), I'm afraid there really is nothing you can do. If the interceptor has taken the time to Neomail you, thank him politely for his time and leave it at that. Either way, DO NOT persist in trying to persuade him. If taken too far, this actually counts as harassment.


.
(this is what you do)
The Situation
What the--?! Your friend didn't write that board post! You didn't send that Neomail! You're sure TNT would never say that! But there it is, on someone's userlookup or petpage in black and... um... colour. You can't put your finger on it, but something's a little off...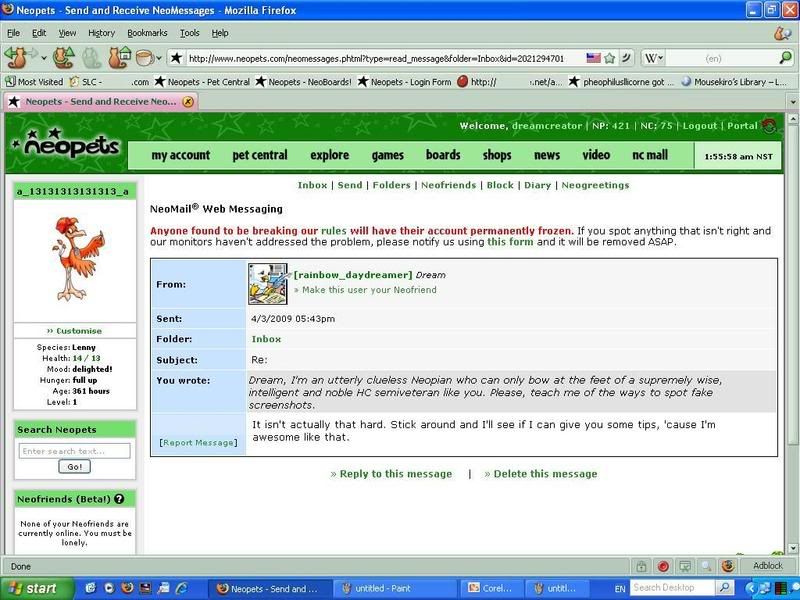 This Is What You Do
Obviously, all fake screenies are different, and I can't hope to advise you on all of them. Some screenshot fakers are skilled; others just think they are. Nevertheless, there are a few very obvious points that often get neglected by amateur screenie fakers in a rush. I've deliberately edited a few of them into the picture above. If you spot any of these in an incriminating screenshot, you're practically home and dry.
Inconsistent pixellation on text. If you zoom in on the image above (about 200% should do it), you might notice something a little odd about the "Anyone breaking the rules will have their account frozen" text at the top. It's surrounded by small grey dots, as if it had been swarmed by a cloud of midges. In fact, all the text on the page has that kind of speckling... except a few things. Like the username of the Neomail sender and the content of the message. Almost as if that text didn't come from the same image at all...
Colour issues. In the blue box on the left, the sender's Neoname has been blocked out. (Normally, it'd be replaced with something else, but I left this bit blank for demonstration.) But that box is actually a mixture of colours... and in my hurry and clumsiness with an eyedropper, I picked the wrong one to cover the Neoname with. It's subtly lighter than the rest of the box.
Mistaken proportions. Someone ought to put up a Please Don't Feed the Weewoo sign on my avatar. It's looking unusually chubby. Actually, I had to stretch it to cover the avatar of the original sender, which was ever so slightly larger in my screenie.
Poorly aligned text. The Neomail text looks a little out of place in the box, doesn't it? The start of the reply isn't lined up with the start of the previous message. Not a huge pointer, but when combined with everything else...
The smoking gun! Apparently I was so eager to get the screenie online that I didn't crop it to take out the taskbar. And what's on the taskbar, besides Neopets of course? Two Paint files and a copy of Corel Paintshop X. Yes, we know, I was just taking them for a walk. (Bonus: The Corel button is actually edited in, and brings up another issue: the taskbar buttons are a variety of different lengths, which is what you might see if someone slightly more savvy was trying to cover up the fact that they had a drawing program there.)
If the use of the screenie is inciting, or attempting to incite any kind of malicious behaviour towards another user or group, you have grounds to report for harassment. You should probably include the image's URL in your report, and indicate why you believe the screenie is fake.
Be Aware
Exercise common sense at all times. Absence of these features does not guarantee that a screenie is real.


.
(this is what you do)
The Situation
You're a fully paid-up Premie, but today when you logged in, the site didn't seem to know that. Your portal, your adblock, the SSW-- everything is gone.

This Is What You Do
The most common cause for this error is that your bank (on Earth, not the National Neopian!) changed the debit/credit card attached to your account, and the one you used to subscribe is no longer valid. Go here to re-establish your Premium account (yes, it says "upgrade"; going from "nothing" to "Premium" is an upgrade, after all).
If your debit card is definitely the right one, or the above solution does not restore your Premium service, you need to contact the live support team. Go here, scroll down the page and click the large button to connect to the live chat support service.

Be Aware
The livechat is for sorting out Premium service issues only. Please do not contact the operators with general questions about the Neopets site, as they haven't been trained to answer those.

.

Done Something On The Wrong Account?
(this is what you do)
The Situation
It was just a routine click. A daily freebie you were used to picking up, a game being advertised in the News, a Tarla link that some kind person posted on the HC. So you clicked it. And only then did you realise what account you were logged into. Your side account.

This Is What You Do
1. Make a note to yourself not to do that particular activity on your main account within the next 24 hours. Stick a Post-It to your monitor; write it on the back of your hand; do whatever is necessary to make sure you remember.
2. Get rid of any items you gained from the mis-click. Discard them, rather than donating them. Yes, even if it's a paintbrush from Tarla.
3. In the interest of reducing the chance of similar mistakes, consider setting your side accounts' site theme colours to be distinctly different from that of your main. Got a blue Space Faerie theme on your main? Turn your side account red. Valentine's theme on your main? Try green for your side. The important thing is to avoid this happening again-- TNT have stated that while mistakes of this kind are tolerated, if several happen to the same user they may start to get suspicious.


.
(this is what you do)
The Situation
You're well and truly locked out. For whatever reason, the site just isn't accepting your login details.

This Is What You Do
1. It sounds silly, but check that your details are 100% correct. When you're nervous, it's easy to overlook small mistakes.
2. Check you have cookies enabled (Tools -- Options). Can you log into any of your accounts?
3. If it's your secretword that keeps getting refused, use the box on the login page to get it sent to your email. Allow a few hours for it to arrive, and remember to check your junk-mail folder.
3a. If the problem is your account's birthday, ask your Neofriends first-- they might have your age displayed on their Neofriend list, which would be a helpful start. If they don't have it, try here.
4. If the secretword doesn't arrive by email, you'll have to use this form. Fill out as much information as you can-- if necessary, get your Neofriends to help. Please be patient while waiting for this form to be dealt with-- TNT get dozens, maybe hundreds of them every few days, and have to carefully look into every one.

Be Aware
We of course assume that you are trying to access your own account.


.
(this is what you do)
The Situation
The heck? You've just logged in/hit the Neoboards/redesigned your lookup, and suddenly you've seen something amiss. That is NOT your Neopet. Oh, the name is right, but something else is wrong. What has become of your poor pet?

This Is What You Do
1. Identify exactly what is different about your pet. Is she the same species, but a different colour? Or has her whole appearance changed? If in doubt as to what she has turned into, check the Rainbow Pool for possibilities.
2. Check your pet's lookup (not Quick Ref or her petpage), which can be accessed from your own userlookup or by clicking her name wherever it appears as a link. What you're looking for is the text at the top, which should say something like:

Sharalik the Baby Shoyru

Note down what it says, and whether it matches what your pet was last time you saw her. Now, we're ready to sort out which of several problems you've got.

IF your pet is a different colour AND species from what you expected,
AND wearing clothes you didn't buy for her,
AND her lookup reports her "real" colour and species:
You're one of the last few people to be hit with an image server glitch from a few months ago. Fortunately, there's an easy fix. Put an item of clothing on your pet (if she's UC, trinkets work too) and take it off again. Your pet's image should be back to normal. This works equally well with NC Mall purchases and actual buyable items. (Can't afford expensive clothing? Try "Ultra Fashionable Potato Sack" or "Ice Cream Bucket".)

IF your pet was zapped or painted but still looks like her old colour,
AND her lookup reports her new colour:
In all probability she's wearing an item of clothing from her old colour that is disguising her new look. For example, a Blue Hissi dressed in a Robot Hissi's outer casing will look very much like a Robot Hissi. Try removing all clothing from her and seeing what she looks like.

IF your pet is appearing as a Baby version of her species,
AND her lookup also says that she's a Baby Neopet:
Then I'm sorry, but you've been hit by Boochi, the Baby Bruce Marauder. This Random Event is the equivalent of your pet being painted with a Baby Paint Brush, and there's no way to "opt out" or reverse it. Many people adore Baby Neopets, so it'd be wise to leave any decisions on what to do until the shock wears off, but if your ferocious Battledomer Jetsam named "Killer" definitely doesn't suit being a foot high and sucking a dummy, then you'll need to repaint your pet. To achieve a specific colour, you'll need a paintbrush or Morphing Potion, but if all you want is an emergency cure for the Baby paint job, try searching the Shop Wizard for "Turnip Tonic". It's about 20k and the trusted antidote to Boochification.

IF your pet can't be seen at all,
AND/OR you saw a Random Event saying she was impossible to find,
AND her lookup says that she's an "Invisible Neopet":
You've been hit by the curse of invisibility! Don't worry: contrary to appearances and the wording of the message that sometimes appears, your pet is not missing, nor has she run away from home. (If you don't believe me, try feeding her.) What's happened is a Random Event that works exactly like the Boochi event described above, except that your pet's colour changes to Invisible. The fixes for it are the same.

IF your pet is appearing as a red or blue version of her species,
AND she's in a sad mood and has been for some time,
AND her lookup also says that she's red or blue:
Tch tch. This Random Event affects owners who haven't been taking good care of their pets. It works exactly like the Boochi event described above-- only the colour change is different. Again, there's no way to reverse it other than repainting your pet-- so hopefully you've learnt your lesson about caring for your Neopet.

IF your pet is some other colour than the above,
AND her lookup reports the same colour,
AND her species is still the same:
There's a chance you might have been hit by a very rare Random Event that acts like the ones above, but whose results are unpredictable. Follow the same advice as listed above, but it might be a wise precaution to keep a close eye on your account for the next few days to see if anything else changes (in which case see below).
Certain items of food have also been rumoured to change your pet's colour permanently, notably a few random Glowing Jellies out of the millions in existence, and the Kaleidonegg (though if you're feeding your pet an expensive item like the Kaleidonegg it's unlikely that you didn't know what it did.)

IF none of the above apply to your situation
AND you've been experiencing other strange effects like loss of NP or items:
I don't mean to be alarmist, but change your secretword just to eliminate the possibility that someone may be in your account. Then send a bug report.


.


Page writing, concept and creation by rainbow_daydreamer.

Thanks are due to everyone on the HC who offered advice, suggested categories, checked over paragraphs, and volunteered to do coding-type things; to the Foster Advertising Coalition for their invaluable help with the details of unsafe transfers; to Jack Aviado, the techie extraordinaire that I never was and a fellow believer in Rule Zero; to Shade for the fantastic layout; and to the writers, on Earth, of the original Worst-Case Scenario Handbook.


.
(this is what you do)
Thanks to cheeky_sweetie for this lovely linkback banner! To use it, copy the text in the box below and paste into your own page or lookup.