Sparkle's Uni Directory
Thousands of uni's reside in Neopia, more than 9,000,000 to be exact. With more made every second. Every time I refresh at the stats page, more have been born! They are the 5th most popular species in neopia, roughly 4.62% of all neopets. With 54 species, billions of players, and hundreds of unwanted pets in the pound, thats pretty good.


Poll
I always want to shape this site to how my visitors want it, so we have a poll. Neomail Golden_Horseshu to participate. I do it through neomail because it's the only way I know how to do it and because it keeps people from voting multiple times. Okay here is the poll:

Do you think it would be a good idea to make the uni pictures glitters or sparkles?

Yes all off them!
Maybe some uni's that most girls like more
No, I wouldn't like that

Here is the count!
14 people want it. 1 person says only on some of the unis and 4 people say they don't like it!

I was very suprised by the amount of people that actually voted. I neomailed every owner here, and only 15 voted! Oh well... sparkles it is! They will be here soon!


Questions and Answers About Uni's
Q. Are Uni's unicorns?
A. While it's obvouis that the makers of neopets took the word "unicorn" and just took "uni" for the name, as well as making the animal look the same as a unicorn, this does not mean that they are ment to be exactly the same. For example, nowhere, does it say that Uni's are magical or that their blood has special powers.
Q. Are Uni's just for girls?
A. No! There are many uni colors that guys might use, and most girls just wouldn't be intersted in. Look at Darigan, Ghost, Grey, Halloween, Pirate, and Tyrannian colors. And there are some colors that could be great for either! The brown uni could be a wonderful mare with a shiny coat or a brave adventurous stallion.
Q. What personality traits do Uni's have?
A. Neopets has a set personallity for each species. This does not mean your pet can't be different. Your pet lookup is a great place to show everyone that your uni is not a girly girl like what neopets says there supposed to be!
Q. How many diffrent colors of uni's are there?
A. 41, and one soon to be realeased, as of now. But you could be the first one to own a new color, so always check the rainbow pool or this directory for updates!


Uni Avatars
Click the picture of the avatar for a link.


Buy and R80+ item from the Uni's Clothing Shop.


Groom your pet with any grooming item.


Veiw the pet lookup of any Halloween Uni. (Available only after 8PM NST.)


Eat at the Kelp Resturaunt and take home leftovers. It is a random event that gets you the avatar so just keep trying!




Hall of Fame
This part is for Uni's who have won an award! To be added to this you must neomail me with the account the pet is on. The pet must be a uni and must have won any trohpy in one of the contests listed, sorry just getting on the high score boards won't make the cut. For the neopet spotlight, I will find your page and that is all I will need and for the Beauty Contest you will either have to win first in species or gotten into top three overall. The rules are simple, so they aren't hard to follow.



Beauty Contest
Book Award
Booktastic Books
Neopet Spotlight
Gourmet Club

Female:
MysticStar



Uni of the Week
Every week I will choose a color of Uni and out of the pets in the directory I will choose wich one deserves the award. I won't tell you how I choose, so you'll just have to wait. The winner will get their Uni's picture here, as well as a few short setences about why I picked him/her. The owner will also get a few words.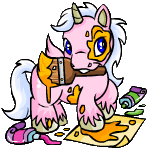 The first uni is Rebelde_Corazon. Her petpage is awesome. She's very smart and strong. :D

xxx_tree_hugger_xxxx: Thank you for choosing my uni :) She's very honored and feels so special ^_^


The Directory
If you want your pet to be in this directory I have a few rules. You must neomail from the account that the pet is on so I'm sure it's yours. Your pet must be uni. You must be the owner. Painted or Non-Painted are welcome. Please be aware I will be putting a link back to your pets petpage. In the message I need Gender, Color, and Name :). If you zap your pet or put it in the pound please tell me. The pets with username's beside them are pets unable to be linked to. (If you cannot neomail, and you really want in, go down to the bottom of my page after I'm done with the whole thing and I've got ways to get you in without cheating or scamming.)



Ways to getting into this directory if your under 13
Way one: E-mail me at Grand_Champion_Rider@yahoo.com
Way two I dunno if you can do this, but if you can edit anything, put your own words in your userlookup or anything at all. Say HEY I WANNA BE IN SPARKLE'S UNI DIRECTORY ON SPARKLE_MAGIC16'S PAGE! Someone nice (or me) will see it(sooner or later) and contact me, I'll look at your page and put you in!(If you do this and just say that, you will be put in all the areas you can be.)


Affiliates

Other Pages





Credits
Thank you aroeckner for making the layout, the table used for the directory, and the idea! Thank you pitty's glitters who supplied the glitter in the begining. Thank you everyone who put there uni's in here. :)
Note
I'm still working on buttons and links n stuff so I don't have alot yet, but what I do have is down here.

Sorry, some buttons don't work because for some reason... long story but the ones that aren't color specific aren't here right now. Sorry.

Color Specific Buttons