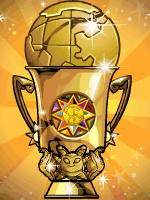 The Altador Cup is the most anticipated event in the Neopian Calendar. The cup is what every corner of Neopia is fighting for, and we love it! However every year there has to be a little bit of thrill to spice the cup. For example the arrival of Shenkuu and Moltara; the absence of Brightvale, Kreludor and Kiko Lake or the introduction of the mini games Make Some Noise and Slushie Slinger. These stunts are designed to shake up the cup a little bit! This petpage is dedicated to a new idea...
In the up and coming years prepare to see an all new Altador Cup. Your favourite worlds, and favourite celebrities of neopia are about to go head to head in the ultimate challenge. Below are 19 possible profiles which include the strengths and weaknesses of each member. Unfortunately no amount of fame, no amount of finance and no amount of frightening robot clones will be able to help them bring that cup home!
You can also use this petpage to find out about the real team achievements and rankings. If you feel that information on this page needs updated or changed please contact me :)
Big thanks also go to guest for visiting, you're the
th visitor to visit this page!
Affiliates


Feel free to link back to me using the handy wee icon below.