Welcome to my Cheeseroller guide. If you don't know how to play, I've set up a little guide to help you.
Cheeseroller lies in Meridell, where all the locals gather daily to compete against each other. They take it in turns to roll cheeses down a hill, and see who reaches the bottom in the fastest time. You can get to cheeseroller from the Meridell map, from the luck/chance section of the games room or by clicking here.
You to follow the same way as the locals, by rolling it down the hill as fast as possible. Along the way you will encounter obstacles, which may slow you down. If you reach the end in under 60 seconds, you can keep your cheese. Simple.
However, you can buy just any cheese- there are ones specific to the game that you should buy. Below are a list of the cheeses, and their prices.
Spicy Juppie Cheese:


    Cost: 150nps.
Smoked Snorkle Cheese:


    Cost: 300nps.
Triple Mustard Cheese:


    Cost: 450nps.
Honey Cheese:


    Cost: 600nps.
Big Beefy Cheese:


     Cost: 750nps.
Purple Spotted Cheese:


    Cost: 900nps.
Brain Cheese:


    Cost: 1050nps.
Alkenore Cheese:


    Cost: 1200nps.
Mutated Cheese:


    Cost: 1350nps.
Bubbling Blueberry Cheese:


    Cost: 1500nps.
Tyrannian Dung Cheese:


    Cost: 1650nps.
Quadruple Fudge Cheese:


    Cost: 1800nps.
Brick Cheese:


    Cost: 1950nps.
Gooey Snot Cheese:


    Cost: 2100nps.
Peppermint Cheese:


    Cost: 2250nps.
Overgrown Cheese:


    Cost: 2400nps.
Heavy Bark Cheese:


    Cost: 2550nps.
Warty Blue Cheese:


    Cost: 2700nps.
Ummagcheese:


    Cost: 2850nps.
Furry Chocomint Cheese:


    Cost: 3000nps.
|The new ones|
Mummified Cheese:


    Cost: 3150nps.
Nimmo Tube Cheese:


    Cost: 3300nps.
Space Cheese:


    Cost: 3450nps.
Angelpuss Cheese:


    Cost: 3600nps.
|Playing the game|
When you click to play cheeseroller, you will see the following screen.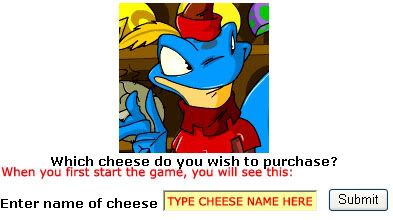 Type the name of the cheese in, a click submit. You'll then be shown the picture of the cheese. Click to buy it or type in another cheese. Once you've bought it click "GO" that will appear on the next page.

Now comes the fun! To keep the cheese rolling you can choose from doing a forward somersault, pushing the cheese faster, holding it steady and diving right or left.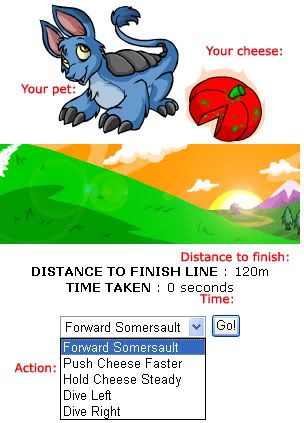 Along the way you will encounter obstacles such as potholes or small rocks, that may slow you down. This is (sorry to state the obvious) bad. However, you may also experience things can save you seconds- good. Gusts of wind, or avoiding obstacles all help you.



You can lose or gain time- sometimes nothing happens, and you just keep on rolling. The message will look something like the above, but with the time and problem changed.
Keep rolling until you finish the race. Remember, if you complete it in under a minute, you can keep the cheese. Below is what the screen looks like if you don't manage it.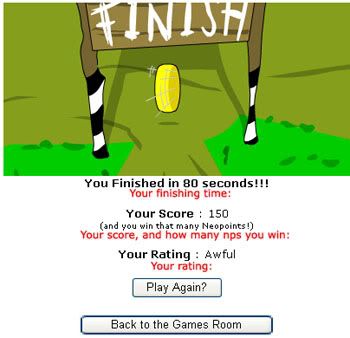 And if you do manage it (congratulations):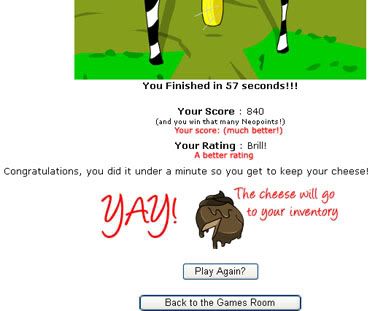 |Tips and Hints|
Firstly, don't expect to make a profit from Cheeseroller. Most of the time, the neopoints you win, and the amount you can sell the cheese for are much lower than the original cost of the cheese. For example: If you buy Quadruple Fudge Cheese it costs you 1800nps. As you can see above, I won 840nps for completing in, and can sell the cheese for around 530nps. This makes 1370nps- so I would be losing 430nps.
Second hint- this is a big one! If you want to make it down the hill in less than 60 seconds, then follow this guide- it works nearly every time. Buy Quadruple Fudge Cheese, and only DIVE RIGHT. This guarantees almost every time for you to get down in less than a minute. If it doesn't work for you I apologise- I guess the cheeses are against you for now. Just keep trying.
|Avatar|
Yes, there is an avatar for this game, which you can get by- you guessed it- completing the course in under 60 seconds. However, it is random, so you may not get it on your first try. Or second. Or third. Keep trying. I haven't got this avatar yet, as the random avvies hate me. I promise.


Thanks for reading/using my guide, and feel free to neomail me if you have any more questions- either about the game or anything else.=)