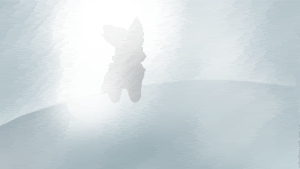 -*You are walking along Terror Mountain, in the middle of a snowstorm, with no idea where you are going. Smaaaaaaaaaaaaart. Anyway, it's pretty cold; theres snow and ice and junk. I bet you're really wishing you had a warmer jacket with you right about now. There's smoke in the distance! Holy cheese, civilization! Run towards it, guest! RUN! Hey look, a Cybunny. She doesn't look too old, but perhaps her owner can tell you which way to go. What other choice do you have? I mean, you can ask that nearby rock for directions, but I doubt you'll get a reply. Anyway, you walk up to the Cybunny and talk to it.*-
guest: Um... hi. Is your owner nearby?
-*To your surprise, she can speak.*- "Hiya! My name is trippinhun! It's getting dark," she says, "and there's probably a storm coming. Why don't you come inside for a warm cup of tea?
guest: Uh... sure.
trippinhun: Ok, come on in!

-*As you sit down on a bean bag cushion by the table, you notice a tea party set laid out, as if she was expecting someone. She pours two cups from the teapot and offers you one. Frostbitten and hungry, you take it eagerly, sipping the warm liquid; not knowing what it is, and not caring.*-
Well, my name is trippinhun. I am 135306 hours old; still a baby. I'm a baby Cybunny.
---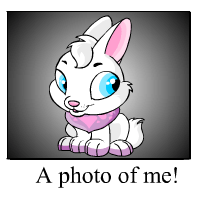 That photo was taken quite a while ago, before we moved to Terror Mountain and my fur changed color. I'm not too fond of it.
---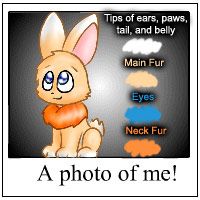 Heh, that's last year's photo, and I actually look like myself there! Anyway, my family and I live in our cozy Terror Mountain home, but I'll get to that later. I want to become strong enough to fight in the battledome one day, but that would take forever, I suppose. My owner is