Welcome

Die, v.: To stop sinning suddenly. -
Elbert Hubbard

Some say, to live you have to enjoy life.
Others say to live you
have to take another life.
Frankly, I find the second one
the best option.
Although raised this way,
I was not born this way.
In the end we all mold ourselves
into who and what we are,
And no one can stop the 'masterpiece'
We call ourself
They can effect it,
But ultimately, we create it.
You can spend days, years,
Decades working on this sculpture.
But one day someone could easily
Run up and destroy it.
Or worse;
The clay becomes too hard to work with,
And youre stuck with what you have.
My clay is hard.
I am who I am.
I Am x0_0MoonLight0_0x..."
Welcome
Name: Moon
Age: 22
Birthday: Unknown
Health Problems: Previous case of amnesia, anger problems, insomnia
Speical Items: Gasmask, old gem from childhood
Design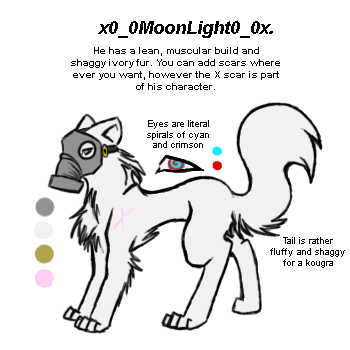 Family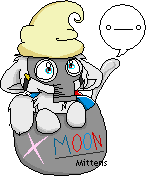 Star
She's my oldest sister, born in the litter right before mine. I never met her as a cub because she ran away, but she was there when I first came out of my amnesia. So being the first kougra I saw and heard, I feel a special bond with her. Though she's inherited much of my fathers anger problems and short temperedness aswell as his vampiric nature, I put up with her. After all, hating her would be hypocritical since I too have my fathers hot streak. But she's always been there for me, even if it was reluctantly. She's told me some information about my past and our family, but she isnt telling me the full story, like she's trying to hide something. She says its for my own good.
Oh, and another interesting thing is she hates all men. No other exception besides me, and thats only because she's related to me. I have the feeling something happened to her, because she wasnt always like that. But she denys it. And when I bug her about it she gets angry, so I leave it be.

Sabor
Litter-mate with Star, he's my oldest brother. He's such a nice fellow, inhabiting me and trying to kill me aswell as my friend in the process. That was sarcastic if you didnt pick it up. He's always hated me, ever since he met me. He too ran away, so I didnt meet him until a while later. The first time I met him was when he inhabited me. Nice greeting, eh? Well I found out our father first preffered him and saw promise in him to be the next lead male in the family. But while he had 'run away' he secretly spied on the family and saw me and my litter-mates grow up. He saw our fathers fondness for me, and grew jealous. At least thats what Star says. I still dont honestly know the guy that well, but Im not able to. Everytime we meet, we fight. He even went to the lengths of being turned into a full vampire and he still cant beat me. Pitiful, no?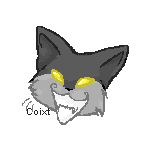 Coixt
She was also a litter-mate of Star and Sabor, which is rather unexpected. She looks nothing like either of my parents. She's the size of a domesticated house cat, and has no apparent vampiric or maraquan features. She's a leaner, grey version of the infamous Chesire Cat, and is complete with the ability to let just her smile and eyes bounce around eerily. While the rest of us were born with some natural talent, she had nothing special about her. So she quickly became intruiqed by witchcraft. She studied it endlessly, and now calls herself a witch. She is very talented, and can now transform herself into a black raven. She is a wish-granter and will grant peoples wishes, but usually they end up losing something in return. They may not be aware of it but when she grants them their wish there is usually a curse, and she uses it to control them. She's very trickey and sly, even though she's my own blood and has done nothing personal to me; I dont trust her.

Kris
She's my litter-sister, so is my age. I wasnt aware of her (because of my amnesia) until I ran into her at Anathema. Star then confirmed that she was in fact my sister. But she was supposeably dead, so Star was shocked to see her. Though it wasnt good shock, since Star and Kris dont get along at all. Theyre opposites. Kris is calm, patient, and is a great shoulder to lean on. She never judges people by their looks or actions, and rarely dislikes anyone. And she also finds the bond between a male and female a beautiful thing, while Star finds it discusting. Though because she is a pretty kougress, I often get suspicious of any other males that hang around her. But hey, she's my sister, I have to protect her.
And strangely, she, unlike any of the rest of us, is permanently in her Maraquan state.
Tilo
She isnt directly related to me, but our grandparents were cousins, so therefore our great grandparents were cousins, on my fathers side. Kinda creepy that we bumped into eachother, no? But her side of the family keeps a family tree, and a very accurate one at that.
But back to her, I am perhaps most protective of her than any of my other family. I reffer to her as my sister most of the time, so naturally Ive built up that brotherly protection like I have with Kris, but only Im even more protective of Tilo for many reasons. Tilo tends to surpress everything, and never lets on that she's sad or anything. She always puts others before her. Plus her fiance, Fatal left her when he found out that she was pregnant. She bore the kids and raised them on her own, and took such an emotional burden secretly. She did everything she could to raise them and pay for them. I offered to give her money, but she would never accept it. Though occasionally I 'accidentally' would leave her some. But anyway, recently she finally broke down and everything spilled out. And she still is currently in a depressed. I just care about her so much and I hate to see her like this.
Ford
I dont know much about him, but he's Tilo's brother, not that you can tell by looking at them. While she's starry and blue and lean, Ford is a bit more stalky and looks like he's straight from Tyrannia. From what I know he's pretty moody, going anywhere from a social butterfly to an isolated freak, but thats only when it gets bad. Tilo says it isnt that dramatic, but who knows. He's almost a stranger to me, I just hope he doesnt upset TIlo too much. Though I hear he really helped her out once, so I guess I can trust him, to a certain extent anyway.
Friends
Sno
Ive known Sno quite a while. We were both members in a group called the X Gang. Being one of the few females in the group, I eventually started talking to her. She had to be an interesting girl to be in a Gang like ours. So I took the time to get to know her. She was the one that introduced me to Anathema. And ever since Ive been there, on and off anyway. But natrually being stuck on an island with her I got to know her better. She's one of my best friends now, though unfortunately I dont see her much at all now.
BT
Perhaps my most hyperactive and carefree friend, and for some reason I can tolerate him. No one else can get away with that kind of personality around me. Theres just something about him that can bring out my own childish side, something no one else can do. We both share a love of fire, which we've played with on numerous occasions. Anyway, Im glad he's stuck around with me, he's a friend I would hate to lose. Which, coming from me, is a lot. Trust me.
Conya
There is no denying that Reconya is my oldest and dearest friend. I care the most for her safety and welfare perhaps above all others. She has been so trustworthy over the years and has always been there for me. And she was with me through my biggest change. Little may you know I use to be a very different kougra. She was there for that. And then when I learned more about myself and turned into what I am now, she was still at my side. She knows more about my past than any of my other friends. and isthe greatest friend I could ask for.
Nikki
I met her at Anathema a while after she came. I wasnt very social and Im still not, but somehow we managed to start talking. I tend to hate people from the city, but somehow she hasnt annoyed me. I dont see much of her, which may be why I can tolerate her city personality, but its always cool when she's around. She's definitely different than my other friends.
Isaiah
When I first met him when he was a cub, we didnt exactly get along. He had an attitude, and I had (and still have) an attitude, so we just clashed. Luckily he caught me on one of my up days and we started talking. And from there we became friends. It was rather unexpected I became friends with him considering that his father, Jeremiah and dont exactly get along. Since Jeremiah was the Alpha Isaiah is now the Alpha because Jeremiah dissapeared. Though personally I think the ranks are just pointless, you get no special treatement for it or anything. But it makes him proud, or at least gives him a sense of pride, so Im not about to say anything.
Other Side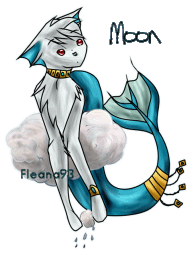 Its not just because I like Maraquan Kougras that I painted Moon that color. Theres another side to him only a few lucky people have managed to get a glimpse of, and that is too many in his opinion. To understand this side of him and how he changes between the two, one would have to have an understanding of his past. Which is something he wont tell. The only kougras that do are his blood siblings, and even of them only one knows the full story.
The only hints he gives is a strong dislike for beaches and salt water.
Copycats